British Airways flights are more relaxing than before! Neither the seat width nor legroom is increased. Neither upholstery is changed nor seat pitch is raised. British Airways has taken a step forward to make its flights immensely comfortable by introducing in-flight meditation classes on long-haul routes.
The airline has added the Headspace video channel to its inflight entertainment system. The new channel is full of audio-visual content related to meditation techniques and mindfulness exercises, which travelers can watch and practice in the air. Meditation is one of the best ways to avoid jetlag and release stress during long-haul flights.
British Airways inflight entertainment system's new channel airs nine guided meditation programs. Each program is meant for a particular group of travelers having specific needs. Neither of the programs runs more than 10 minutes. The content of the programs is deliberately designed to make passengers feel relaxed during and after the flight.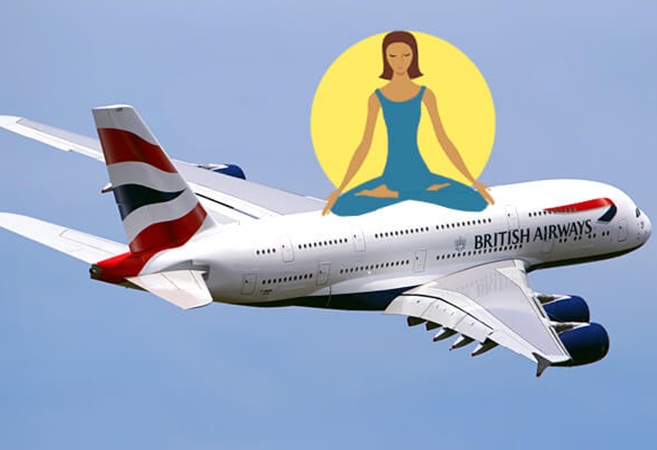 Andy Puddicombe, the Headspace video channel co-founder and former monk, plays a guide himself in the meditation programs for British Airways flights on long-haul routes. Each program addresses a different need. If one program helps stressed elderly passengers to unwind themselves, the other program helps agitated travelers feel clam. The new initiative makes travelers enjoy the journey to their destinations, irrespective of their individual problems and needs.
"Our partnership with Headspace is one of the newest initiatives to make our customers feel at home on board by making long-haul flights more fulfilling. With the meticulously guided programs of the Headspace video channel, customers can do meditation and mindfulness yoga to de-stress themselves while sitting on board, at 35,000 feet," says Troy Warfield, British Airways' Director of customer experience.
The existing audio-visual content of British Airways' High Life Inflight entertainment system includes such programs as 'Flying with Confidence' and 'Dawn Chorus: Sounds of Spring' for the wellbeing of travelers. The new meditation channel adds to the wellbeing content in sync with the airline's customer service excellence and in response to travelers' need.
Don't miss meditation while traveling on British Airways flights to India from the United States.
Travel Beats is a digital news portal by IndianEagle, a leading international organization booking the best flights to India with the best airlines. Subscribe to Travel Beats for the latest updates on USA to India travel.