People are usually recognized by their traditional costumes and related to their country of origin. The Fashion scenario may have witnessed many trends, but the appeal of conventional dressing has been unshakable. Ethnic outfits have successfully remained irreplaceable. Geographical locations are at times tagged with the special feature related to that place.
Kutch district, on the western border of Gujarat is known for its Embroidery Works. In sharp contrast to the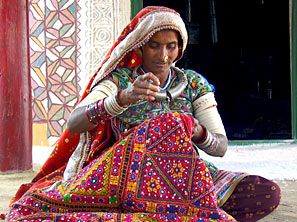 arid and parched surrounding, the vibrant splash of colorful Kutch work comes as a surprise.
For ages the womenfolk of Kutch have been weaving magic on Fabric with their imagination and artistry. Vibrant needlework in multi colored threads encasing mirrors is the specialty of Kutch (Art) Kala. Kutch literally means something which becomes wet and dry. The wetlands submerge in water during the rainy season and turn dry in the other season. A large part of this district is known as Rann of Kutch.
Indian Eagle advocates Shopaholics to make a trip to Kutch. The range for Women and Children is exhaustive. Ghagras, Cholis, Odhnis, Shrugs, Jackets, Stoles, Scarves, Jholas,clutches and Footwear adorned with mirror work.
Embroidered Coasters, Pillow cases, Bedspreads, Dewan sets, Tapestry, door hangings and wall hangings to spurce up the house. Not to forget the choices available for men. Embroidered Kurtas, turbans, Shawls and Traditional outfits are tailored for men who enjoy variety in their wardrobe. Camels too are decorated with embroidered coverings.
Tie-dye and block printed fabrics are products which have generated a huge market across India. The Villages of Hodka, Dhorodo, Gorewali, Ludia, Kuran and Khavda speak volumes of the rich repertoire of embroidery produced without any formal training. A hub for handmade embroidery; this art has remarkably flourished.
Different Fabrics are experimented with to add versatility to the design. Paako, ahir, suf, khaarek, rabari, garasia jat, mutava, zardozi and bhanusali are some of designs which have earned the art a distinct recognition.
The demand for mirror is such that a local town named Kapadvanj, concentrates on manufacturing mirrors primarily for use in embroidery. Kutch designs have transcended sandy terrains to make their presence felt on the international fashion circuit.
Indian Eagle offers Airfares which are the Lowest to Gujarat. Mark your calendars to see artisans transform ordinary fabric into objet d'art.