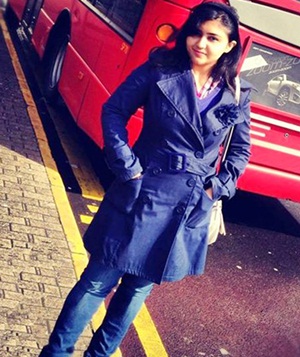 One of the young Indian women entrepreneurs, Miss Akshuna Bakshi is a versatile genius. She is a travel filmmaker, avid traveler, cultural fest organizer and marketing professional. Having founded "Travelista" at the young age of 23, she established herself as a symbol of woman empowerment in India. Her company "Travelista" organizes travel filmmaking programs, photography tours and cultural festivals to provide women artists with a platform for showcasing their creativity in different forms. An ardent supporter of solo female backpacking, Akshuna promotes women's right to education, work and dignity while traveling in India and abroad. Indian Eagle catches up with Akshuna Bakshi to share her experience, plans, views and message with you. The excerpts from the interview are as follows:
What is your entrepreneurial venture "Travelista" all about?
I was always fond of traveling to new places, learn about new cultures and capture it in my camera. I had breath-taking experiences during my travels and discovered many treasures I was unaware about. When I was working in London, I always felt that that the city was always bustling with festivals and cultural activities which the locals enjoyed and learnt from about their heritage and history. Everyone was a Travelista there! People were deeply passionate about their history, design, culture, art, back packing and were always willing to experiment! I wanted to promote a similar spirit back home. So I came up with the idea of Travelista and wanted to do something which helps promote new experiences, cultures and destinations.
How did you cultivate the idea of "Travelista" as a platform for travel filmmaking and photography?
The genre of travel filmmaking and travel photography is very popular across the world especially amongst backpackers. However, in India, very few people are aware of this genre and seldom document their tales and travel experiences on camera. Travelista encourages more people and filmmakers to pick up their camera and shoot every time they travel and break the preconceived notions one often has about a culture or destination!
You have travelled to England, Scotland, Ireland and France. Where does India tourism stand in comparison with the European countries?
Indian tourism has a long way to go in comparison to European countries, One of the most integral factors which encourages tourists to visit a destination is SAFETY and the treatment they will be met with in a foreign land and India struggles to achieve both. Tourists coming to India are not only misguided and fleeced for money at various levels by local populations, tour guides, travel agents, taxi drivers etc. but also risk being a victim of heinous crimes like kidnapping, murder, rape and molestation! As a solo female backpacker, I think hundred times before planning a trip in India. This is when I myself am a local. This was never the case when I traveled in UK or Europe. Of course, there is a risk involved in every country but I never faced any kind of hostility or dishonesty when traveling in Europe. Everyone right from the airport desk and taxi driver to the hotel staff, general population and locals were very hospitable and never tried to fleece me just because I was a tourist and not one of them!
How does, you think, travel educate and empower the women of a nation?
Travel can be extremely empowering as it opens up new avenues for women. Traveling not only gives an opportunity to women to explore the world but also learn a myriad of things and gather precious experiences. Whether it is visiting a new place, learning about a new culture, meeting new people or learning a new language, everything contributes in making women more educated, liberated, self reliant, independent, receptive, brave and have a vision in life.
Recently, Dr. Shashi Tharoor pressed on the need of addressing the issue of women security in India. What steps should be taken to promote solo female backpacking in the current scenario of the country?
Firstly, we need to have better policing especially in destinations frequented by tourists, travelers and backpackers. Having a police cell or force dedicated to look after tourist complaints with women officers and constables deployed in the team will definitely help in encouraging more women backpackers. Also, security of women in train compartments and buses should also be beefed up. Having special women coaches could help but it is more important to have an effective law and order situation and a sensitive police force rather than segregating women by creating separate coaches and compartments. If a crime happens, speedy trial is another important measure which can help in acting as a deterrent for criminals.
Programmes like ATITHI DEVO BHAVA by the govt. should come up with women specific campaigns and helplines and implement it on ground level. Also, other than the govt. and police, local citizens could do their bit by genuinely helping out women backpackers or general tourists by guiding them correctly and giving the right information. Right Information is a big resource and help in preventing many crimes and unwanted instances. Some websites like IndianBackpacker.com are already doing a lot in providing rich and accurate info to both male and female backpackers.
India as a tourist destination has come a long way or has a long way to go. What do you think?
India has achieved in many aspects like having a more organized hospitality industry, digitization of ticketing service and coming up with good and catchy destination branding campaigns like Incredible India which inspire tourists to visit our country. Also, many young entrepreneurs have introduced innovative concepts like theme based tours, customized itineraries; rare cultural experiences etc. which are great for the industry as they are contributing to the development of creative, reliable and responsible tourism. But the ground reality is starkly different from the image our destination branding campaigns showcase to the world. A number of core issues like safety of visitors still need to be worked upon.
You may have come across some NRIs during your foreign travel. How to connect the NRIs with their root in India?
I feel that the new and innovative form of theme based and boutique tourism is a great way to connect the NRIs to their roots and give them a chance to experience their culture. Also, I feel more cultural events and festivals like ours when done abroad can help in NRIs feeling close to home in a foreign land.
What would you like to be called – a traveler or an entrepreneur?
I would like to be called an entrepreneur who loves traveling and everything associated with traveling. In short, I will like to call myself a Travelista!
What are your future plans to promote the cause of women's rights and girl child education through travel?
Through festivals like SHE and hopefully many more niche events in the future, we would want to encourage more women to stand up for their rights and feel brave! Travel is one of the best ways to enlighten the dustiest corners of one's mind and become independent and we want more women to do that. Our upcoming festival SHE in DILLI HAAT INA happening on 1st and 2nd March will not only promote women entrepreneurs and budding women designers but also encourage women to express their concerns and raise their voice on women issues close to their heart in an interactive and engaging way. Our festival will be organizing self defense workshops and travel safety workshops exclusively for women and we hope to disseminate as much useful information as we can.
What is your Women's Day special message for the budding women entrepreneurs and travelers?
I would like to ask all the lovely women out there to not feel bound or suppressed by societal or self created barriers. There is nothing and absolutely nothing which can stop them from achieving their dreams and living their life in a truly liberated way. There will be obstacles but not big enough to stop a woman.
IndianEagle.com is a leading online travel booking company. We at Indian Eagle are committed to promoting Indian travel & tourism to the NRIs. We connect them with India and offer them the lowest airfare too.