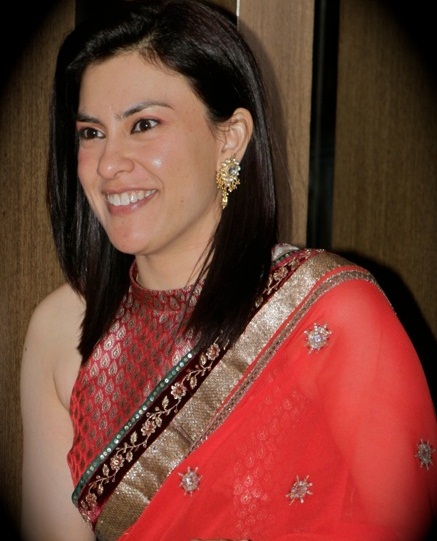 Anuradha Vinod Gupta is a modern, independent and empowered Indian American. Settled in New York, she is Founder and CEO of Vows for Eternity, a personalized matchmaking matrimonial service to the NRIs. Being an Indian American, she represents the cultural values and ideals of the NRI community in the United States. She believes in the power of entrepreneurship and finds thrills in traveling. Indian Eagle, a leading international travel organization, catches up with Anuradha Vinod Gupta to share with you her view of women empowerment and some glimpses into the cultural life of Indian Americans. The excerpts from the interview are as follows:
Do share something about your entrepreneurial venture "Vows for Eternity" with us?
Vows for Eternity is a personalized, confidential matrimonial match making service for Indians/NRI's. We are based in New York with representation in Delhi and have a membership pool of well-educated and successful men and women who are in the 28-45 age groups. At these ages people are not looking to match height, weight, diet etc., instead seeking similarities on core things like a deeper connect. Hence not only is it important that people share the same goals and values but also that their personalities are complimentary as well. This is really important and as a result I travel on a fairly regular basis meeting members face to face.
You worked with the Iconic Arsenal Football Club in London for 6 years. What motivated you to become an entrepreneur?
I left Arsenal FC once I got married and moved to the US a few years ago. It  was a wonderful experience working at AFC-be it my friends and colleagues there or the fact that one evening I was having a glass of champagne with David Beckham, and on another coffee with Diego Maradona and on yet another talking to Prince Phillip! I have had a very successful career spanning 15 years across 3 continents and I was in a fortunate space where I could select what I wanted to do next. 
Seeing some of my closest friends go through an emotional roller coaster ride of trying to find the right person and talking more and more to people who had left getting married until later and were finding it challenging now I felt an immediate connect to them and what they were going through. I am a people's person and wanted to reach out and do something meaningful and make a difference -and what better way than by helping two people connects for eternity! After all when love is in the air-life is beautiful!!
You have been to Australia and London. Now you are based in New York. What is the value of Indian culture to the NRIs settled there?
I find in a lot of ways the Indians settled here are actually more rooted to their culture. The idea of aping the west blindly is so passé' here. Sometimes when I come to India I get a culture shock-there is such a blind affinity for any and everything western, be it clothes, stores, food and even language. As Indians with one of the most ancient traditions and cultures in the world we need to be proud to be Indians! Indians here are a very good blend of east and west, holding on to their core  Indian values and yet at the same time widening their horizon by imbibing the best of the west, be it principles of fairness, merit, dignity of labor or honesty and integrity.
Indian wedding itself is a traditional culture. Do the Indian Americans observe the wedding rituals in the traditional manner as in India?
In weddings what is more important than rituals is the essence of the sanctity of the marriage. I think whilst the marriage ceremony itself can be very ritualistic here amongst Indian Americans , what is different is the mindset of doing what is possible to do within one's means and not for the sake of societal pressure in terms of grandeur. It is because, essentially the rituals themselves are simple and traditional, and therein lies the beauty.
How can women empower and emancipate themselves, according to you? Is entrepreneurship the only solution?
I think it's absolutely vital that every family empowers its women, be they daughters, sisters, mothers or wives. It starts at the beginning with having an environment at home which encourages women to follow their dreams-be who they are. For this to work first and foremost the men/boys need to see a culture at home where the women are given the freedom and treated as equals-because that's what we are. It's only when the two wheels work in tandem with each other that the vehicle actually runs-if any one side gets tilted it will lose its balance. I think women need to believe in themselves that we are equal contributors. Sometimes we might just choose different things to pursue but it's not because we can't do an office job! But it's because our families come first and sometimes we make the choice to stay at home and look after them. I think Indian women are breaking away from the traditional mindset and following their dreams-whatever that might be.
No, absolutely not! Entrepreneurship is not the only solution. I think women play such a selfless role in society-they hold the family together-and give of themselves selflessly-be it time or emotions. Empowerment and emancipation don't necessarily come with what we do-it comes with who we are.
How do you connect with the cultural heritage and values of India?
Do you need to connect to something which is a part of you? I am a very proud Indian and am sure all my friends-Indian and non-Indian will strongly second that! I have been out of India for so long and have the most wonderful set of non-Indian friends. However, maintaining my identity and being connected to my roots has always been important to me. Yes, I have imbibed a lot of the good that there is here in the west and I am a better person for that. However, I have never felt the need to give up who I am for then I will be less than what I am.
When have you been to India last?
December 2013.
What is your favorite romantic destination in India that you would like to recommend to your NRI clients for honeymoon?
Without a doubt Rajasthan. It is absolutely magical!
You love to travel. What do you like the most about traveling?
There are maybe just a handful of places in the world that I have not been too but other than that I have travelled extensively in the world. Meeting different people, exploring new places, cultures-thought processes, different food, it's amazing how much wonder and beauty there is in the world.
Your Women's Day special message for the women aspiring to be entrepreneurs…
Follow your heart. Find the thing that engages you-the whole of you and then put your heart and soul into it.
We at IndianEagle.com are committed to promoting Indian travel & tourism to the NRIs. We connect them with India and offer them the lowest airfare too.