Dosa is a jack of all trades in India. Apart from being a common thread in the socio-cultural fabric of the country, dosa is an integral part of many rags-to-riches stories at home and abroad. Unlike other Indian food, dosa has evolved into hundreds of unique varieties including the one with edible gold leaves. 'Deepika Padukone Dosa' in the United States is one of the trending topics on the Internet. Dosa is omnipresent from temples in India to temple canteens in the US. Evidently, there are many interesting stories about dosa.
We at Travel Beats, a community portal for Indian Diaspora by Indian Eagle Travel, handpicked some of the interesting, inspiring, funny stories about dosa to serve on a palette to you.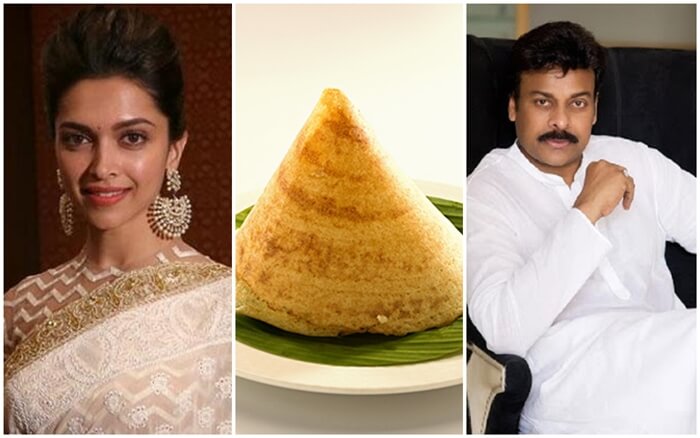 Deepika Padukone Dosa in Texas
There's no denying that dishes named after celebrities sell like hot cakes. Several restaurants from India to the United States have named dosa after their favorite celebrities, including Deepika Padukone. Yes, one of the Indian restaurants in Austin, Texas serves 'Deepika Padukone Dosa'. A recent epiphany to Deepika Padukone on Twitter, the dosa is described as the one "topped with fiery hot ghost chilli and stuffed with our potato mix." Besides Deepika Padukone Dosa, Dosa Labs in Austin has given quirky names to some of the other dishes on the menu, like Mast Mast Cheez.
Fluffy Chiranjeevi Dosa with Zero Oil
One of the most interesting stories about dosa in India is the discovery of steamed dosa by none other than Telugu actor Chiranjeevi. While shooting for a film near Mysore, megastar Chiranjeevi stopped by a humble, roadside shop for a cup of filter coffee. He was served coffee with a plate of fluffy dosas, which he found very unlike popular dosa varieties such as masala dosa cooked in oil. On being denied the recipe of steamed dosa by the dhaba owner, Chiranjeevi sent his cook to Mysore to learn the art of making the dosa. After the cook returned from the unaccomplished mission, Chiranjeevi himself discovered a matching recipe by trial and error.
On his 60th birthday bash, Chiranjeevi treated the guests to his zero-oil recipe of steamed dosa, which eventually came to be known as Chiru Dosa or Chiranjeevi Dosa. There are scores of fans for Chiru Dosa from different walks of life, including Rajinikanth, Sachin Tendulkar, and Richard Gere.
Dosa in Prem Ganapathy's Rags to Riches Story
Among the interesting stories about dosa is the one of Prem Ganapathy, who journeyed from rags to riches selling varieties of dosa. The owner of Dosa Plaza outlets, Prem Ganapathy quitted studies in class 10 under the pressure of earning a living for his poverty-ridden family of six siblings in Tamil Nadu's Tuticorin district and moved to Chennai for some odd jobs. Promised a decent job in Mumbai by an acquaintance, Prem traveled to the city of dreams only to be robbed of the 200 rupees he had. Stranded in Mumbai, he managed to support himself with a monthly salary of Rs 150 for washing dishes at a bakery in 1990.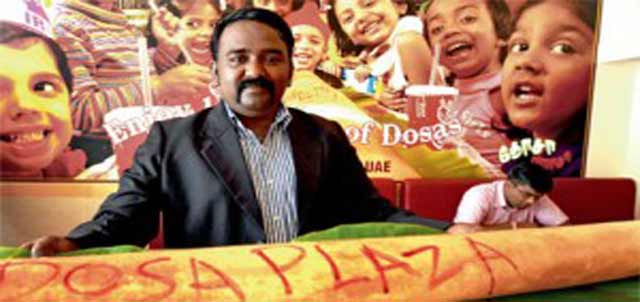 Prem Ganapathy built a Rs-30-crore empire of Dosa Plaza outlets from a handcart which he had rented for Rs 150 a month to sell dosa and idlis near Vashi Railway Station. The municipal authorities seized his cart many a time for his want of a trade license. Braving all odds and giving a tough competition to other roadside eateries, Prem opened the first restaurant in 1997. Named Prem Sagar Dosa Plaza, the restaurant served 26 dosa verities in the first year. His entrepreneurial journey continued from experimenting with different ingredients to innovate as many as 105 varieties of dosa to opening an outlet in Center One Mall to receiving requests for franchises. Today, Prem Ganapathy's Dosa Plaza has 70 outlets across India, Dubai, Oman and New Zealand.
Azhagarkoil Dosa, a Unique Temple Food in Madurai 
Dosa is one of the unusual offerings to presiding deities at some temples in the southern states of India. At the Perumal Temple in Madurai, the deity is offering Azhagarkoil dosa as the evening 'naivedhyam', which is distributed as prasadam to devotees later on. Equally popular with tourists and pilgrims in Madurai City, Azhagarkoil dosa is also sold at a humble roadside shop run by 70-year-old TV Viswanathan, who has been selling this fried variety of Indian pancake for 35 years.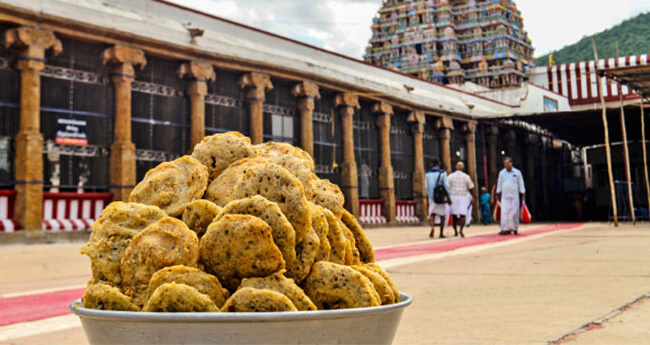 While working as a storekeeper for the kitchen at the Perumal Temple, TV Viswanathan learned the art of making Azhagarkoil dosa from the temple cook. He uses hand-pounded rice (only the samba variety) and coarsely-grounded urad dal to make the dosa batter. He has been consistently making and serving delectable Azhagarkoil dosa at reasonable prices. Evidently, Azhagarkoil dosa, a unique temple food is one of the things to eat in Madurai.
Pai Dosa in Kochi Serves 180 Unique Varieties 
Kochi has its own interesting stories about dosa, including the one of Pai Dosa. A most popular restaurant serving as many as 180 varieties of dosa in Kochi, Pai Dosa is known for Pai brothers' consistent experimentation with unusual ingredients. The Pai Dosa menu features such varieties as Salt and Pepper dosa, Coconut Milkshake dosa, Cashew Masala dosa, Leaf dosa, Kanchipuram dosa, and Ruby Pai dosa named after their mother. Dundu dosa on the Pai Dosa menu in Kochi is a cocktail of vegetables, cheese, cashew, eggs and chocolate. It is a whole meal in itself. Kochi's Pai brothers, who started from a roadside stall, run several outlets across the city today.
Gold Dosa is more Popular than Gold in India
Indians' unfathomable love for gold does not cease to leave its mark on dosas with edible gold leaves. A few years ago, gold-plated dosa caught the imagination of South Indians. Brand restaurants in Hyderabad, Chennai, Bengaluru, Madurai and Mysore started selling gold-plated dosa and the dosa made of edible 23.5-carat-pure gold. Demand for gold dosa in South India is many times higher than that for the yellow metal itself on Akshaya Tritiya.
Dosa was Instrumental in Karnataka Elections 2018
Dosa is a jack of all trades just like biryani. During the Karnataka elections in May 2018, dosa was instrumental in encouraging youngsters to vote. Nisarga Grand Pure on Nrupathunga Road in Sampangiramanagar served free masala dosa to those who voted for the first time. Other voters were given coffee for free of cost. The move was apolitically intended to pique youngsters' interest in exercising their right to vote.