This Republic Day 2019, Indian government honored 94 luminaries, including six Indian Americans with the Padma Shri, one of the country's highest civilian honors for their distinguished service or remarkable contribution in their respective fields. The recipients of the Padma Shri 2019 were felicitated by President Ram Nath Kovind himself at the 70th Republic Day ceremony in New Delhi.
The Indian Americans among the Padma Shri 2019 recipients are Adobe chairman and CEO Shantanu Narayen, California-based Tabla maestro Swapan Chaudhuri, New York-based Novelist Gita Mehta, engineer-cum-philanthropist Ganpatbhai Patel, computer scientist Subhash Kak, and 100-year-old Tao Porchon-Lynch, an eminent yoga instructor of French and Indian origin.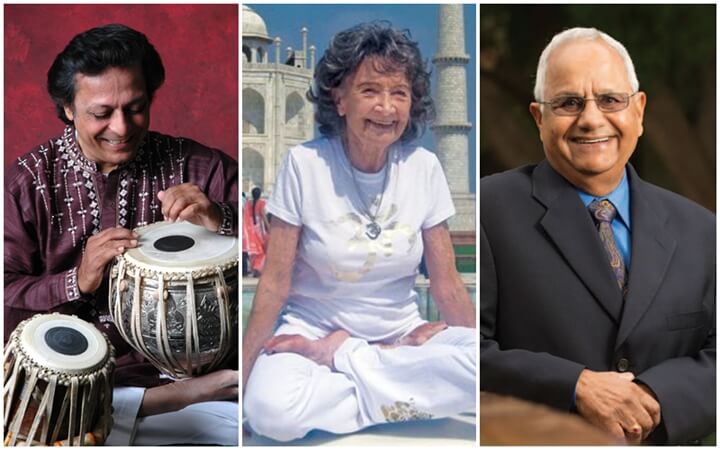 Indian American Tabla Maestro Swapan Chaudhuri
Among the Indian American Padma Shri 2019 awardees, California-based Swapan Chaudhuri received the coveted honor for his contributions in the fields of art and music. A resident of San Rafael in California, table maestro Swapan Chaudhuri has his roots in Kolkata. He is regarded as one of the greatest living musicians of our time for his rhythmic creativity, lyrical opulence, depth of knowledge and purity of sound.
Prior to receiving the Padma Shri in 2019, he was conferred upon the Sangeet Natak Academy Award in 1997 by Indian government and the Bharat Ke Sangeet Ratna in 2011 by the Art & Cultural Trust of India. Percussionist Swapan Chaudhuri is also a recipient of the American Academy of Artists Award. For the past 20 years, he has had the distinction of chairing the Department of the World Music Program and acting as a senior faculty at the California Institute of Arts. He has also been teaching percussion at the Ali Akbar College of Music in San Rafael since 1981.
Though he started learning table at the age of 5 in Kolkata, the Padma Shri Swapan Chaudhuri inherited his passion for music from his mother, Meera Chaudhuri who was a great singer of her time in Bangladesh. Meera Chaudhuri had several music albums to her credit, some of which were recorded under the supervision of Kazi Najrul Islam, a revolutionary Bengali poet and musician.

French-Indian American Tao Porchon-Lynch
One of the Padma Shri recipients in 2019, Tao Porchon-Lynch is a French-Indian American yoga trainer, wine enthusiast and competitive dancer. At the age of 100, she is known as the oldest yoga teacher in the United States. Tao Porchon-Lynch discovered her passion for yoga at the age of eight when she was studying in India with Sri Aurobindo, B K S Iyengar, Swami Prabhavananda, and Maharishi Mahesh Yogi in 1926.
Recognized as the world's oldest yoga instructor in the Guinness World Records, French-Indian-origin Tao Porchon-Lynch says ebulliently, "In my head, I'm still in my 20's and have no intention of ever growing up."
Born to an Indian mother from Manipur and a French father in 1918, Tao Porchon-Lynch has donned several hats over the 75 years of her professional life – a fashion model, actor, publisher, television executive and film producer. She is a published author too. In her autobiography titled Dancing Light, the Padma Shri awardee narrated her chance meeting with several dignities, including Mahatma Gandhi, Ernest Hemingway, Elizabeth Taylor, Marilyn Monroe, Bob Hope, Duke Ellington, Richard Greene, and likes.
In the early years of her career, Tao Porchon-Lynch kissed success as a model in vogue couture and a cabaret performer. After the Second World War, she shifted to the US and took up acting as a career. She acted in several Hollywood films including Show Boat. She shared the screen space with Elizabeth Taylor in The Last Time I Saw Paris.
In 1967, Tao Porchon-Lynch gave up her acting career to become a full-time yoga instructor. In 1976, she cofounded the Yoga Teachers Alliance which was renamed the Yoga Teachers Association later on. Today, she has students from around the globe. She released a DVD on her yoga lessons and published a book on meditation titled Reflections: The Yogic Journey of Life. She received the Women's Entrepreneurship Day Pioneer Award from the United Nations in New York in 2016.
The aunt who had raised Tao Porchon-Lynch since the latter's mother died, tried to dissuade her from practicing yoga under the impression that yoga was meant predominantly for males. But, Tao Porchon-Lynch listened to her heart and became one of the most-acclaimed yoga teachers of the century.

Indian American Entrepreneur Ganpatbhai Patel
One of the Indian American engineers and entrepreneurs, Ganpatbhai Patel received a Padma Shri award this year for his philanthropic contribution in the field of education. Born to a farmer in Mehsana, then a socio-economically backward region in Gujarat, Ganpatbhai Patel is a staunch educationist too. He had dreamt of transforming Mehsana into the best center of education with state-of-the-art learning opportunities long before he traveled to the United States for higher studies.
Indian American Ganpatbhai Patel took baby steps towards fulfilling his father's and his own dream with the foundation of Majulaben Science College in Mehsana. Later, he founded Ganpat University in Mehsana, Gujarat. Since its inauguration, the university has produced over 22,000 graduates with academic and industrial excellence. The university facilitates affordable access to education for the economically underprivileged students. The Padma Shri awardee, Ganpatbhai Patel has awarded scholarships worth more than INR 7 crore.
He believes, "Knowledge will take you to the places you want to go. Make sure that you recognize the significance of knowledge as a part of life and what it can do for you."