After reopening the doors of the Yadagirigutta Temple following months of large-scale renovation for INR 1800 crore, Hyderabad is all set to woo visitors with a 216-foot statue of Sri Ramanuja, a social reformer and saint from the 11th century. Scheduled to be unveiled on February 5 by Prime Minister Narendra Modi, the Statue of Equality is located in a 45-acre complex near Rajiv Gandhi International Airport, Shamshabad.
Funded with donations worth INR 1000 crore, the Statue of Equality and the complex are aimed at eternalizing the legacy of Sri Ramanuja's teachings and deeds. Deemed to be one of the tallest statues in a sitting posture, the Statue of Equality in Hyderabad commemorates the 1000 years of Sri Ramanuja's birth. The statue is made of five metals – gold, silver, copper, brass and zinc. The idol housed in the inner sanctorum of the complex is made of 120 kg of gold signifying the years of his mortal life on earth. The idol faces a grand meditation hall where devotees can soak themselves in tranquility.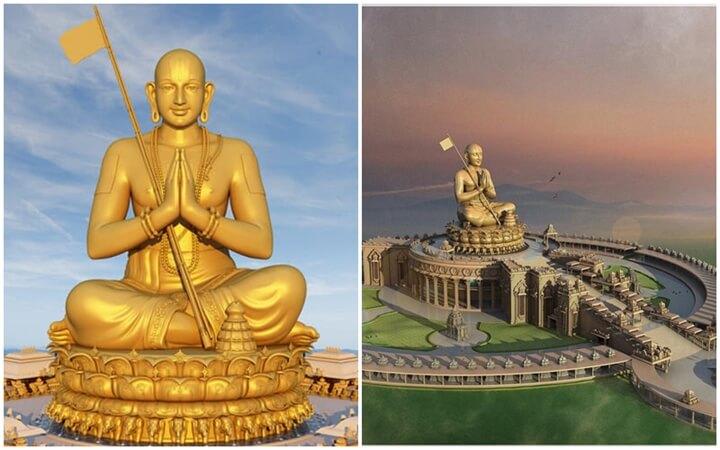 Born in 1017 in Tamil Nadu, Ramanuja was a beacon of socio-cultural, socio-economic and socio-religious equality. Hailing from a Tamil Brahmin family, he was a staunch Vaishnavaite. Being a social reformer, he saved millions of downtrodden people from the harms of discrimination on grounds of lineage, education, economy and gender. Driven by the revolution that had built up on his philosophy that every human being is equal irrespective of caste, creed, gender, and community, the temples opened the doors to those subjugated to inequality, untouchability and discrimination.
The Statue of Equality in Telangana is a brainchild of Swami Chinna Jeeyar, a globetrotting ascetic on the mission of propagating Vaishnavism, Vedic wisdom, religious tolerance, non-violence, joy of sharing, and power of equality. He laid the foundation stone for the statue dedicated to Ramanujacharya in 2014. He has been visiting the United States, Europe, Canada, Singapore and other countries since 1994. He has delivered keynotes on a country's cultural sustainability and students' role in it at the United Nations. Born in East Godavari of Andhra Pradesh, Chinna Jeeyar Swamiji strives hard to empower the disadvantaged communities with seamless access to quality education, healthcare and other civic facilities.
Some 2700 sculptors from Rajasthan, Madurai, Tirupati, Srirangam, Mahabalipuram and other parts of the country, worked hard to concretize Hyderabad's Statue of Equality the way Swami Chinna had visualized. The outdoor statue is seated on a lotus base (27-ft high) with 54 petals – which is supported by 36 exquisitely carved elephants. A fleet of 108 stairs runs up to the lotus base from the ground.
The 45-acre complex welcomes devotees with 18-ft-tall standing statues of Lord Hanuman and Lord Garuda at entrance, and features a 42-ft high musical fountain in the sprawling courtyard. There is a grand corridor with larger-than-life statues of global leaders who stood and fought for equality. The complex houses an educational gallery featuring gripping exhibits that walk through the life and journey of Sri Ramanuja. Devotees can immerse themselves in ancient Indian texts, including Vedic scriptures, in a digital library on the Statue of Equality complex. There is also an Omnimax theater where shows will bring alive glimpses of Sri Ramanuja's life and work through immersive technology.
What is the most interesting about the Statue of Equality is that 108 Divya Desams – the temples dedicated to Lord Vishnu and His incarnations – have been recreated here with attention to their architectural details and ornate beauty. Those who cannot visit any or all of the 108 Divya Desams across the country can pay their regards to and seek blessings of Lord Vishnu and His various incarnations surrounding the Statue of Equality in Hyderabad.
Located at a 15-km drive from Hyderabad International Airport, the State of Equality will see the inauguration event span 13 days from February 2 to 14. The 120-kg gold idol of Sri Ramanuja will be unveiled by President Ramnath Kovind on February 12. The 108 Divya Desams in the complex will be inaugurated and consecrated amid the chanting of slokas from the four Vedas. Maha prasadam will be distributed on all days of the inauguration.