2016 is the year of our collective voice in support of women power and girls' rising against all injustices of orthodox patriarchy in a 'most populous, culturally and economically vibrant country like India. The release of Soojit Sirkar's Pink that questions the age-old parameters of a patriarchal mindset defining the character of women in urban India is followed by the screening of We Will Rise documentary celebrating the International Day of Girls at the White House.
The upcoming screening of Indian American filmmaker Nyna Pais Caputi's Petals in the Dust: The Endangered Indian Girls at the 19th Annual United Nations Association Film Festival will continue the movement against gender violence, infanticide, sex-trafficking, dowry deaths, gang rapes and bride buying.
Petals in the Dust: The Endangered Indian Girls is one of the 60 films and documentaries to be screened from October 30 to 30 at the United Nations Association Film Festival 2016 in California. Directed by Nyna Pais Caputi from the San Francisco Bay Area Indian community, the film examines the condition of an endangered class of girls and women from different walks of life. (Watch the trailer below)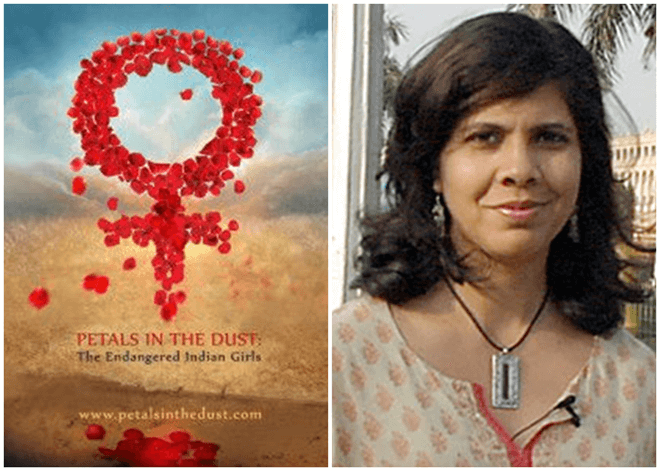 In this thought-provoking documentary, filmmaker Nyna Pais Caputi seeks to explore what led to the elimination of 50 million of girls from India's population in the last century. She traces the cultural origins of crimes against women in India through interviews of social activists and gender experts from various organizations. She also shares the inspirational stories of brave survivors and the unnerving realities that they have undergone.
Born in India, Nyna Pais Caputi traveled to the United States in 2002 to pursue filmmaking at the New York Film Academy. Then she settled in the San Francisco Bay Area. She dons several hats: a filmmaker, a blogger, a startup founder, a crusader of gender equality and a speaker on expat life. Nyna has worked on many award-winning short films including Desi Confused by America, Gentle Lovers, and Able.
She is at the helm of the Global Walk for India's Missing Girls, an international awareness campaign which she founded in San Francisco in 2010. This campaign has been conducted in 25 cities and five countries to gather support against male chauvinism and genocide of women.
The Expat Woman is one of the initiatives by Indian American filmmaker Nyna Pais Caputi. A recipient of the 'Woman of the Year 2015' title from California State Assembly, she launched this online platform for women who have moved to USA from different parts of the world. The Expat Woman strives to help expat women with various aspects of life in USA.
Nyna Pais Caputi not only produced, edited and fundraised for her latest feature-length documentary films but also went extra miles to interview the representatives of several non-profit organizations in India and USA, including Maitri, Global Girl Power, Bal Ghar Orphanage, Navjyoti India Foundation, and Empower People, on gender discrimination and violence against women.
Petals in the Dust: The Endangered Indian Girls voices Nyna Pais Caputi's message, "Unless immediate concrete actions are taken, India's girls will become an endangered species. By 2020 there will be 20 percent more men than women."
The film will be screened on October 22 at the 19th Annual United Nations Association Film Festival in Palo Alto, California. Nyna Pais Caputi herself will attend the screening for a panel discussion.