Many feel helpless in the face of adversity. Very few are motivated by the negative circumstances of life to do something exceptional that makes a big difference to other lives. Barbara Klutinis is among the few. Mumbai Women's International Film Festival has selected her documentary The Sum Total of Our Memory for screening this year. The idea of making this documentary came to her mind when her husband was diagnosed with Alzheimer's in 2010. A retired teacher of film studies at Skyline College and San Francisco State University in California, Barbara has been making meaningful films since 1981. Her films including Pools, Trumpet Garden, Still Life with Barbie, Call to the Dark Side, and Severing the Soul have made rounds of film festivals in the United States, Mexico, Canada and Europe and Japan. Indian Eagle catches up with Barbara Klutinis to share with you how filmmaking happened to her and what changes she being a filmmaker would like to make in society. Excerpts from the interview are as follows: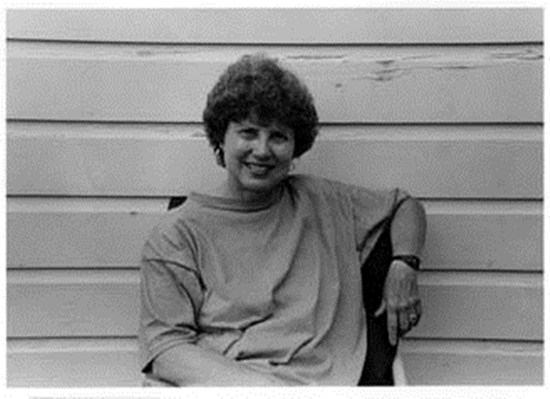 Is it the first time that your documentary film "The Sum Total of Our Memory" is traveling to India for screening at Mumbai Women's International Film Festival?  
Yes, this is the first time.
Your films have made rounds of film festivals in the USA, Europe, Canada, Mexico and Japan. What do you think of MWIFF?  
I really have not enough experience of this festival to compare it to others. And I have also attended festivals in Germany, Hungary, and Switzerland, but I have not attended festivals in India.
Would you like to share something about the documentary "The Sum Total of Our Memory"? 
This is the story of how three couples affected by Alzheimer's come to terms with their changing roles. Also there are interviews with medical experts who are on the front lines with patients suffering from dementia and their perspectives on the disease itself. You can visit thesumtotalmovie.com for more information about this documentary.
What inspired you to document the lives of Alzheimer's victims and the ordeal of their dear ones through the lens of camera? 
My husband was diagnosed with Alzheimer's in 2010.  We joined an Alzheimer's support group run by the Alzheimer's Association here in San Francisco.  Listening to the other couples process what was happening to them was an inspiration for me. They were so articulate and in touch with their feelings: sadness, desperation, fear, anxiety, and also they shared the realization that now would be the time they needed to spend quality time with their partner, before the memory loss set in. Also a good friend of mine from my Pan American Airways' days was diagnosed at about the same time as my husband.  She was very outspoken about the stigma that she had experienced around her friends who did not want to be around her anymore because they were afraid they would "catch" her Alzheimer's.  I asked her to be in the film.
So I created the film as a primer, if you will, for people dealing with this disease, to help them with the same issues I had experienced in my first connection with the disease.  It was my hope to help others who were traveling the same path.
You were a still photographer and a flight attendant with Pan American Airways before you started making films. How did filmmaking happen in your life? 
I took a lot of photos when I was traveling with Pan Am. A photographer friend of mine hooked me up with a stock photo agency in Chicago, and I started selling some of my photos to them.  Then I decided that if I was going to pursue photography more, I needed to take a class in composition.  I ended up taking many classes in photography, from photo journalism, to portraiture, and many other styles. I ended up setting up my own dark room and hand coloring large black and white photos. I loved this My photos became more sequential, and someone suggested maybe I should look into film. I took a film production class from a local filmmaker and fell in love with the Bolex camera and the moving image. After I quit Pan Am, I finished graduate school and got my MA in Film Production. I taught film studies programs at two colleges for 16 years part time. I also worked with young school children and taught them animation and editing their animation on the computer.
You have been making films since 1981. Which films / documentaries are close to your heart? 
I made a film about women and fly fishing, Stepping into the Stream, in 2010. This is very close to my heart because fly fishing is my other passion, along with filmmaking. The film I think is the best crafted film of mine is my film about Rosemary Kennedy's lobotomy called Severing the Soul. 
Nowadays, Indian films travel to international film festivals across the world. What do you think of Indian Cinema?    
Most of my experience with Indian films was with Satyajit Ray, who was a wonderful filmmaker. I have seen several Bollywood films and love them. Watching them is great fun. Other than that, I have not got much to see from India.
Have you ever traveled to India? What subject matters would you like to pick for documentary filmmaking if you do ever happen to visit India?   
I traveled to India many times during my career with Pan American Airways, sometimes for vacation, and sometimes for work. I saw the Taj Mahal, which is exceptionally beautiful. And I also traveled to Varanasi, which left an indelible impression on me. I stayed on a houseboat in Srinagar and loved going to Moti Mahals for dinner in Delhi when we had layovers there. I don't know what I would pick for documentary filmmaking in India. I think I would leave that to Indian filmmakers!
What change would you, as an experimental filmmaker, like to make for societal betterment of lives around you?  
Where would one start?  There is so much to FIX! I guess I have to start with where I am right now. I am really concerned about the growing population of elders and how the world is going to cope with them as they age, particularly as they age and get dementia! Our healthcare system is going to be overwhelmed with the cost of this, as people are living longer and the greatest contributor to dementia is aging. My film addresses this subject, and I hope it will make people aware of the fact that this will be an epidemic of staggering ramifications. We need to do something to avert this crisis, and also we need to pour more money into Alzheimer's research, as this area of disease is greatly underfunded, compared to AIDS and cancer research.
We thank Barbara Klutinis for giving the interview and wish her all the best for her film's Indian premiere at MWIFF 2014. Indian Eagle, a leading international travel organization, books trips to India from the United States and Canada. Our India Travel Magazine provides Indian Americans and the Americans with a window to India.