Air India is all set to operate weekly three direct flights from Washington to New Delhi, beginning early in July 2017. Air India flights from Washington DC to Delhi will cover 7,480 miles only in 14 hours. It's the second nonstop route in Air India's US-India travel network. The new service will also benefit travelers from Maryland, Columbia and Virginia in the Washington Metropolitan Region. Thousands of Indians in the DC-Maryland-Virginia region travel to New Delhi with cheap flight tickets for India from Indian Eagle.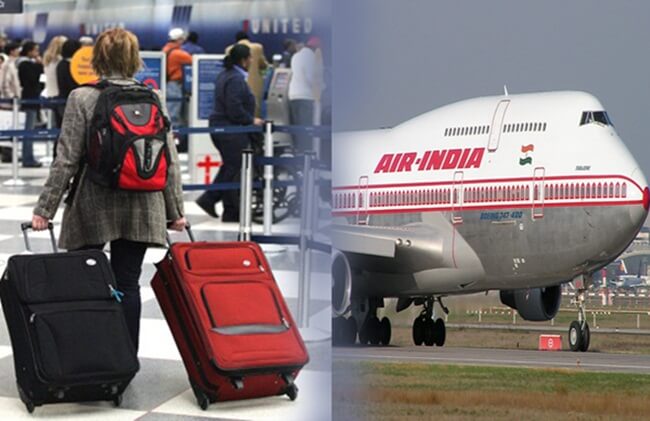 The following are the details of check-in baggage allowance for Washington to Delhi Air India flights in economy:      
As per the information available about Air India baggage allowance for IAD to DEL economy flights, you can check in with two pieces of baggage for free; each weighing up to 23kgs or 50 pounds. The total of three dimensions – length, width and height – of each check-in bag should not exceed 107 inches. Moreover, 62 inches is the limit of linear dimensions of each bag's wheels and grips for economy passengers of Air India flights from Washington DC to New Delhi, India.
If you travel with an infant, you can carry extra one piece of free check-in baggage on Air India's economic flights to Delhi from Dulles International Airport. The bag must not weigh more than 10kgs or 22 pounds. The total dimension of length, breadth and height of an infant's check-in bag must not exceed 45 inches or 115 centimeters.
You can carry one cabin bag and a laptop bag / ladies' handbag on Washington to Delhi flights in economy just as it is for all Air India cheap flights to India from USA. The cabin bag should weigh up to 7kgs and measure up to 45 inches in size. The airline may not permit cabin bag to infants below two years of age.
You will have to shell out $200 for an additional piece of check-in baggage weighing up to 32kgs as per Air India's policy for excess check-in baggage on all USA to India flights.
Get Air India's discounted plane tickets from Washington, San Francisco, New York, Newark, Chicago and other cities at Indian Eagle for your cheapest flights to India from USA. Feel free to call Indian Eagle at 1-800-615-3969 to get itineraries as your travel plans.