In a matter of pride for the global Indian community, 14-year-old Anika Chebrolu from Texas won Discovery Education's 3M Young Scientist Challenge 2020 and became America's Top Young Scientist of the year. Having earned the most coveted title for her breakthrough discovery that can lead to an effective anti-COVID19 cure, Anika Chebrolu has joined the elite club of extraordinary young Indians at Travel Beats, a leading overseas Indian community portal.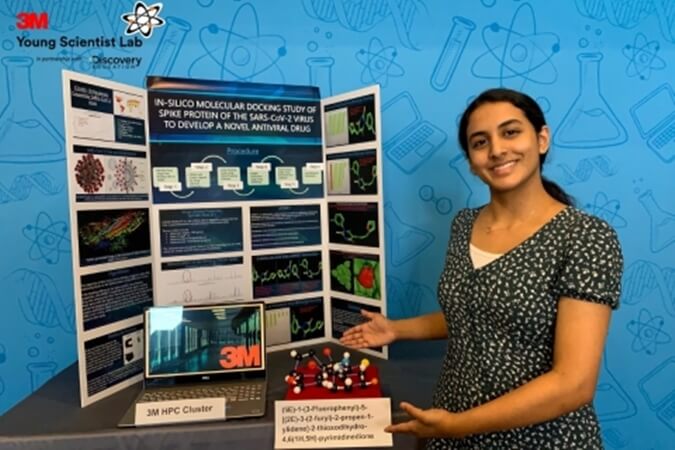 A freshman at Independence High School in Frisco, Anika was among the top 10 finalists, including seven Indian Americans, of the 2020 3M Young Scientist Challenge. She has developed the prototype of a novel antiviral drug that can bind to the spike protein of the SARS-CoV-2 or Novel Coronavirus. The molecule that she has found out through her extensive research can bind to the protein of the deadly virus, which in turn can inhibit the spread of the virus into the human cell. Anika studied and screened millions of microscopic molecules with binding properties using various software applications. The molecule she discovered and chose has the best pharmacological and biological properties to be utilized for effective COVId-19 treatment.
The 3M Young Scientist Challenge 2020 winner, Anika Chebrolu received the grand prize $25000, a fully paid destination trip, and other prizes. Since her childhood, she has been inclined towards scientific experiments and discoveries. She committed herself to finding effective cures for influenza-like viral diseases after she recovered from a severe bout of influenza in 2019. Her commitment led to the discovery that in turn earned her the title, America's Top Young Scientist 2020.
An aspiring medical researcher and professor, 8th grader Anika Chebrolu demonstrated her scientific acumen, innovative thinking and exceptional research skills while going through a number of challenges in the finals held virtually on October 12 and 13 this year.
Also Read: This Indian Teen Made Records for Cooking 33 Dishes in 1 Hour
7th grader Laasya Acharya from the US state of Ohio has secured the third place in Discovery Network's 3M Young Scientist Challenge 2020. Indian-origin Laasya invented an easy-to-use solution that can effectively help farmers 'detect diseased and unhealthy crops to reduce loss and improve yields during the harvesting phase.' Her invention may prove to be a boon for developing nations, including India.
In the fifth place is Indian American Rithvik Ijju, an 8th grader from Colorado. Rithvik has invented a unique robotic glove system that can help fast-track stroke rehabilitation of motor skills in the hands through neuro-plasticity, according to the 3M Young Scientist Lab.