Good news for California Indians! They will get more direct flights to India from San Francisco for the upcoming holiday travel. All thanks to Air India; the Tata airline will resume the most-awaited SFO to Bengaluru nonstop flights and launch the new SFO to Mumbai nonstop route in December 2022. Bi-weekly frequency of Air India flights between Bangalore and San Francisco will be thrice weekly starting  from December 15.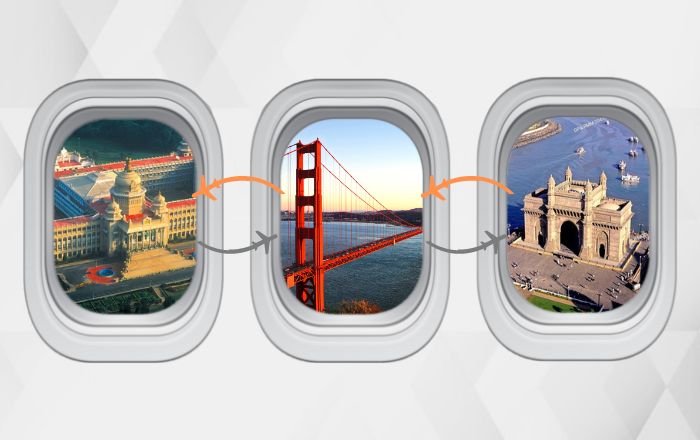 The Mumbai to SFO service, the latest addition to Air India's winter schedule of 40 weekly flights from India to USA, will be operated thrice a week starting from December 2. This route was announced in summer 2018, but it was shelved for unprecedented reasons. Nonstop Air India flights, SFO to BOM, will cover nearly 8500 miles in 17 hours. Hope the Tatas will give due consideration to Los Angeles to India direct flights that Air India had planned in its disinvestment-bound days.
Air India's B777-200LR for SFO to BOM and BLR flights
Boeing 777-200LR that the airline is all set to induct into its long-haul fleet will be deployed for direct connectivity from San Francisco to both Mumbai and Bangalore. Interestingly, Air India's first-ever premium economy seats will gradually be rolled out on B777-200LRs between December and March 2023. B777-200LRs belong to the long-range category of wide-body aircraft suitable for long-haul intercontinental routes like San Francisco to Mumbai, New York to Singapore, and Chicago to Sydney.
Air India's B777-200LR has an increased maximum take-off weight (347.5 tons) among other unique features. The more take-off weight, the more payload (carrying) capacity. B777-200LR's maximum take-off weight is almost double the aircraft's fuel capacity (148.7 tons) plus payload capacity (passenger, baggage, and cargo). Since the aircraft can accommodate additional fuel tanks in the rear cargo hold, it can carry extra fuel for extra flying time (in case the airline needs to change its route due to some foreign airspace restrictions) without compromising on the total load of passengers' checked-in bags.
San Francisco to India: Direct flights vs One-stop flights
Middle East airlines' one-stop flights between San Francisco and India are the best alternatives to non-stop Air India flights on the same routes. 17 hours 10 minutes is the travel time on direct Air India flights from SFO to Mumbai, according to IndianEagle.com. Emirates, Turkish Airlines, and Qatar Airways take 21-22 hours (including layover time) to complete a one-way trip on the same route via their respective hubs. Their check-in baggage allowance in economy is the same as Air India's. You can check in two bags (each 23 kg) for free on Air India flights, and one-stop flights by the Middle East carriers. IndianEagle.com offers a user-friendly interface to let you check, compare and choose SFO to Mumbai airfare deals, SFO to Delhi cheap flights, and SFO to BLR air ticket prices.