India's loss-making national carrier, Air India does not cease to surprise us. In spite of reeling under a heavy debt of Rs 55,000 crore as of 2018, Air India is much liberal in allowing travelers to upgrade from economy to business, and from business to first class for a little extra amount of fare. No other airline seems to be as generous as the Indian airline.
After having introduced a liberal bidding system for its international passengers to upgrade their cheap economy flights to business class for a negligible fraction of actual business class fares, Air India is all set to pamper domestic flyers in luxury and comfort. Recently, Air India launched its new domestic airport upgrade scheme – 'Get Up Front' making it irresistible for travelers to fly business class or first class across its domestic network.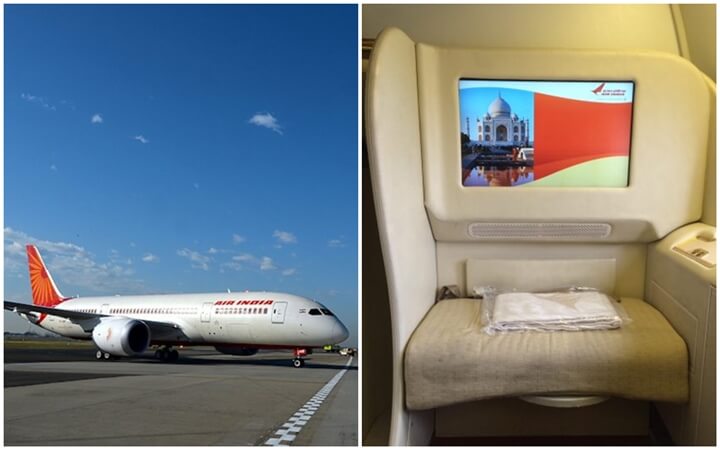 Get Up Front: Air India's Domestic Airport Upgrade Offer 
Air India's Get Up Front scheme for domestic flights consists of two payment slabs for upgrading from economy to business class, and from business to first class. One of the payment slabs is Rs 4500 for an upgrade on domestic flights up to 750km and the other is Rs 6000 for an upgrade on longer domestic routes. Either of the payment slabs applies to an upgrade per traveler.
Only those holding valid Air India tickets can avail the 'Get Up Front' offer. Air India's domestic airport upgrades scheme is equally applicable for all travelers, irrespective of age. The USP of the Get Up Front is that the scheme can be availed on Air India's discounted fares, concessional tickets and award flights.
Air India's Get Up Front Scheme for Overseas Indians 
Overseas Indians can avail the Get Up Front offer for a travel class upgrade in the domestic leg of their Air India flights from the US, the UK, the UAE, Australia, Singapore and Hong Kong. Whether the offer can be availed in the Air India-operated domestic leg of an international itinerary from some other airline, is not yet known.
However, one thing for sure is that Air India's Get Up Front offer is a welcome relief after the jet lag of a long, international flight through several different time zones. You can soak in luxuries of the business travel class without burning a hole in your pocket for actual Air India business class fares or breaking the bank for first class travel experience.
The airline makes clear that the domestic airport upgrades scheme cannot be availed for a switch from economy to first class. An additional 12% GST will apply to an upgrade under the scheme, according to Air India. Not all of Air India's domestic flights will come under the ambit of the Get Up Front scheme. The offer can be availed on only those operated by aircraft having business class and first class configuration. As of March 2018, Air India flies to 55 domestic destinations across India.
How to Avail Air India's Get Up Front Upgrade Scheme
Air India's Get Up Front scheme is available for purchase on the airline's website, at the airline's designated booking offices and airport counters, and through call centers. Even after buying cheap Air India flight tickets from a reputed travel agency like IndianEagle.com, You can seek to avail the upgrade offer.