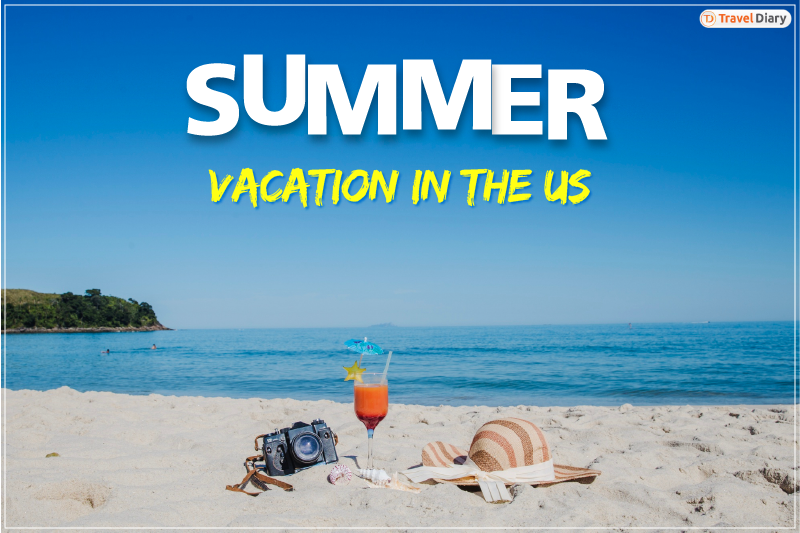 Summer is coming! This is usually considered the best time to visit USA as the temperatures are not extremely cold. Spending your summer vacations in the US will let you experience a completely different side of America. The clear blue sky, bright sunshine, warm afternoons and gentle breeze during the summer months is a boon for those who love spending time outdoors. 
If you are planning to spend your summer in USA, Indian Eagle flight bookings will let you find the best deals for an affordable trip. And if you are looking for budget-friendly places to visit in USA, continue reading. 
Best Places to Spend Super Summer Vacations in the US. 
The Scenic Glacier National Park
Glacier National Park is one of the top summer vacation spots in the US. It attracts thousands of tourists who seek to hike through its scenic trails to admire impeccable views of the surroundings. You can also make your summer evenings memorable by opting for stargazing at Logan Pass. If you are looking to spend time in leisure, driving along the Going-to-the-Sun Road is an excellent idea.  
The Picturesque Cannon Beach
Summer and beaches sound perfectly magical! If you want to soak in the sun while sipping on your favorite beverage, visit Cannon Beach for a perfect summer vacation in the US. Located almost 80 miles northwest of Portland, this awe-inspiring coastal city is a delight for nature enthusiasts. You can opt to hike through the lush rainforest in Ecola State Park to feel the adrenaline rush or spend time chilling in the tide pools at the popular Haystack Rock. If you are lucky, you can also spot some of the rare bird species in the area such as varied thrushes, tufted puffins etc. 
Also Read: Cheap summer flights
The Quaint Destin 
Also known as the "World's Luckiest Fishing Village", Destin in Florida is one of the best places for summer vacations in the US, especially if you want to try your hand at fishing. This Panhandle in Florida has a vast white sand coastline that is perfect for a beach summer holiday. Apart from this, you can also spend some time relaxing under the sun at the shores of Crystal Beach Park. Watching a free alligator show is another great way of having a budget-friendly holiday. Some of the top tourist activities include tennis, golf or water sports like snorkeling and diving. As this town receives thousands of tourists in summer, you can consider booking cheap flights and accommodations in advance to avoid any last minute cancellations. 
The Enchanting Gatlinburg 
Gatlinburg is one of the best summer vacation spots in the US. Although this Tennessee town receives a lot of visitors in the fall season, summer in Gatlinburg can be equally magical. It is also a paradise for budget travelers with numerous free things to do such as fishing, hiking, biking, bird-watching etc. You can also admire the spectacular views by traveling in the Ober Gatlinburg Aerial Tramway. As an art enthusiast, you can enjoy watching the artisans make some of the finest Appalachian crafts. Spend time exploring this beautiful place and gorge on the local delicacies to make your trip memorable. 
These are some of the best places to spend one of the best summer vacations in the US. Which tourist attraction in the US mentioned above intrigued you the most? Comment below and let us know. 
If you are looking forward to booking cheap flights to USA, Indian Eagle international flights are recommended for budget-friendly travel. 
Frequently Asked Questions
1. How long is summer vacation in the US?
The duration of summer break or the summer vacation in the US is nearly two and a half months. This is the time when families in the country plan holidays as schools are generally shut. 
2. When do summer vacations start in the US?
Summer vacations in the US mostly begin around early June or July and may continue until the end of August. 
3. Where to go on summer vacation in the US?
There are many places that you can opt to go on summer vacation in the US. But if you are on a budget, you can book cheap flights to USA and explore destinations like Cannon Beach, Glacier National Park, Destin, Gatlinburg, Williamsburg, Sequoia National Park etc. 
4. How many weeks is summer vacation in the US?
Summer vacations in the US are usually for about 10 to 11 weeks. They might start around May or June and end towards the end of August. 
Disclaimer:
Indian Eagle claims no credit for the images featured on its blog site. All the visual content is copyrighted to its respective owners only. We mention the source name of the image whenever possible and found. However, if we miss acknowledging the owner's source, please contact us. In case, owners don't want us to use their images, we will remove them promptly. We believe in providing proper attribution to the original author, artist, and photographer.