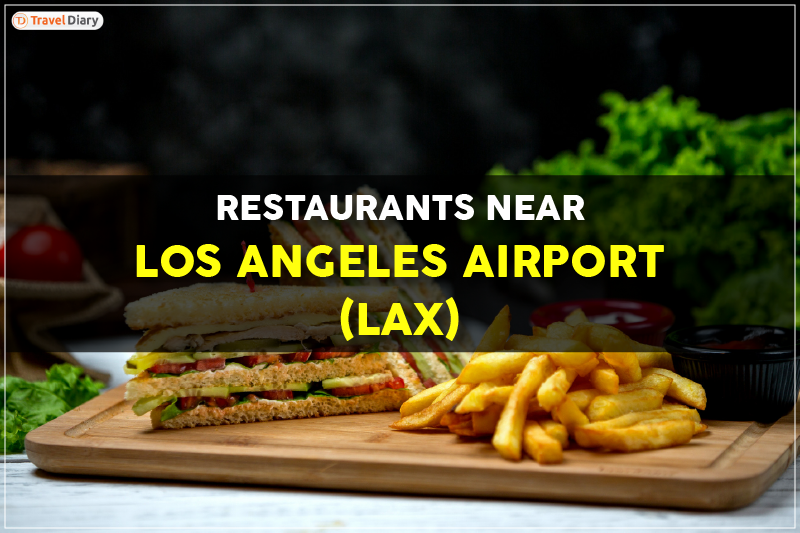 Whether you're dropping off your friends or picking them up from the airport or spending a long layover, eating a luscious meal is always the best choice. Multiple restaurants near Los Angeles airport offer way better food options than any other eatery in any of the terminals. From Chinese, Italian, and American to Indian, these restaurants serve an array of eating options and take you on a culinary journey. These restaurants are located near the airport within a reasonable distance which makes them a great place to stop by. Here are the best restaurants Near Los Angeles airport to hang out and please your palate.
Restaurants Near Los Angeles International Airport
In-N-Out Burger
Want to eat the most iconic burger in Los Angeles? In-N-Out Burger is your one-stop restaurant. Whether it's a first stop after a long flight or the last one before reaching your destination, this restaurant is unarguably worth visiting. Their giant, delicious, and uniquely Californian burgers will give you a power punch and release all your stress. If you are here, don't forget to try their double-double burgers and animal-style fries with melted American cheese. 
Where: 9149 S. Sepulveda Blvd, LA
Taj India Palace
An Indian restaurant near Los Angeles airport! Seems fascinating, right? Taj India Palace is a place where you can enjoy authentic Indian cuisine. The place serves food options like Dal Makhni, Garlic Naan, bone-in Chicken Tandoor, and more. Whether it's for dine-in or takeaway, Taj India Palace is a busy place. People love their veg and non-veg options. It's a great place to escape from the international dishes and try out some desi cuisine. 
Where: 8320 Lincoln Boulevard, Westchester
Caravan Swim Club
Caravan Swim Club is a poolside restaurant near Los Angeles airport (LAX) that serves everything from oysters and cabana drinks to Baja-inspired cuisines. It's the best place to relax while enjoying cocktails and soothing music poolside. Every Los Angeles travel guide considers this restaurant near the airport because of its delectable food options and elegant ambiance. Their squash blossom quesadilla and cauliflower nachos are must-try dishes. They offer plenty of food options for vegans too. You can head directly to this place for laid-back lounging and refreshing drinks. 
Where: 8639 Lincoln Blvd 
Also Read: 5 Famous Restaurants in San Francisco
The Original Rinaldi's Deli and Cafe
The Original Rinaldi's Deli and Cafe is a great place to satisfy your hamburgers & sandwiches feast and enjoy gut-busting food options. While their explosive-tasting sandwiches can sate your hunger, that's not all they feature. They also serve healthy food options like salads, wraps, and smoothies that are the best if you don't want to overeat. They specialize in delicious lunch catering with homemade meatballs, Boar's Head meats, and cheeses. 
Where: 6171 W Century Blvd #168, LA
The Slice & Pint 
Operated by El Segundo Brewing Company, The Slice & Pint is the best place to satisfy your pizza cravings. It is one of the most popular restaurants near Los Angeles International Airport that serves the city's best brewery options too. From locals to travelers, everyone visits this restaurant to enjoy their locally-made brews. These exceptional craft homebrews are close to a divine experience. Their Pizza Slices, meatballs with pickled peppers, and refreshing beers are the perfect combination to blow your mind. 
Where: 130 W Grand Ave, El Segundo
Ayara Thai Cuisine
Ayara Thai is a Westchester County Institution that is well-known for its traditional Thai specialties. It is a long-standing yet worth-waiting spot that is popular for its extensive menu (dine-in or takeaway). Their Thai recipes are made with fresh ingredients that have been passed down and transformed with local ingredients. Their thick Coconut Soup – Tom Kha Gai, Rice Rolls served with signature Peanut Sauce and Curry Noodle Soup is just amazing to try. If you want to spend some leisurely time before or after a flight, this is the perfect place. 
Where: 6245 W 87th St, LA
These restaurants near Los Angeles Airport take your taste buds on an adventure. You can indulge in a menu that features one of the city's best burgers, pizzas, salads, soups, and brewery options. Enjoy the inviting atmosphere in any of these restaurants near LAX before boarding your flight or heading to your home.
Don't want to spend more on international flight tickets? Why don't you book cheap flights from LAX to India via Indian Eagle? This online travel ticketing company offers services for cheap, last-minute, and even business-class flights. Indian Eagle flights are the best if you want reasonable airfare and no burden on your pocket. 
Disclaimer: Indian Eagle claims no credit for the images featured on its blog site. All the visual content is copyrighted to its respective owners only. We mention the source name of the image whenever possible and found. However, if we miss acknowledging the owner's source, please contact us. In case, owners don't want us to use their images, we will remove them promptly. We believe in providing proper attribution to the original author, artist, and photographer.