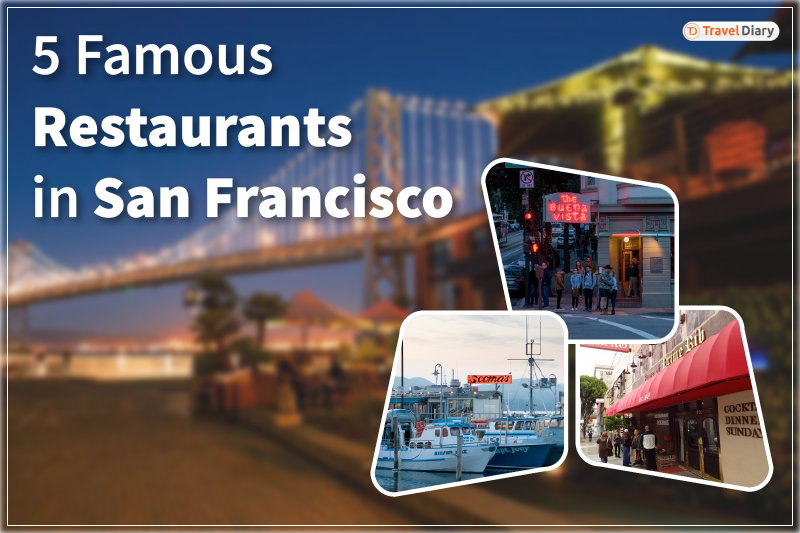 Of all the things most sought-after by tourists in San Francisco, food experiences come second only to the tourist attractions in the city. The delicious food scene of this city can drive food-loving travelers' decision to book that flight to San Francisco. With mouthwatering treats on offer, the 'City by the Bay' is one of America's top food cities well-known for its culinary innovations. You cannot miss out on the authentic taste of Joe's Special, Cioppino, Crab Louie, Mission burrito, Popsicle, It's It, etc. when you are at the birthplace of these dishes.  
With an estimated 4,500 restaurants in San Francisco, you'll be spoilt for choices when it comes to a culinary tour of the city. Deciding where to eat can get a bit overwhelming, especially for first-time travelers. So, here are some of the best gastronomic destinations in San Francisco for you. 
House of Prime Rib
This San Francisco restaurant is a classic favorite for meat lovers. Neither the taste of their prime rib nor the serving style at the House of Prime Rib has changed much since its establishment in 1949. They still carve their 21-day aged prime rib tableside before dishing it out from the rolling carts. The salad is also freshly spun by your table. You'll enjoy the classic accompaniments (mashed potatoes, creamed spinach/corn, and Yorkshire pudding) as much as the steak itself. 
Scoma's Restaurant
One of the best seafood restaurants in San Francisco, Scoma's is famous for its pier-to-plate seafood menu and picturesque waterfront location. Fresh seafood sourced from the local fishermen is served at this restaurant. Along with their delectable seafood options including their specialties such as Seared King Salmon, they also offer an extensive list of crafted cocktails and wines. Sip at your favorite drink while taking in amazing views of the Wharf and the Bay through their broad windows.
Also Read: Ultimate Travel Guide to San Francisco
The Buena Vista
Buena Vista, known for bringing Irish coffee to the United States, is tucked away in the Fisherman's Wharf neighborhood, on Hyde Street. Head to this iconic restaurant to enjoy a cup of strong Irish coffee and classic American treats while enjoying beautiful views of the Bay. Apart from its signature Irish coffee, you can also enjoy a variety of drinks that the bartenders whip up in minutes. The Buena Vista also offers decent breakfast, lunch, and dinner options.
Greens
If you are looking for the best vegetarian restaurants in San Francisco, Greens is a great option. Featuring an all-vegetarian menu since 1979, this restaurant welcomes one to enjoy a leisurely meal in the well-lit dining rooms complete with wooden furnishings and a pleasant ambiance. Seasonal produce from the nearby farm is cooked in their kitchens. You can relish their vegetarian fare sitting by the huge windows that look out onto the Golden Gate Bridge.
Also Read: Indian Restaurants in the San Francisco
Zuni Cafe
A bi-level bistro with floor-to-ceiling windows overlooking the busy Market Street, Zune Cafe is a landmark restaurant in the city. Named after the indigenous Zuni tribe, this famed Californian restaurant is the place to eat the best roast chicken in town. Roasted to perfect texture and flavor in a wood-fired brick oven, Zuni Cafe's roast chicken is traditionally served with warm bread salad. Their delicious food, carefully crafted cocktails, and top-notch service leave you with a satisfying dining experience. 
A few more food experiences in San Francisco you must try out include:
Mission Burrito in Mission District  

Dim Sum in Chinatown

Martini in North Beach

Chocolate at Ghirardelli Square

Sourdough Bread from Boudin Sourdough

Indian (specifically Gujarati) cuisine at Besharam 

Chinese fare at China Live Market Restaurant.
A culinary tour of San Francisco is incomplete without these food experiences. Do include them in your itinerary if you are planning a visit to Golden Gate City. And to save maximum on airfare, book Indian Eagle flights to San Francisco and earn reward points too!