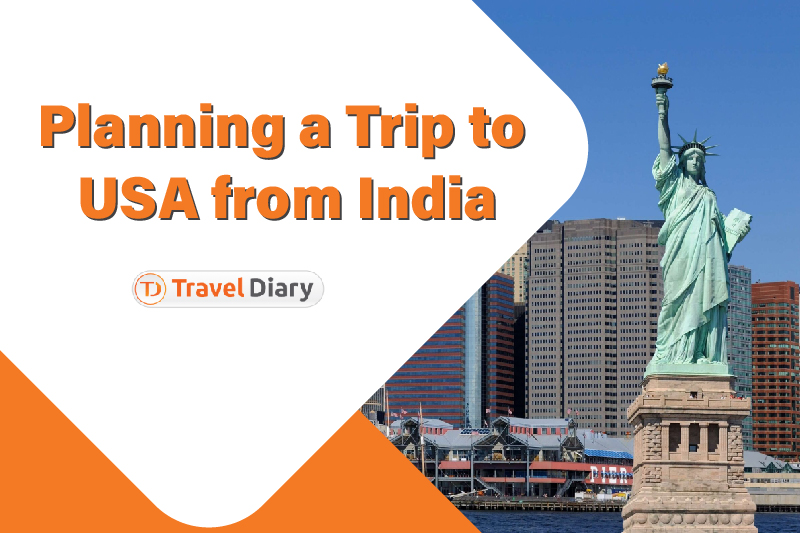 The United States, well-known for its big bustling cities, charming countryside, balmy beaches, marvelous museums, and innumerable natural wonders, is a dream destination for most travelers. Are you planning your first foreign trip to USA and looking for some guidance on how to plan your big vacation? Here's a simple 8-step guide to planning a trip to USA from India.
Step-1: Get a Tourist Visa
Step-2: Decide on your Itinerary & Budget
Step-3: Book Your Flight Tickets
Step-4: Reserve Hotels, etc.
Step-5: Plan Your Travel Itinerary
Step-6: Buy Travel Insurance
Step-7: Get a Forex Card
Step-8: Pack for your US Trip
Let's get to each step in detail.
Step 1: Get a Tourist Visa
The US visa application process is a little complicated as compared to other countries. As part of the visa process, you would be required to attend an in-person interview, for which you need to schedule an appointment after applying for a visa. The visa process typically consists of filling out the Nonimmigrant Visa Application (DS-160) Form, booking the appointment, and visiting the US Consulate near your city for getting your biometrics registered and documents verified (passport, photographs, DS-160 form confirmation page, interview appointment letter, as well as other supporting documents). The final step of the visa process is the one-to-one interview at the US Embassy.
Since this is a time-consuming process, it is recommended that you apply for a US tourist visa (B-2 visa) well ahead of time.
Step 2: Decide on your Itinerary & Budget
While your visa process is in the works, you can work on your itinerary and travel budget. For this, you need to first decide on the length of your trip. Then, prepare a rough itinerary by jotting down the places you would like to visit in the USA. Now, break it down into days, i.e. allocate a number to each of your destinations. Do some research to find out the stay, food, and commute options at each destination so you can get an estimate of the per-day costs, based on which you can fix a rough travel budget for your trip to USA from India. You need to account the cost of the visa also in the budget. Once you apply, you will know how much you paid exactly.
Step 3: Book Flight Tickets
Once you are sure about the travel dates, then go ahead and look out for the best deals on flights to USA from India. In general, the best time to book flight tickets is between three months and three weeks before the departure date. The earlier you book, the better. You can rely on online flight booking agents such as Indian Eagle for booking your tickets. Apart from offering you some incredible flight deals, the company also provides 24/7 support to their customers.
Step 4: Reserve Accommodation and other Tickets
Booking hotel rooms, train tickets (if necessary), and other transportation tickets in advance can put you at ease during your trip to USA from India. Imagine arriving at a hotel after a tiring long-haul journey to the USA from India only to hear that it has already been fully booked! It can be disappointing and frustrating at the same time. Pre-booking is the solution! So, book your flight/ train tickets, hotel rooms before you reach your destination as they are subject to availability. Confirm all your bookings before the start of your journey.
Step 5: Get to the Day-Wise Part of Your Itinerary
The United States of America is huge, and the vast number of sightseeing and adventure opportunities it offers, can be intimidating for any first-time traveler. A freewheeling trip may not be an ideal choice for first-timers. At the same time, planning your itinerary for a trip to USA to the tee is also not a good idea as it may ruin the excitement. Just elaborate a little on your rough itinerary and list down all those experiences you would like to try at each place you visit. This further gives you clarity on the budget for a trip to USA from India. Your travel personality and style will play a key role here. A holiday in America might mean backpacking tours, road trips, and national park visits for some while for others, it might be experiencing a taste of life in big cities.
Step 6: Buy Travel Insurance
Travel insurance is a must when you fly internationally. A lot of travelers tend to ignore it but travel insurance is something that you must not travel without. It has your back in cases of a medical emergency, trip cancellation, loss of personal belongings such as passport and baggage, or any other unfortunate happenings. Knowing that you will be covered in an emergency goes a long way in ensuring that you have a stress-free vacation. So, why take the risk? Get travel insurance immediately, if you don't have one already.
Step 7: Get a Forex Card
Currency exchange is something that can overwhelm most first-time travelers. A forex card, which allows you to make payments or withdraw money from ATMs in foreign currency, is something that you can invest in when traveling abroad. It is also a safe option as compared to carrying liquid cash in large amounts. You can apply for a forex card at any RBI-authorized bank branch (or online) by filling out the prescribed form and submitting it along with self-attested copies of your PAN, passport, visa and air tickets.
Step-8: Finally, Pack for your US Trip
And then comes the last step of planning a trip to USA from India – packing. You are traveling to a country that is miles away from home and expect weather conditions to be the opposite of what you have been accustomed to here in India. So, pack carefully, depending on the season you are traveling in the US. Create an international packing checklist so that you don't end up forgetting anything. Also, don't overstuff your luggage with all the things you think you might need 'just in case'. Be practical when packing and make sure the weight of your luggage is in line with the baggage policies of your airline.
You are now all set to go! Do you think we have missed out on anything? Leave your suggestions in the comments section below.