Kochi (Cochin), India's industrial and commercial capital, serves as the entry point for many tourists visiting Kerala. Kochi tourism allows visitors to explore this culturally and historically rich port city ranked as one of India's top five tourist destinations by the World Travel and Tourism Council. Kochi tourism will undoubtedly provide you with one of the best travel experiences of your life, with its dazzling beaches, radiant backwaters, exquisite cuisines, and exciting festivals.
You will never forget your time in this city that embodies what it means to be in 'God's Own Country.' This Kochi travel guide will provide you with all of the information you need to know before visiting the city, including all Kochi India points of interest, to make your trip memorable.
Kochi Culture
Because of the presence of people from all over the country, Kochi's culture is vibrant. It is a synthesis of traditional and Western cultures. The city is dominated by Hinduism, Islam, and Christianity, and various festivals are held here. The city sells a variety of handicrafts and antique items that reflect its culture and traditions.
Top 5 Reasons to Travel to Kochi
Religious Diversity
All forms of worship are welcome in Kochi, which has everything from sacred Catholic churches to well-designed Hindu temples and even a Jewish synagogue decorated with Chinese tiles and Belgian chandeliers.
Colonial Style Architecture
Fort Kochi and the Mattancherry Palace are two examples of traditional architecture. Along with these wonders, visit the Hill Palace Museum, which, in addition to its architecture, is Kochi's largest archaeological museum.
Fantastic Food
In this city, you can eat your way around the world: there's Portuguese-inspired cuisine, as well as Arabic, Chinese, and Dutch cuisine.
Lovely beaches
Cherai Beach and Fort Kochi Beach are two of the most tranquil and beautiful Kochi tourist places for visitors to relax in the sun.
All Year Colorful Festivals
All year long, the south of India celebrates festivals such as Diwali, Holi, and regional celebrations that include many outdoor theatre performances and dancers.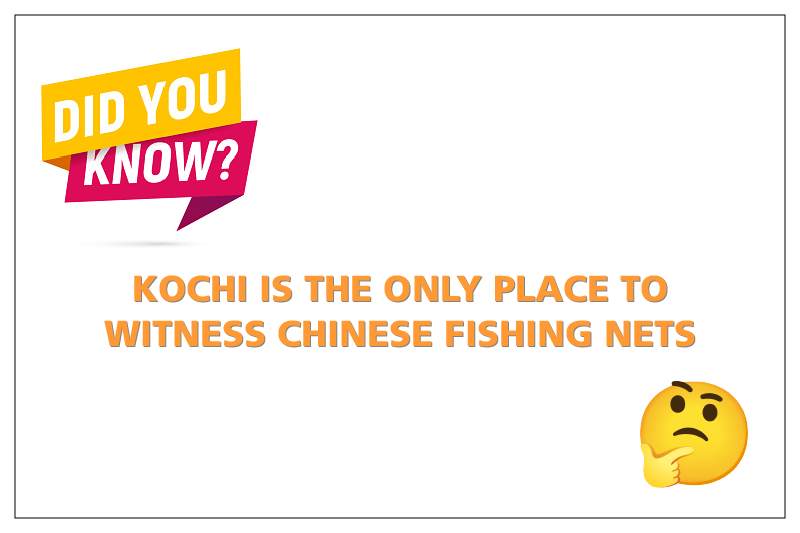 Things to do in Kochi
Cochin Tourism offers some beautiful tourist destinations for an incredibly unique sightseeing experience. Here is a list of some Kochi tourist places.
Chinese Fishing Nets: An intriguing way to catch fish
Kerala Folklore Museum: A journey into Keralan culture
Mattancherry Palace: Relive the Ramayana in a beautiful setting
Francis Church: India's oldest Christian church.
Paradesi Synagogue: A unique synagogue
These are some of the things to do in Kochi, so include them in your Kochi travel guide to enjoy your vacation. There are also a number of temples that attract tourists on a regular basis. Ernakulatthappan Temple, Poornathrayeesa Temple, Vamanamoorthy Temple, Ettumanoor Shiva Temple, and Kaduthuruthy Shiva Temple are among the most visited temples in Kochi.
Kochi's Regional Cuisine
Kochi or Cochin offers a wide range of culinary delights to tantalize your taste buds. Kappa, Kallummakaya, sadya, avial, Kerala fish curry, Kerala biryani, Palada Paysam, and Kerala chicken curry are some of the best foods to try in Kochi.
Top 4 tips of visit Kochi
The locals are extremely friendly. They frequently provide the best experience at the most reasonable price.
The seafood in Fort Kochi is exceptional and unique. When visiting Fort Kochi, you must try the infamously delicious pearlfish fry.
There are several nearby homestays and hotels that offer excellent service at a low cost.
You can easily take a taxi or walk while exploring this location. It is preferable to have a guide because you do not want to miss anything in each location. Fort Kochi is awe-inspiring in every way.
When is the best time to visit Kochi?
With a typical tropical climate, the city's temperatures do not vary greatly throughout the year. It does, however, have a distinct wet monsoon season. Because of the heavy rains from May to July, most tourists try to avoid visiting during this time. The months of September to early February are ideal for a visit because the weather is mild. Summers can then be brutal, with temperatures reaching 40o Celsius.
These are a few important things to keep in mind as you explore this incredible place. Make the most of your Kerala vacation with this comprehensive Kochi travel guide. Are you planning a trip to Kochi from the United States? Indian Eagle provides low-cost USA to Kochi flights, allowing you to save money.
So, what are you waiting for? Book reasonable international flight tickets with Indian Eagle today and prepare to discover the multicultural city's galleries, museums, and places of worship.