While India joins the rest of the world in ringing in the Gregorian New Year on January 1 with lots of hopes of a fresh beginning, new resolutions, and majestic fireworks, the traditional New Year's Day varies from state to state in this diverse country. Different regions observe New Year's Day on a different date as decided by the traditional (solar/ lunar) calendar. Thus, it comes as no surprise that the multi-cultural Bharat celebrates not one, but many New Year's Days known by various names like Ugadi, Gudi Padwa, Puthandu, Vishu, Navreh, etc. in various parts of India. Their New Year's traditions reflect the rich cultural diversity of the country. As the world gears up for New Year 2022, let's take a look at traditional New Year's celebrations across India.
Ugadi/ Yugadi – Telugu and Kannada New Year:
One of the important Indian festivals, Ugadi is the traditional New Year for the Telugus and Kannadigas. It is celebrated on Chaitra Shudda Padyami, the first day of the first Hindu month Chaitra, according to the Hindu lunisolar calendar. The word Ugadi originates from the Sanskrit word, Yugadi, meaning the start of a new age. The people of Telangana, Andhra Pradesh, and Karnataka welcome the New Year by decorating their homes with mango leaves and marigold flowers. Ugadi Pachadi, a melange of six different flavors symbolizing various emotions of life, is a significant part of the New Year's traditions in these states.
Also Read: Unique Telangana Culture and Tradition
Gudi Padwa – Marathi New Year:
The New Year's Day in Maharashtra, Goa and other Konkan regions is called Gudi Padwa. Observed on the same day as Ugadi, the festival marks the arrival of spring. As part of the celebrations, people hoist Gudi dvaja (a decorated arrangement consisting of a bright cloth tied to one end of a bamboo stick with kalash inverted on it to symbolize victory) outside their homes. Festive dishes like shrikhand and Puran Poli are traditionally made in Maharashtrian homes. The same day is also celebrated as Cheti Chand by the Sindhi community.
Baisakhi – Sikh New Year:
Baisakhi is celebrated with great enthusiasm in the North Indian state of Punjab. This harvest festival celebrated on the first day of the Vaisakh month (as per Punjab's solar calendar) usually falls on the 13th or 14th of April. Baisakhi holds a special significance for Sikhs as this day coincides with the formation of Sikh Khalsa. The Land of Five Rivers comes to life with New Year's traditions like energetic Bhangra and Gidda performances. The beautifully-lit Amritsar Temple, where major festivities happen, is a sight to behold! Advance flight booking can save you a great deal. Check out our deals on flights to Amritsar now.
Bohag Bihu – Assamese New Year:
Also known as Rongali Bihu, this is the biggest festival in Assam. The most important of the three Bihu celebrations in the agriculture-based state (the other two being Kati Bihu and Magh Bihu), Bohag Bihu is a harvest festival celebrated in the first month, Bohag, of the Assamese Calendar. This festival that heralds the spring season and marks the beginning of the Assamese New Year usually falls in mid-April. The festivities last for several days, during which men and women of Assam dress up in traditional attire and celebrate nature's bounty in a cheerful manner. Folk songs and Bihu dances are major highlights of this festival of merriment.
Pohela Boishakh – Bengali New Year: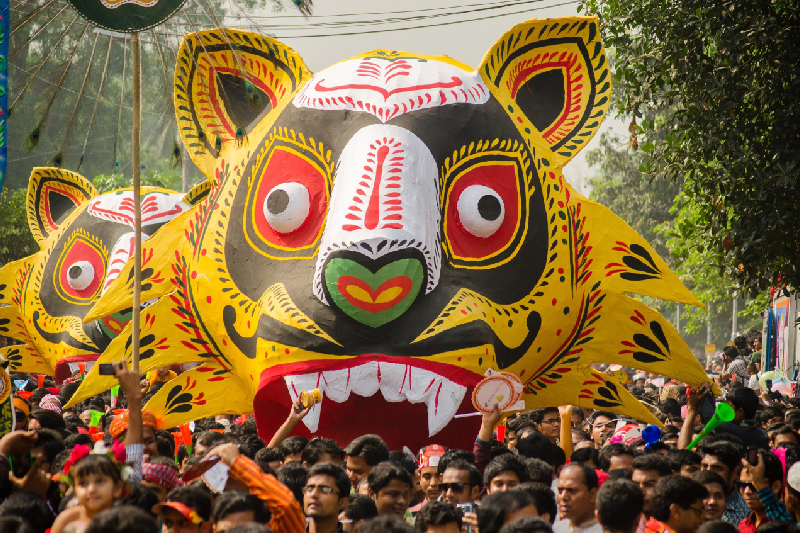 West Bengal observes the first day of Vaishaka month as Pohela Boishak or Nabo Barsh, which marks New Year's Day according to the Bengali calendar. People wish each other 'Shubho Noboborsho' and take part in the processions, parades, cultural programs, and melas (fairs) that happen throughout the state. An interesting part of Bengali New Year's traditions is Panjika, the Hindu astronomical almanac. Every Bengali family ushers in the New Year with the purchase of a new Panjika. Pohela Boishak is also celebrated in certain areas of Tripura and in Bangladesh.
Navreh – Kashmiri New Year:
Celebrated on the first day of Chaitra Navratri, Navreh is one of Kashmir's important festivals. Navreh originates from the Sanskrit words 'nava varsha' which means 'new year'. It falls on the same day as Ugadi and Gudi Padwa. Navreh is considered most sacred as it is believed to be the day when the Saptarshi Era of the Kashmiri Hindu calendar started some thousands of years ago. As part of New Year's traditions, Kashmiri Hindu families fill up a thali with unhusked rice, curd, salt, sugar candy, almonds, silver coins, pen, flowers, the new panchanga, etc., and this thali is seen first thing in the morning on New Year's Day.
Puthandu – Tamil New Year: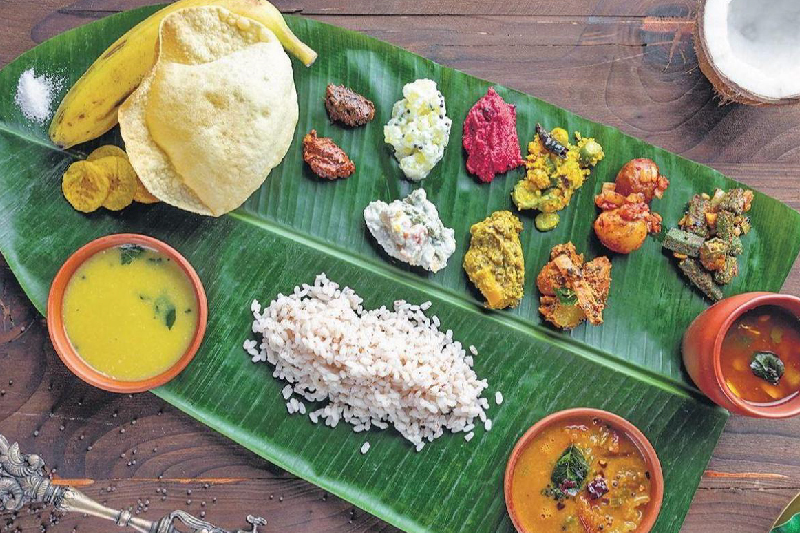 The first day of the Tamil month Chittirai is observed as New Year's Day in Tamil Nadu. Similar to the New Year's traditions in the neighboring states, Puthandu or Puthuvarusham festivities begin with rangolis and puja rituals followed by a festive meal. Tamilians arrange a platter on the eve of Puthandu with fruits, betel leaves, jewelry, coins, etc., and this along with a mirror is placed next to God during puja (Kerala also follows the same practice for Vishu, the Malayali New Year, and they call this Vishu Kani). Chitterai Thiruvizha held at Meenakshi Amman temple is another highlight of Puthandu celebrations. A large number of people book flights to Tamil Nadu every year around this time to witness the grand event.