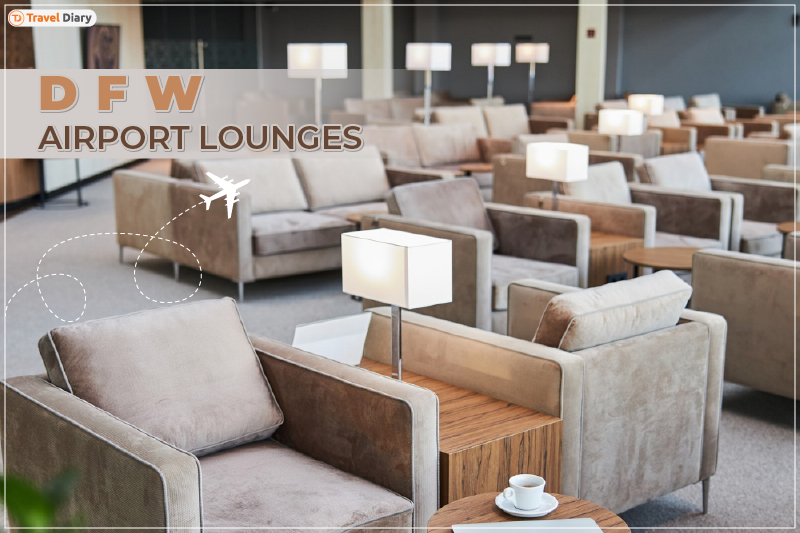 Dallas Fort Worth International Airport features among the top ten busiest airports in USA almost every year. In 2022, it had a passenger traffic of 73.3 million, making it the second busiest airport across the globe. And keeping in mind the comfort of such a large number of travelers, there are many world-class DFW airport lounges. From spacious seating to fresh food, passengers can make use of the numerous complimentary facilities. This will make spending time at the crowded airport convenient.
Your connecting flight to DFW airport can be seamless if you can access any of the state-of-the-art lounges at this hub. Some of the popular lounges are mentioned below.
American Airlines Admirals Club
If you are flying via the Dallas Fort Worth International Airport with American Airlines you can make use of the American Airlines Admirals Club. One of the most preferred DFW airport lounges in USA, it has 4 of these clubs. These offer complimentary services such as access to conference rooms for business travelers, showers, free food and drinks along with access to a high-speed internet connection. To gain entry into the American Airlines Admirals Club at DFW, you can either get a day pass, or book first-class or business-class flights from DFW to Delhi or anywhere else. You can also become a premium member of the AAdvantage program.
Capital One Lounge
The Capital One Lounge is located near gate D22 inside terminal D at DFW airport. It is usually open between 06:00 AM and 09:00 PM. The lounge has an exclusive espresso bar that will delight coffee lovers. The food and drinking options available here will definitely leave you craving for more. The Capital One Lounge at DFW also includes nursing rooms, shower suites, relaxation rooms and semi-private workspaces. To gain access you must have a Capital One Venture X Rewards Credit Card or a Capital One Venture Rewards Credit Card. You can only access this lounge within 3 hours of your departure time.
Also Read: Dallas Airport Terminal Guide
Delta Sky Club
The amazing Delta Sky Club is one of the best DFW airport lounges. It can be found near gate E10 at terminal E. This is only open for limited hours so if you are planning to use it, you should confirm the timings. The facilities at the Delta Sky Club at DFW airport include a well-equipped business center with printers. Passengers can also make use of TVs along with newspapers and magazines. Although premium drinks are available for purchase, travelers can indulge in complimentary snacks, beer, spirits and several other types of beverages. If you have any query or concern, Delta Sky Club ambassadors are available for assistance. You can also stay connected with your loved ones with the free wi-fi connection.You can gain entry into this lounge with an executive or individual membership. Also if you are a Delta One member or have a Delta SkyMiles Reserve American Express card, you can utilize the free services.
Plaza Premium Lounge
Plaza Premium Lounges are one of the most preferred lounges among passengers. This is because these can be accessed regardless of your cabin class. Located near gate E31 at terminal E, the Plaza Premium Lounge at DFW is open from 06:00 AM to 08:00 PM. You can make use of its complimentary facilities such as a bar, charging stations, a lounge bay, along with a high-speed internet connection. Freshly-made food along with quality beverage options are also available. To gain access you can either book Indian Eagle flights and add the Plaza Premium Lounge access pass while booking or get a Capital One Venture X card.
There are many other DFW airport lounges that you can check out based on your preference and eligibility. Which of the lounges at DFW mentioned above do you like the most? Comment below and let us know.
No matter, if you are traveling from DFW to Delhi or anywhere else, these DFW airport lounges, will make sure that your journey is comfortable and hassle-free.
Disclaimer: 
Indian Eagle claims no credit for the images featured on its blog site. All the visual content is copyrighted to its respective owners only. We mention the source name of the image whenever possible and found. However, if we miss acknowledging the owner's source, please contact us. In case, owners don't want us to use their images, we will remove them promptly. We believe in providing proper attribution to the original author, artist, and photographer.