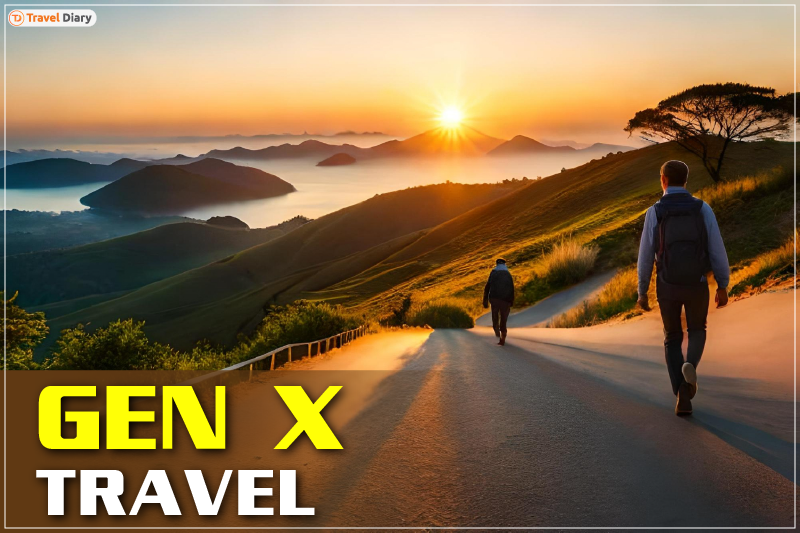 Traveling refreshes the heart as well as the mind. Even if you're a seasoned tourist or a first-time traveler to India or USA, any time you choose to go is a wonderful moment to begin your next trip. It doesn't have to be a lengthy trip; a weekend getaway to a different location is also fine if it is perfectly planned.
Traveling has evolved more affordable than ever before in the current fast-paced world. The Gen X generation, born between 1965 and 1980, has a different opinion on travel. They seek experiences that blend adventure, comfort, and cultural exploration. If you're a Gen Xer looking to make the most of your travels, you're in the right place. Here, you will get valuable Gen X travel tips to ensure you embark on memorable journeys. So, pack your bags, and let's dive into the world of travel for Gen X.
List of Some Gen X Travel Tips
Embrace the Digital Age
Plan and Prioritize
Balance Adventure and Comfort
Connect with Locals
Stay Healthy on the Go
Travel Insurance Matters
Document Your Journey
Budget Wisely
Embrace the Digital Age
As a Gen X traveler, make the best use of technology. Use travel apps or websites to book flights, accommodations, and local activities. Stay connected with loved ones back home through social media and messaging apps. Are you planning a trip and thinking about when to book flights? Booking flights can be a thoughtful process that is driven by a variety of factors such as your vacation goals, budget, and preferences. To discover the best travel deals, you must do some research and be flexible with your plans.
Plan and Prioritize
Before your travel, create a flexible itinerary. Prioritize must-see attractions while leaving room for spontaneity. Research your destination thoroughly for hidden gems. Look beyond tourist traps. Seek genuine cultural experiences. Know about Gen X travel trends, engage with locals, try their cuisine, and participate in traditional activities. So plan your trip, book cheap international flight deals, and enjoy affordable travel.
Balance Adventure and Comfort
Find a balance between adventure and relaxation. Mix exploration with comfortable stays in quality accommodations, Pack efficiently. Consider comfortable clothing, a compact toiletry kit, and a good backpack. Don't forget essentials like chargers, power banks, and adaptors.
Connect with Locals
Build connections with locals for insider tips and a deeper understanding of the culture. Learn a few basic phrases in the local language. Food is a gateway to culture. Try local dishes, visit street markets, and explore the diverse culinary scene.
Also Read: Discover Distinctive Travel Preferences of Gen X, Gen Z and Millennials
Stay Healthy on the Go
Prioritize your health. Carry essential medications, stay hydrated, and get enough sleep. Travel can be tiring, so take time to rest so that you can have a refreshing journey. If you are planning a budget-friendly trip then book Indian Eagle flight deals. This helps you to enjoy a memorable vacation.
Travel Insurance Matters
Invest in travel insurance. It provides peace of mind in case of unexpected situations like trip cancellations or medical emergencies. Also, when planning a trip, search for the top flight travel agency to grab the best deals. It will help you to enjoy an unforgettable and budget-friendly vacation.
Document Your Journey
Capture memories with photos and journaling. Create a travel diary or blog to share your experiences and inspire others. While staying connected is important, take time to unplug and immerse yourself in the moment. Disconnect from screens and reconnect with the world around you.
Budget Wisely
Set a budget and stick to it. Gen Xers are savvy savers, so plan your expenses accordingly. Look for deals and discounts when booking to make an affordable Gen X travel spend. Traveling is about making memories. Embrace every moment, from stunning sunsets to unexpected encounters to cherish the journey.
Traveling as a Gen Xer is an opportunity to experience the curiosity of exploration. By following these travel tips, you can embark on journeys that are not only stylish but also enriched with cultural experiences. So, why wait? Book low-cost flights to USA with Indian Eagle, pack your bags, embrace the world, and make your travels unforgettable.
Traveling is the art of crafting unforgettable memories. Armed with these exclusive Generation X "trip tips," you're poised to create moments that will last a lifetime. So, take the plunge, plan your next adventure, and make it truly extraordinary.
Disclaimer:
Indian Eagle claims no credit for the images featured on its blog site. All the visual content is copyrighted to its respective owners only. We mention the source name of the image whenever possible and found. However, if we miss acknowledging the owner's source, please contact us. In case, owners don't want us to use their images, we will remove them promptly. We believe in providing proper attribution to the original author, artist, and photographer.