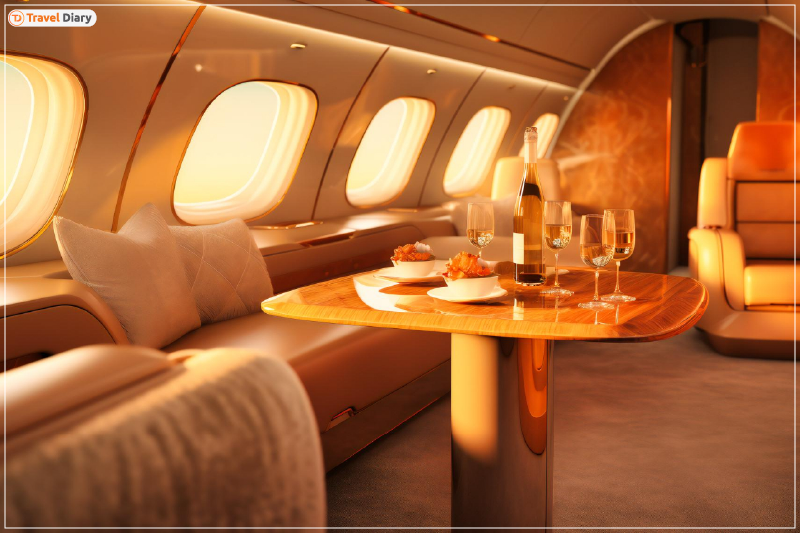 When it comes to luxury travel, major airlines have been upgrading their premium cabin classes to enhance passenger comfort. Emirates, one of the world's safest airlines is renowned for its world class cabins. Emirates business class and first class are popular among passengers for its state-of-the-art amenities. Be it the airport lounge or the Emirates A380 onboard lounge, the airline ensures its passengers receive the best facilities. 
The world of aviation luxury has found its pinnacle in the Emirates A380 onboard lounge. Step aboard this majestic double-decker aircraft, and you're greeted by a lavish oasis at 30,000 feet. And this becomes convenient when you are traveling on a long haul flight; for instance, from the USA to India. Here's all you need to know about the masterpiece's onboard lounge, where luxury and relaxation blend seamlessly.
A Lounge Above the Clouds
Emirates, renowned for its commitment to passenger comfort, has redefined air travel with the A380 onboard lounge. This remarkable space is found on the upper deck of the aircraft, where passengers can unwind, socialize, and enjoy a taste of the high life.
Design and Ambiance
As you enter the lounge, the first thing that strikes you is the exquisite design. Emirates has spared no expense in creating an ambiance that's both sophisticated and inviting. Plush leather seating, warm wood accents, and soft lighting set the tone for relaxation. The lounge's generous size ensures that passengers have ample space to move around and socialize.
Also Read: Emirates Premium Economy: A Luxurious Experience When Traveling from New York
Seating and Layout
The lounge offers various seating options to cater to different preferences. Whether you prefer a comfortable sofa, a private booth, or a communal table, Emirates has you covered. The layout is thoughtfully designed, allowing passengers to enjoy conversation or find a quiet corner to work or relax.
Socializing in Style
One of the standout features of the Emirates A380 onboard lounge is its socializing area. Here, passengers can mingle, share stories, or make new friends. The lounge's spacious design ensures that you can move around effortlessly, whether you're sipping champagne at the bar or enjoying a private conversation in a cozy nook.
The Bar
Speaking of the bar, the onboard lounge boasts a well-stocked bar with a selection of premium beverages. From champagne and fine wines to cocktails and soft drinks, there's something to suit every taste. The talented bartenders are skilled in crafting your favorite drinks, ensuring that your time in the lounge is nothing short of delightful.
Culinary Delights
No luxury experience is complete without gourmet cuisine, and the Emirates A380 onboard lounge doesn't disappoint. Passengers can indulge in a selection of delectable snacks and canapés prepared by the onboard chefs. Whether you're in the mood for something savory or sweet, there's a culinary delight to satisfy your cravings.
Entertainment
For those who prefer entertainment, the lounge features a widescreen TV with a range of channels. Catch up on the latest news, watch your favorite sports events, or enjoy a movie in the company of fellow passengers. The lounge's entertainment options ensure that you're never bored during your flight.
Also Read: Emirates Economy Class Benefits: Unmatched Comfort & Entertainment
Stay Connected
In this digital age, staying connected is crucial, even when you're cruising at 30,000 feet. The Emirates A380 onboard lounge offers complimentary Wi-Fi, allowing passengers to browse the internet, check emails, or connect with loved ones. Whether you're traveling for business or leisure, staying connected has never been easier.
Luxury Amenities
Emirates goes the extra mile to pamper its passengers. In the lounge, you'll find an array of luxury amenities, from plush blankets and pillows to skincare products and fragrances. Freshen up before your arrival or simply enjoy the comfort of these high-end amenities.
A Timeless Experience
The Emirates A380 onboard lounge is not just a space; it's an experience. It's a place where passengers can escape the confines of traditional air travel and immerse themselves in luxury. Whether you're traveling for work or leisure, this onboard lounge elevates your journey to a new level of comfort and sophistication.
A Quiet Retreat
While the lounge is undoubtedly a hub of social activity, it also offers quieter areas for those seeking solitude. Private booths with noise-canceling headphones provide a peaceful retreat where you can read, work, or simply enjoy some quiet time.
Exclusivity
Access to the Emirates A380 onboard lounge is available to passengers traveling in First Class and Business Class. This exclusivity ensures that those who appreciate and expect the highest standards of luxury are catered to with unparalleled service.
The Emirates A380 onboard lounge is more than just a place to pass the time during a flight—it's a destination in itself. It's where luxury, comfort, and exceptional service converge to create a memorable journey. Whether you're savoring fine champagne at the bar, enjoying gourmet snacks, or simply relishing the company of fellow travelers, the lounge offers an experience that's truly exceptional. Emirates has redefined what it means to travel in style, and the A380 onboard lounge is a testament to their commitment to excellence.
You can book your Indian Eagle itinerary and travel in an Emirates A380 flight at a discounted price. Emirates invites you to experience the epitome of luxury travel, and the A380 onboard lounge is your gateway to this extraordinary world of aviation opulence.