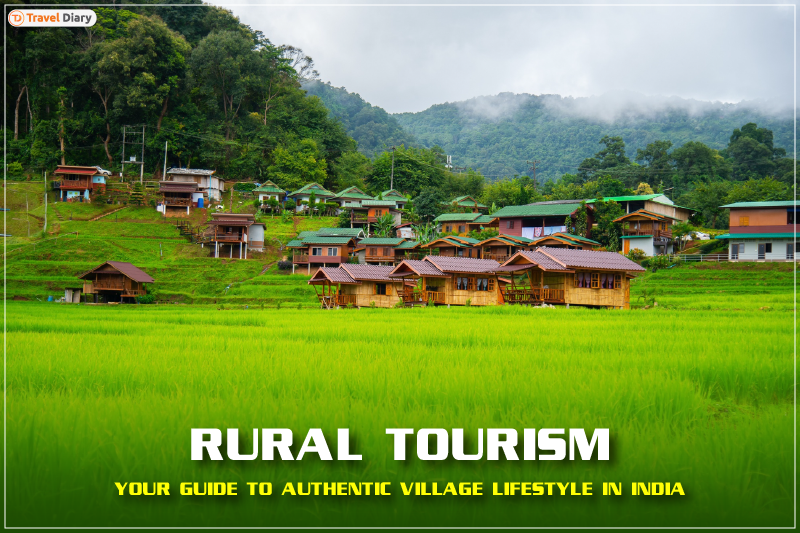 Are you getting ready to set out on a journey that will take you to the soul of India? While you may have already explored the breathtaking hill stations and iconic destinations of this incredible country, it's time to delve deeper into authentic Indian village life through rural tourism.
Rural tourism is an immersive adventure that introduces you to indigenous cultures, centuries-old traditions, and tasty native delicacies. As you exit the hustle and bustle of city life behind, you'll be welcomed by nature's peacefulness, going on an amazing experience. Get ready to explore unique tourist villages in India for an outstanding rural lifestyle adventure.
List of Hidden Gems of Rural India
Spiti Valley, Himachal Pradesh

Pipili, Orissa

Hodka, Kutch

Naggar, Himachal Pradesh

Puttur, Andhra Pradesh

Karaikudi, Tamil Nadu
Spiti Valley, Himachal Pradesh
Spiti Valley is more than just a haven for adventure seekers; it's a testament to the resilience of the communities that call this rugged terrain home. Despite facing challenging conditions, the warm-hearted locals welcome you with smiles. Picture yourself sipping traditional butter tea while listening to tales of life in the high Himalayas.
Pipili, Orissa
Pipili, located in Orissa, shows an array of heritage and culture. Its claim to popularity is its elaborate decorated work, which can be seen on beautiful umbrellas, bags, and textiles. The meticulous craftsmanship of its residents will charm you as you walk through its pathways. Don't miss the opportunity to see creative people at work, making bright works of art that show the tale of Pipili's traditions.
Also Read: Places to Visit in India
Hodka, Kutch
Hodka, an attractive village, invites you to experience its natural beauty. The unique circular accommodations known as "Bhungas" represent the community's commitment to environmentally friendly and sustainable tourism. The Gujarati hospitality here is outstanding, and you'll enjoy delicious foods like Bajra roti and Kutchi Dabeli, which combine a variety of spices. Engage in deep interactions with the locals to genuinely understand their way of life, and try to work at pottery and agricultural work.
Naggar, Himachal Pradesh
Are you up for staying amidst the Himalayan mountains? Located in the Kullu district, Naggar is a small region known for its rich history and cultural significance. Explore the wooden houses that showcase local craftsmanship, and let the beauty of the mountain lifestyle and traditional living practices enchant you. Make time to visit the Nicholas Roerich Art Gallery, which delves into Russian influences and adds a unique dimension to your journey. Participate in gardening and farming activities, and savor age-old Himachali dishes like Chana Madra and Dham.
Puttur, Andhra Pradesh
The rural life of Karnataka can be best experienced in the beautiful region of Puttur. The place is renowned for its cultural heritage and lush greenery. Agriculture is one of the main occupations here, so you can acquire knowledge about farming activities and techniques. Fruit picking is one of the famous tourist activities here, offering a hands-on experience of the region's agrarian life. As you explore the rural tourism in Puttur, know that you can enjoy folk music and dance as more residents come up to showcase their pride. 
Karaikudi, Tamil Nadu
Karaikudi is one of the best places in Tamil Nadu for rural tourism places. You get an amazing opportunity to witness the creation of Chettinad mansions built with vibrant courtyards and pure craftsmanship. Local families are very welcoming and offer traditional cuisines at their houses. You can engage in pottery and other art forms or even visit workshops nearby. The best part is that you can explore this small town on a bicycle and interact with villagers to know their everyday life. As you cherish the farm stays and watch the green landscapes, know that this place mesmerizes every traveler's soul.
India, a place of various civilizations and colors, leaves an unforgettable mark on the hearts of those who visit. The real core of India lies in its rural fabric, hidden among the busy cities, vibrant festivals, and wonderful cuisine.
Rural tourism in India offers you a chance to forge deep connections with locals, lead a sustainable life, and find joy in the simplest of moments. With this list of the best villages for rural tourism, you can now add authentic and enriching experiences to your travel bucket list. So why wait? Book low-cost flights to India with Indian Eagle today. Discover the India that resides in the hearts of its villages, where every smile is a story, and every day is an adventure waiting to be explored.
Disclaimer: 
Indian Eagle claims no credit for the images featured on its blog site. All the visual content is copyrighted to its respective owners only. We mention the source name of the image whenever possible and found. However, if we miss acknowledging the owner's source, please contact us. In case, owners don't want us to use their images, we will remove them promptly. We believe in providing proper attribution to the original author, artist, and photographer.