A large swath of the United States from the Southern Plains to the Southeast is in the grip of Winter Storm Diego. According to the latest weather forecasts, heavy downpour, snowfall, ice accumulations and varying levels of precipitation are expected to disrupt the tempo of day-to-day life or bring it to a standstill this weekend into early next week, as the storm is gaining strength en route from the South to the Southeast.
A state of emergency has already been declared in Oklahoma. North Carolina Governor Roy Cooper might declare emergency later in the day. Schools in Arkansas have cancelled all events which were supposed to be held on Saturday. South Carolina's annual Christmas parade and high school state championships have been postponed.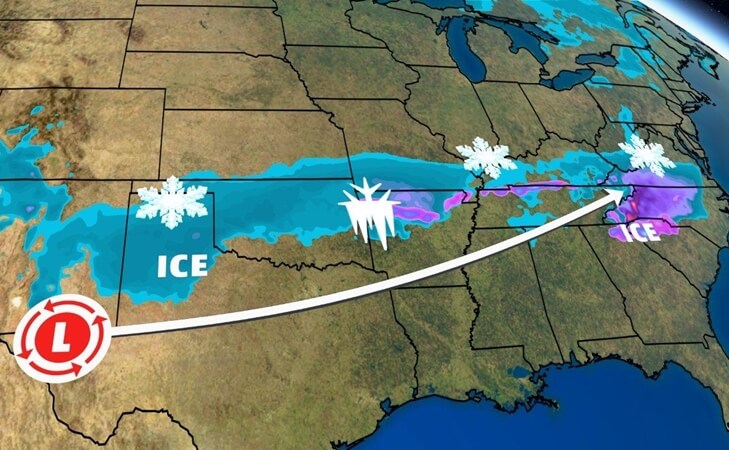 Winter Storm Diego is currently causing mountain snow and lower-elevation rains in some parts of Southern California and the Southwest. It is likely to interact with cold air blows generated due to high pressure to its north while moving towards the Southeast, and consequently cause heavy snowfall as well as ice accumulation, which will disrupt power supply, communication and travel across the Southern Plains into the Southeast.
Some areas in the Southeast coast of the US will be having precipitation until Monday or Tuesday, as a result of the Winter Storm Diego gliding eastward. Some of the Southeast locations will experience precipitation for a little long period, due to the slow pace of the storm. To be combined with copious amounts of moisture during its sluggish eastward movement from the Southern Plains, Diego may unleash heavy rainfall and snowfall in the Southeast USA.
The area from the Texas Panhandle into central Oklahoma will begin to soak in freezing rains tonight (Friday night), which will cause heavy ice accumulations only to trigger power outage and damage trees. Freezing rains may spread from central Oklahoma into northern Arkansas and southern Missouri later tonight.
Southern Texas, northern Mississippi, southern Arkansas, northwestern Alabama, southwestern Tennessee and Louisiana are likely to receive rains, light or heavy sometimes, tonight. The region encompassing eastern New Mexico, southern Kansas and northwestern Oklahoma will likely be affected by extensive snowfall later tonight.
In response to the current impact of Winter Storm Diego, major airlines including United, Delta, American, Southwest and Frontier have announced to waive flight rescheduling and cancellation fees for passengers traveling to, from and via the affected areas.
By tomorrow night (Saturday), Winter Storm Diego is likely to switch from freezing rains to accumulating snow in the Texas Panhandle and Central Oklahoma. The southern part of Kansas will continue to receive snowfall tomorrow night. Parts of the Ohio Valley and the adjacent Piedmont region may come under the influence of snow and ice by tomorrow night.
By Sunday night, Winter Storm Diego will spread snow, in varying degrees, to western North Carolina, southern Virginia, southern West Virginia and South Carolina, according to the National Weather Service. Western North Carolina, at its highest elevations, may continue to experience snow and strong winds on Sunday.
Parts of the Interstate 85 corridor in the Carolinas and the Interstate 95 corridor in southern Virginia are likely be impacted by snow or ice under the extended influence of Winter Storm Diego by Sunday night. Storm Diego may disrupt travel in parts of the Interstate 26, Interstate 40, Interstate 85, Interstate 77 and Interstate 95 corridors.
Further, thrashing surf from the southern mid-Atlantic coast to the outer banks of North Carolina may cause coastal flood as a result of turbulent onshore winds under the impact of Winter Storm Diego.
However, the Northeast US in general is predicted to remain out of the impact of Winter Storm Diego. Northern Virginia, Washington DC, and Philadelphia are unlikely to receive rain or snow from Winter Storm Diego.
Disclaimer: This article brought to you by Indian Eagle Travel  is based on the bits and pieces of the National Weather Service reports forecasting the movement and impact of Winter Storm Diego. Though the impact of Winter Storm Diego is expected to be historic for some locations, minor fluctuations in surface temperature and air temperature can make big changes in the weather forecast.