India in my eyes is the quintessence of the world. India is the place where I would always be happy. Being merely a child, I enjoyed the simple pleasures India offered to me: eating ice lollies all year round, gathering a large collection of toys, and spending majority of my time surrounded by family. The year I turned four, my family moved to Taiwan. We moved to China a few years later. I didn't forget my Indian heritage, but I didn't relate myself to it anymore either. I continued to watch Bollywood films and speak in Hindi, but I couldn't remember how it felt to be a part of the country even when I visited.
When I turned nine, I found myself in India once again. But, by then I had changed. I remember the first time I walked out of the airport terminal. I was crossing the road and I fell down for the noise around me was deafening compared to what I was used to. I remember that the air felt sticky. It was a different kind of warmth; one that I didn't welcome.
But, I was optimistic back then. I was excited about my first day of school. I was eager to make friends there where I could converse in two different languages and where cultures would blend together easily.
To me, heat isn't the only warmth felt in India. The warmth you receive from the people is what makes India a heartfelt nation. On my first day of school, I felt welcome. I felt like I was a part of something bigger. I felt as though all those girls and boys I met in those few hours were my family. As a child who had spent so much time away from my relatives, I had lost my family connections before they even began. Yet, I felt welcome so instantly here. The people of India are wonderful individuals. They are caring, they are kind. The poor, the rich, the young, the old, the fearless, the shy – one will feel loved by them all.
During my time in India, I attended an international school up in the hills of Gurgaon. It would take me nearly an hour to reach school. And in those hours up and down the hills, I grew as a person. I grew into a citizen of India. I morphed into a being that began to really see the world. Every morning, I crossed the city center with its towering skyscrapers, which illuminated a yellow light by reflecting the early morning sun. I crossed concrete walls and glass windows. I crossed the small huts with one dimly lit bulb hanging outside the front doors. I crossed cracked wooden panels.
India taught me that the world wasn't perfect and that there are true hardships in this world. It taught me the harsh reality of life in those hours on the way to and back from school. I witnessed wealth and poverty. It made me realize that I could help. It taught me to be thankful for what I had. It taught me acknowledgement. At the same time, I realized that there was beauty even in the imperfection.
I remember one specific day. A wedding. One of the villages was hosting a wedding in a small field. Sitting on the bus, I peered outside the window. There was neither flamboyance nor luxury. The people wore simple clothing. Women put on flowers as ornaments. But, there was an abundance of joy. The entire village was dancing. The air was rife with revelry. The children were playing and running around the small field cherishing the beauty of nature. This was not a land of milk and honey. But, these people made it one. Despite imperfections, they found joy and they seemed to be grateful for it. In my eyes, India finds joy in sadness. It finds beauty even in flaws. It finds perfection even in places where it cannot be found.
Each time I visit India, I go shopping with my cousin. Since I was little, I've always admired the beauty and colorfulness of bangles – be it in outdoor bazaars or indoor stores. I've always loved running my fingertips on these spherical objects that come in a range of colors and materials. Some are flamboyantly orange and made of glass. Others are wrapped in a light shade of pink thread. Over time, I began to think of these bangles as something entirely different.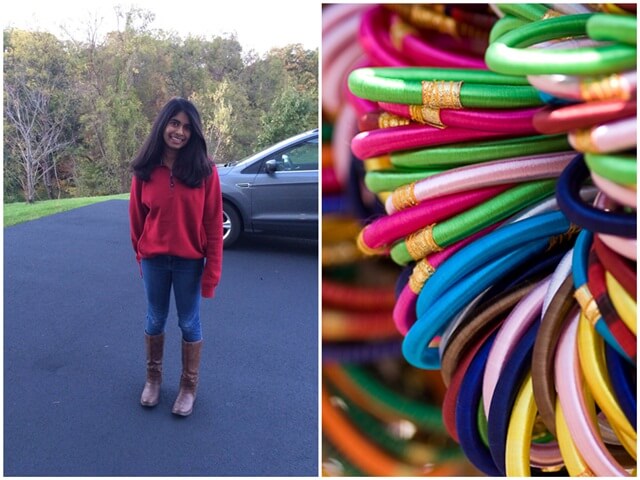 India in my eyes is a collage of these bangles. 
I began to see these bangles as a representation of the people of India. Different colors and different materials of bangles state different languages and different ways of life to me. The north of India differs greatly from the south. The east does from the west. I was born in the east of India; in a coastal state where culture is so very different than that in Delhi where I grew up. From the clothes one wears to what one eats. In Gurgaon, the live entertainment theatre, Kingdom of Dreams, expresses the differences around India, meanwhile emphasizing that we are a great nation of lively culture. 'Culture Gully' (culture street) represents fourteen states of India. Pavilions are constructed to cater the state's food, reflect the state's style of architecture, and express what the state is known for through decor. I always enjoyed walking through this miniature India because it showcased variation, but represented that it was part of the same country for it was all under one dome. Even though the states of India are different, they are the same too. We are the people, who are part of the same country, who believe in the same country and who love the same country. In my eyes, India is a land of vibrant heritage – a crossroad of different cultures, lifestyles, beliefs and religions.
India is beautiful, diverse and dynamic. It is not a stereotype. I wish to tell the entire world the same.
I wish to tell the world to look at this nation with a fresh pair of eyes. To look beyond what India looks on the surface. The country has been covered under the clouds of dust called judgment. Peel away these scraps of poverty, noisy crowds, and chaos. Keep aside all set ideals, preconceived notions, biased concepts and a closed mindset. Peel away and remove this outer coating and find the beauty inside. Brush away the crumbles of vermilion sand, and build a monument of bricks. Feel the air and breathe in its fragrance. Erase trying to understand the country. Rather become a part of it.
From India, I learned how to love others and how to welcome different ways of life. I learned how to find beauty and joy where it cannot be found. I learned to be a part of something bigger. I learned to be different and yet the same. I am proud to be from such a radiant country. I am proud to say that I come from a nation that is growing every day, a nation that fought for its freedom. In my eyes, India will always be what it truly is: Home.
West Chester-based Shweta Nanda's story "Look Beneath the Surface" is one of the our selected entries in Travel Beats Short Story Writing Content 2016 hosted by Indian Eagle, a leading travel partner of Indians in USA. A 9th grader of Unionville High School, Kennett Square in Pennsylvania, Shweta wishes to make the world a better place with her sincere efforts. Swimming, reading, writing and traveling are her interests. Her favorite Indian dishes are Tandoori Chicken, Chhole Bhature, and Kulfi.