In a new measure to restrict the inflow of foreign workers on H1B visa and soothe the ruffled feathers in the current political scenario, the United States Citizenship and Immigration Services (USCIS) has decided to suspend premium processing of all H1B visa petitions from April 3, 2017. Premium processing for H1B visas is a special service that the US Department of Homeland Security provides for a window of 15 days. It requires the H1B visa applicants to submit a duly signed USCIS form 1-907 furnished with all requisite details and pay $1,225 to the Department of Homeland Security.
The suspension of premium processing of H1B visa petitions will affect all applications made on and after April 3. This move may remain effective for a period of six months, which might be extended if needed, according to a media release by the USCIS. It has been made clear that the suspension of premium processing of H1B visa petitions equally applies to all applicants including those with regular cap, regular cap exemption and master's advanced degree exemption.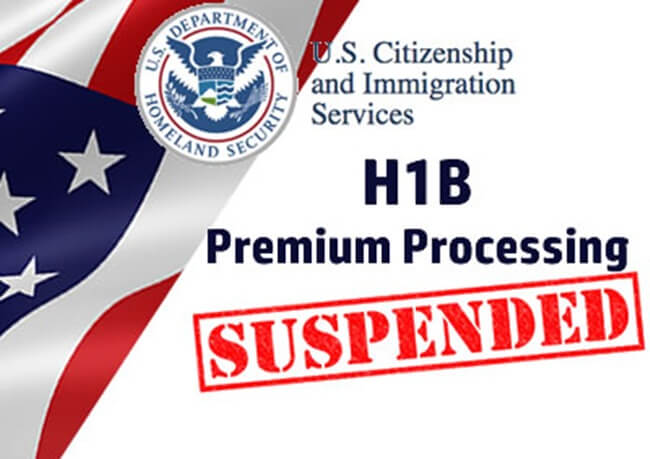 The call for suspension of the premium processing facility will affect hundreds of H1B visa applicants from India. 86 % of the total H1B visa petitions filed in 2014 were issued to India. India's leading IT companies, including Wipro, Infosys and TCS, are the major users of H1B visas. Such American conglomerates as Microsoft and Google use the same mechanism to recruit skilled workers from India.
The United States Citizenship and Immigration Services cited a huge number of pending cases as reason for the temporary suspension of premium processing of H1B visa petitions. The press release states that USCIS has prioritized processing of the pending cases which touch an average mark of 240 a day. It also states that temporary suspension will help regulate the looming window of H1B visa processing and reduce the time frame gradually. Another reason to block the premium processing facility temporarily is a staggering surge in the number of H1B visa petitions.
However, petitioners can request expedited processing of their H1B visa applications with USCIS only if they meet one or more of the criteria below:
Huge financial loss to company or person
Emergency situation
Humanitarian reasons
Compelling interest of USCIS
Nonprofit organizations whose request is aligned with the socio-cultural interests of USA
Expedite requests from a federal government entity like Department of Defense stating that delay will be detrimental to the government
USCIS error
The United States Citizenship and Immigration Services scrupulously reviews all requests for expedite processing of H1B visa applications and grants or rejects them at its discretion. With the temporary suspension of premium processing of H1B visa petitions, the applicants won't be able to know the status of their petitions in 15 days unlike before.
Travel Beats is a portal for Indian Americans by Indian Eagle, a leading travel partner of Indians in USA. Travel Beats publishes the latest news and stories related to Indian Diaspora, air travel, young Indians, philanthropy, tourism and immigration.