The Novel Coronavirus outbreak has become a dreadful nightmare for travelers thwarting their New Year travel plans and throwing aviation out of gear. With tens of thousands of flights cancelled to stop the spread of Coronavirus, the global travel alert is looming large for those having flights to, from and via China. However, there are certain airport and airline developments that make USA to India air travel easier and better to some extent this year.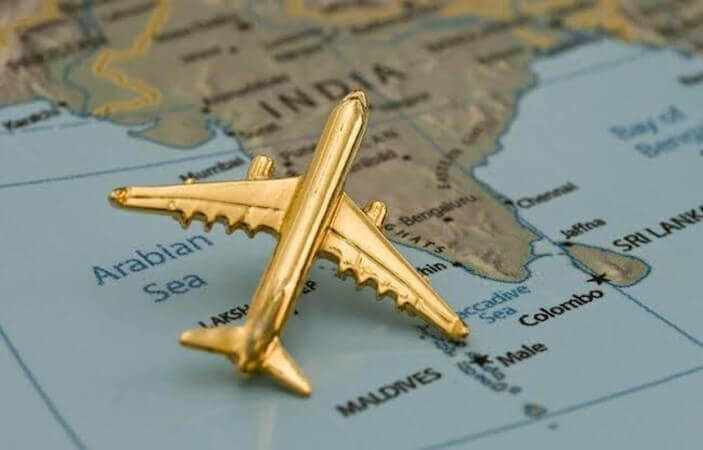 India Issues Travel Advisory amid Coronavirus Outbreak
The government of India has issued a travel advisory urging people to refrain from traveling to or via China amid the Coronavirus outbreak that has claimed over 600 lives worldwide. Anyone with travel history in China dated on and after January 15 could be quarantined on arrival in India, according to the travel advisory. Many airlines are cancelling flights to, from and via China and offering cancellation waivers. Both major Indian and US airports, including New York JFK, Newark EWR, Washington Dulles, Seattle Tacoma, Atlanta Hartsfield Jackson, Chicago O'Hare, San Francisco (SFO), Los Angeles (LAX), and Detroit Metropolitan have started rigorous screening of passengers from or via China. The Department of Homeland Security has designated 11 major airports for mandatory quarantine of US citizens who have recently been to China's Hubei province.
"Better be safe than sorry! Those having itineraries with a layover in China should check with their travel agents or the operating/validating airlines whether their flights are cancelled or rerouted. We're letting our customers cancel their confirmed reservations and helping them replan their travel to and from India," said the chief travel economist of Indian Eagle, a leading air-ticketing agency in the US.
Air India Increases Check-in Baggage Allowance from Newark 
Starting February 1, 2020, Air India began to allow two check-in bags for free on economy flights between Newark and India. In April 2019, the economy class check-in baggage allowance was reduced by half for Air India's direct flights to India from Newark EWR, forcing travelers to pay $50 to check in a second bag (up to 23 kg). However, you can now check in two bags for free while traveling on Air India's economy flights to and from Newark Liberty International Airport.
Women-only Cabs for Women Travelers from Delhi IGI Airport 
Women traveling solo or unaccompanied can take women-only Sakha Cabs to and from New Delhi IGI Airport. Part of the initiative – Women with Wheels – that is intended to make women travelers feel safer and empower women in general, at the same time, Sakha Cabs are operated by women trained in self-defence, English speaking and personality development. The cabs are fitted with GPS, a panic button and other necessary safety gears. Sakha Cabs do also give rides to male travelers with a family to and from Indira Gandhi Airport.
United Airlines' Daily Shuttle Flights between DC and Newark 
Come March 29, United Airlines' daily shuttle flights between Washington DC and Newark will take off. To grab a pie of the high demand for shuttle air services in the Northeast USA, which Delta Airlines and American Airlines have monopolized till date, United started ticketing from January 18, 2020. The new Bombardier CRJ-550 jets with Economy Plus and Economy cabins will be deployed for operating United's shuttle flights from DC to EWR (Newark Liberty Airport) on an hourly basis. The aircraft for the upcoming United shuttle flights is fitted with only 50 seats offering generous legroom, though there is space for 70 seats.
Non-flyers can Now Enter Seattle-Tacoma Airport Terminals 
Like Pittsburgh International Airport and Tampa International Airport, Seattle-Tacoma Airport is allowing non-flyers to get past security checkpoints. Enrolling to the SEA Visitor Pass program, non-ticketed guests can go through the security to see off their dear and near ones, catch up with friends, or have a business meeting in the retail section of the terminals of SeaTac International Airport. You can now spend time with you family members until they board Seattle to India flights. Once Transport Security Administration approves your application for the gate pass to Seattle Airport, you will be given a QR code to enter the terminal beyond the security checkpoint.
New International Legislation to Punish Unruly Passengers Aboard 
The Montreal Protocol 2014 (MP14), a new international legislation making it easier for countries to curb unruliness behavior of travelers on flights, came into effect on January 1, 2020. Brought by the International Air Transport Association (IATA), the MP14 enables not only the origin country of a traveler, but also the destination country to prosecute verbally abusive and physically aggressive passengers who make troubles aboard causing flight delay or emergency landing. Unruly travelers in six out of the 10 cases of on-board ruckus went unpunished until the Montreal Protocol 2014 was officially implemented last month. The Montreal Protocol 2014 also empowers airlines to recover losses that a traveler's noncompliance with safety regulations or suspicious/boisterous behavior incurs by causing flight delay or emergency landing.
Wireless Seatback Screens with Binge Button on Delta Flights 
With wireless seatback screens and a 'binge button', Delta Airlines' inflight entertainment is more enjoyable than before. Possibly available with the inflight entertainment system on Delta flights to India too, the binge button facilitates the streaming of back-to-back episodes from a show instead of requiring passengers to select each episode. Since the onset of 2020, Delta has been retrofitting travel cabins across its fleet with brand new wireless seatback screens. The feasibility of syncing Bluetooth headphones with the screens is currently being tested on certain Delta flights. The airline is also testing the ability of the screens to mirror passengers' smartphones.
Indira Gandhi Airport's Food Genie Caters to Stranded Passengers 
If you find yourself stranded due to flight delay at the Terminal 3 of Indira Gandhi International Airport, the newly launched 'Food Genie' service will cater to douse your hunger pangs. You can order your choice of food from the self-ordering kiosks near the boarding gates at Terminal 3, and the order will be delivered within 20 minutes. Delhi IGI Airport's Food Genie service at Terminal 3, one of the busiest terminals in India, delivers the airport restaurants to the boarding area. Travelers can either have the food while waiting for their flights or carry it on board.
Baggage Handlers to Hold Strike at Heathrow and Gatwick 
Flights to India or any other destination via London could be affected due to an upcoming strike at Heathrow and Gatwick airports in February 2020. Gatwick and Heathrow airports' baggage handlers employed by Global Baggage Solutions have announced a four-day strike from February 22 to February 25, owing to disputes over pay. Passengers of connecting flights and those whose origin or destination airport is either London Heathrow or Gatwick may suffer inconvenience during the strike.