In the colonized India, the British suffering from superiority complex used to treat common people as untouchable cattle. In an instance of the British's racial prejudice against the brown complexion, Mahatma Gandhi, a young lawyer then, was thrown off the whites-only first class coach of a train in Pietermaritzburg, South Africa. It has been decades since 1947, but the attitude towards plainly dressed Indians has not improved much. They are judged on their looks and clothes, and the way they appear in the current era of capitalism.
That's how Sudha Murthy was treated at London's Heathrow International Airport. She was abhorred as someone from the 'cattle class' and asked to stand in the queue for economy class flights to India when she was waiting to board her business class flight to Bangalore. Sudha Murthy is a devoted philanthropist, a widely published author, and the chairman of Infosys Foundation.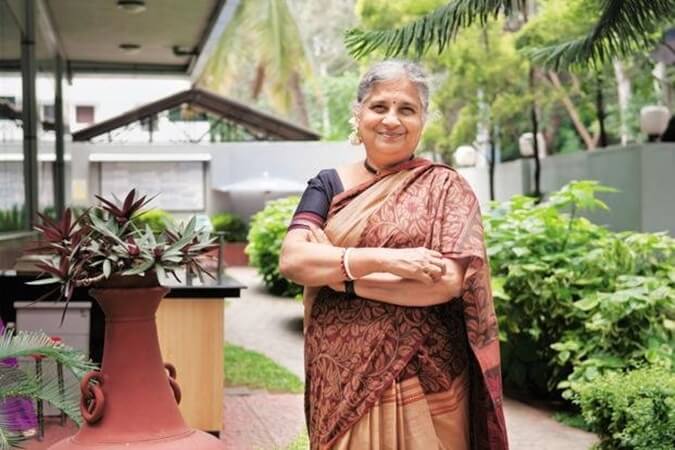 The grey-haired Sudha Murthy dressed in a plain salwar kameez was sitting in the boarding area at London Heathrow Airport. When not traveling she prefers to wear a sari. Since the boarding time was not up, she began to observe her surroundings and the people of different age groups around her. As most travelers around her were waiting for the same flight, she could hear them speak in Kannada. Some of them were old married couples, possibly returning from a visit to their children in the UK or USA. She heard some English business persons chatting about India's economic development.
She stood up to join the queue for the business class flight to Bangalore after the boarding announcement was made. The woman before her in the queue was dressed in an Indo-Western silk outfit. She was carrying a Gucci handbag and wearing high heels. She was accompanied by a well-groomed lady in an expensive silk sari accessorized with diamond bangles, a pearl necklace and earrings.
The moment Sudha Murthy stepped out of the queue to get some water from a nearby water dispenser; the woman in front of her turned sideways, approached her in an uncanny manner, and asked her to show her boarding pass. Sudha Murthy was about to show the boarding pass, but she held back and asked, 'Why?' as the woman did not seem like an airline employee.
'Well, this line is meant for business class travellers only,' the woman said confidently. Pointing her finger towards the economy class queue, she said, 'You should go and stand there.'
It made her wonder why the woman thought that she was not worthy of traveling in the business class. She held back from telling her upfront that she had a business class ticket; rather, she asked why she should stand there.
With a sigh, the woman said, 'Let me explain. A business class seat is two and a half times pricier than an economy flight ticket.' Her friend interrupted (the well-groomed lady) and said, 'Actually, it costs three times more than economy…' Adding to her friend, the woman said that there are certain privileges for business class travelers.
In her mischievous reply, Sudha Murthy said that she would like to know what privileges are associated with a business class air ticket. It annoyed the woman and her friend a little.
'Business class tickets come with baggage allowance for two check-in bags. There is a less crowded queue with early boarding privilege for business travelers. Better meals are served in the business class. Seats can be extended to a flat bed. A business cabin has four washrooms for a small number of passengers,' said the woman. 'A priority baggage check-in facility is available for business class passengers. A business class flight earns you more frequent flyer miles than an economy one,' added her friend.
After narrating the difference between business class and economy class, the woman told her to go to the economy queue. 'But I don't want to go there,' said Sudha Murthy firmly. The woman turned to her friend and whispered, 'It is difficult to argue with the cattle class. Let the staff come and deal with her. She won't listen to us.'
Instead of furthering the conversation with the women, Sudha Murthy moved forward in the queue. The women were eagerly waiting to see what would happen when she handed over her boarding pass to the attendant. The woman smiled, greeted her and moved on to the next traveler.
Sudha Murthy walked a few steps ahead from the boarding counter. But she thought of giving the women a piece of her mind and came back. She politely asked what made them think that she could not afford business class travel. She continued, 'You refer to the term "cattle class". Class does not mean possession of a huge amount of money. One may have lots of money to afford comfort and luxuries, but it does not buy you class. Mother Teresa was a classy woman, and so is Manjul Bhargava. The thought that one gains class by acquiring money is obsolete.'
Then she left the place and went on to board the plane.
This exclusive story brought to you by Travel Beats, an overseas Indian community portal and a subsidiary of IndianEagle.com, is an anecdote from her book titled 'Three Thousand Stitches: Ordinary People, Extraordinary Lives.'