Felicitation of Rita Meher, an Indian American entrepreneur, by the Seattle Globalist is great Seattle news of the week for the South Asians in the United States. Co-founder of Tasveer, a nonprofit arts and cultural organization, Rita Meher is titled the "Globalist of the Year 2015."
The "Globalist of the Year" award is given to those whose epoch-making projects have lots of impact on international communities in Seattle and the United States at large. The Seattle Globalist recognized Rita Meher's consistent efforts to dispel racial stereotypes about the South Asian community in the US after the 9/11 attacks on the World Trade Center.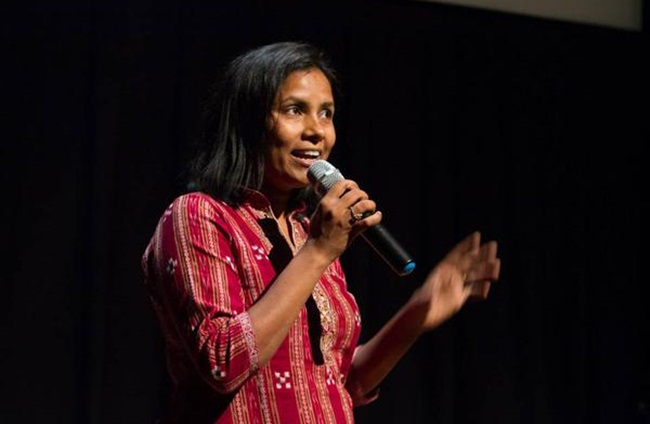 Rita Meher cofounded Tasveer with Farah Nousheen in 2002 aiming to revive the image of South Asians in the American media, which was distorted and misrepresented in the wake of the September 11 attacks. Tasveer provides South Asians with an effective medium to tell their thought-provoking stories online.
Tasveer, based in Seattle, is on a mission to put South Asian communities in a good light through cultural events. It curates thought-provoking stories, visual artworks and films by South Asians from across the globe. Rita Meher believes that a community lives, its fame spreads and its name goes global by means of art and culture.
The Seattle South Asian Film Festival is one of the noble efforts by her as a social entrepreneur and cofounder of Tasveer. She believes that celluloid is a most effective visual medium and film is a most powerful art of telling stories to connect a culture with other cultures, and a community with other communities.
The Seattle South Asian Film Festival (SSAFF) was initiated in 2006. Produced by Tasveer, it is a 12-day Seattle event screening a selection of substantial South Asian films across Greater Seattle Area. It provides Americans a platform to explore and engage with the South Asian cultures in a lively, stimulating, interactive environment. It also brings to the fore human right issues and socio-cultural issues in the South Asian regions.
The 10th Seattle South Asian Film Festival will commence on October 15 and continue till October 25. One of the largest South Asian film festivals in the USA and the most popular Seattle events, SSAFF 2015 will be held in five cities: Seattle, Redmond, Bothell, Renton and Bellevue.
Of other Seattle events, Rita Meher heads the South Asian Women's Festival. It showcases the South Asian adaptation of the Vagina Monologues. Since its official inception in 2002, Tasveer has held over 500 screenings and events across Greater Seattle Area.
Apart from the "Globalist of the Year" title, Rita Meher has received the Rising Star Award from the Northwest Asian Weekly Foundation. We at Indian Eagle heartily congratulates Rita Meher! 
Travel Beats is a cultural wing of Indian Eagle, a leading international travel organization booking flights to India from USA. Get the best flights from Seattle to New Delhi, Mumbai, Hyderabad, Chennai, Bengaluru and Kolkata at the lowest prices!