After two months of toddling towards normalization of international passenger flights, the government of India did finally announce the exact date of terminating air bubble travel arrangements with the countries not at COVID-19 risks. With effect from 12:01AM IST, both Indian and foreign airlines will be operating scheduled/normal civil flights to 100% of the pre-pandemic level under a new bilateral agreement between India and the countries including the US, the UAE, Qatar, Australia, Japan,, South Korea, Thailand, the Philippines, Kuwait and Turkey. However, India will see normal international flights in limited capacity to and from the UK, Singapore, Germany, France, the Netherlands, Brazil, South Africa, China, Mauritius, Botswana, Zimbabwe, Finland, Bangladesh and New Zealand which the government identified as countries at COVID risks.
"100% resumption of normal international flights with the countries not at risk is a welcome news for our customers and us. With international flight operations to and from India being normal after 16 months of air bubble travel with restrictions, the US-India flight tickets will be as normal as it was before the pandemic. Hope last-minute airfares for travel to and from India won't burn a hole in travelers' pocket. Despite fares being exorbitantly high, we provided travelers with the most competitive deals from our partner airlines," said the chief travel advisor of Indian Eagle, a leading air-ticketing partner of Indians in America.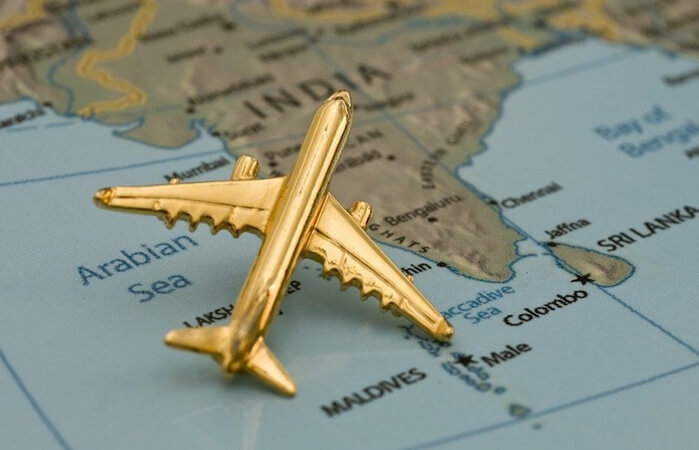 India's Ministry of Civil Aviation has allowed domestic flight operations to be restored to 100% of the pre-pandemic capacity from the current 85%. Given India's COVID-19 graph on the decline, airlines started operating domestic flights in full capacity with effect from October 18, 2021. Restoring air connectivity between major airport cities and small towns to the pre-pandemic level is one of the pre-set conditions for resuming normal international passenger flights. India-bound international travelers can now reach their final destination in any corner of the country as the pre-COVID capacity of domestic air operations was restored on October 18.
The lifting of the tourist visa ban for foreign citizens is another step towards allowing airlines to resume normal/scheduled flights to India from USA and other countries. The continued suspension of tourist visas kept foreign citizens without an OCI card or an entry visa away from India for the past 18 months. With the country having reopened for foreign visitors on tourist visas, the expected normalization of international commercial flights to and from India will is not far.
Confirming the most anticipated resumption of scheduled international flights, inbound and outbound, the Ministry of Tourism's Additional Director General Rupinder Brar said that India may terminate air bubble flight operations in January 2022. She added that the Ministry of Home Affairs would soon announce the exact date of resuming scheduled commercial flights on international routes.
Two weeks before the US lifted the entry restrictions after 3 months of deliberating upon certain guidelines, India issued the revised guidelines for seamless entry and arrival of fully-vaccinated, asymptomatic travelers from abroad, starting on October 25. Simultaneously, the government released upgraded the Air Suvidha portal with provision for India-bound travelers to upload their vaccination proof other than a negative RT-PCR test report. It is another significant step towards normalizing international travel to India. According to several reports, the Ministry of Civil Aviation is working on certain guidelines for international commercial flight operations to return to normal.
Currently, inbound travelers' vaccine certificate and negative RT-PCR report are equally important requirements for exemption from additional testing and quarantine in India. Once the government starts giving preference to vaccine certificates over negative COVID-19 reports, it will be a lot easier for international travelers to arrive in India.