The current guidelines for inbound international travelers to India took effect on 1 January 2023. With six countries having been classified as high-risk, travelers even from non-risk countries are looking to know India's entry regulations in view of COVID resurgence in some parts of the globe. Currently, China, Singapore, Japan, South Korea and Hong Kong have been identified as high-risk countries. 
Are you traveling to India from or through a high-risk country? If yes, you are required to take an RT-PCR test within 72 hours before your international departure and upload the negative report on the Air Suvidha portal. You will be able to travel only if you are COVID negative. Asymptomatic children under 12 years of age are exempted from pre-departure testing.         
Are you traveling to India from a non-risk country like the United States? If yes, you're good to travel to India. Neither pre-departure RT-PCR testing nor Air Suvidha applies to your travel on nonstop flights to India from USA, or one/two-stop flights to India with transit in a non-risk country. However, the government of India recommends you should be fully-vaccinated and carry your vaccination proof.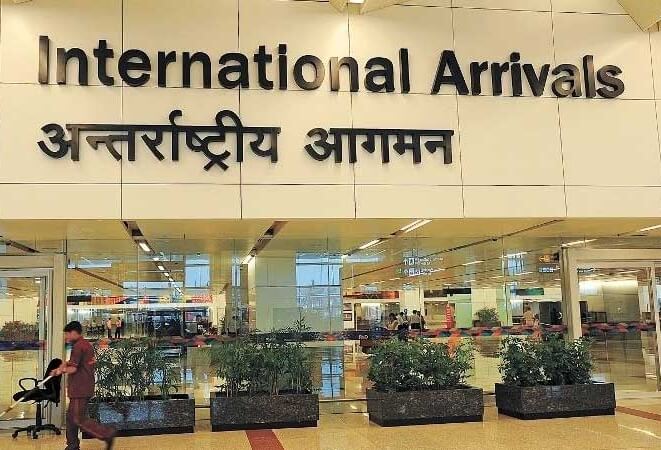 Air Suvidha for International Travel to India
After 40 days of being eliminated with effect from 21 November 2022, the Air Suvidha portal has been reinstated for travelers coming from or transiting in the high-risk countries. Whether you need to fill out an Air Suvidha form online or not, it depends on your travel origin and international transit. Is Air Suvidha mandatory for your US to India travel? Yes if your itinerary has international transit in any of the high-risk countries: Singapore, Japan, China, Thailand, South Korea, and Hong Kong. We recommend checking our Air Suvidha guide for up-to-date information on how to fill out a self-declaration form and what information to provide, if there is high-risk international transit in your itinerary.
Post-arrival procedure at Indian airports
The current post-arrival procedure for international arrivals at Indian airports is much less rigorous than that during the pandemic. All passengers of international flights to India are obligated to undergo a body temperature check (thermal screening) upon arrival, and only 2% of them are subject to post-arrival random COVID-19 testing. If you are in the 2%, your swab samples will be collected for random testing. You can leave the airport or take a connecting flight for onward domestic travel. Only asymptomatic children younger than 12 years are exempted from random testing in India.
'What if my sample collected for random testing is found positive?' Your swab sample will be sent for genomic testing at a government-affiliated laboratory. The test result will be communicated to you, and you will have to follow the standard protocol.

'What if thermal screening detects COVID-19 symptoms in me?' You will be isolated and tested at a designated medical facility at or outside the airport.
What is India's post-arrival procedure for travelers from high-risk countries? The aforementioned post-arrival guidelines equally apply to travelers arriving in India from or through the high-risk countries. Besides, their pre-departure RT-PCR test report and the self-declaration form submitted on the Air Suvidha portal will be strictly verified on arrival in India.
Are you looking for cheap flight tickets for USA-India round trips this spring or summer? Indian Eagle has the best fare deals from Air India and other major airlines. You can conveniently book your travel online or call us at 01-800-615-3969 (24/7).