Nestling in the heart of the Himalayan range along the banks of the River Ganges, Rishikesh is known for its religious appeal among devotees. The major tourist spot in Uttarakhand, Rishikesh is known as the 'Gateway to the Himalayas'.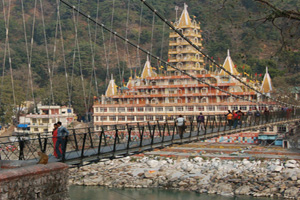 The tranquil town is 230 km away from Delhi. Indian Eagle recommends a 6-7 hour-long drive from Delhi to Rishikesh for a refreshing getaway. Triveni Ghat, Bharat Mandir, Ram Jhula, Laxman Jhula Gita Bhavan, Parmarth Niketan, Trayambakeshwar Temple and Swarg Ashram are some of the places to visit.
"The World Capital of Yoga" the general belief is that meditation in Rishikesh brings one closer to attainment of moksha. Devotees throng Rishikesh with a desire to begin their religious journey with a dip in the holy river.
In sharp contrast, Rishikesh offers water sports for adventure seekers. White water rafting through the rough rapids of the River Ganges will be a thrilling experience.
The reason for visiting Rishikesh need not be just with a religious purpose. The lovely locales attract tourists for the pure adventure it has to offer.
Home to the 120-year old Kailas Ashram Brahmavidyapeetham, known to have Swami Vivekananda as a student, the institution is preserved to promote traditional Vedantic Studies.
Rishikesh is famous for the visit by the Global sensation "The Beatles" in 1968. John Lennon recorded a song titled, 'The Happy Rishikesh Song' along with 48 songs recorded during their time at the Maharishi's ashram. The songs were part of the 'White Album'.
Indian Eagle has tempting offers to the 'Gateway to the Himalayas'. Go hiking, backpacking or enjoy bungee jumping at the first and only bungee jumping camp in India. Check our Lowest Airfares to Uttarakhand at www.indianeagle.com