In order to woo travelers and beat the competition in the upcoming travel season, Qatar Airways is leaving no stone unturned. As part of the serial enhancements to the economy class, the Gulf carrier has rolled out new economy seats and a brand new inflight dining service. The comfort and convenience of travelers on Qatar Airways' economy flights is the sole focus of the latest inflight seating and dining innovations.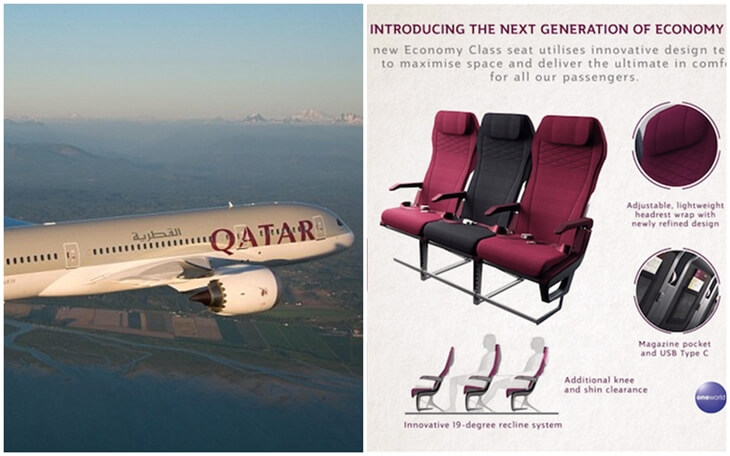 Qatar Airways New Economy Class Seating 
Qatar Airways' new economy class seating has been lauded as a revolutionary product for economy travelers. To be rolled out across the fleet of the airline in a phased manner, the new Qatar economy class seats are fitted with flexibly adjustable lightweight headrests and semi-fixed shell backs.
To be available even for the passengers of cheap Qatar economy flights, the new seats with adjustable headrests promise a new level of comfort on long-haul routes. The headrests can be shifted upward to adjust the height. The semi-fixed shell backs of the seats feature a pre-recline angle of six degrees for takeoff and landing. The seats can be reclined to a maximum 19 degree, without causing inconvenience or discomfort to the person sitting behind.
The recline feature of Qatar Airways' new economy seats functions by shifting the seat bottom forward, instead of lowering the back towards the passenger sitting behind. The innovatively designed recline system is a welcome feature for travelers to guard their table space against unwanted attention from those sitting next to them while dining or working on a laptop.
Each of the new seats in Qatar Airways economy travel class has two tray tables: a foldable tray table of standard size and a smaller tray table with cup holder and non-slip surface. The additional tray table is located close to the bottom of inflight entertainment screens and comes handy for passengers to place their personal mobile devices for entertainment. Isn't it a cherry on the cake?
The back of Qatar Airways new economy seats is fitted with a 13.3-in inflight entertainment interface with 4K display resolution. Among the features of the brand new economy seating are fast-charging USB outlets, using which travelers can enjoy the content of their personal entertainment devices on board.
"Enhanced legroom, faster WiFi connectivity, more than 4000 entertainment options and authentic meals tailored for every region are the mainstay of Qatar Airways new economy class, which is likely to be a competitive advantage over the rival airlines," opined the chief product manager of Indian Eagle, a leading international air-ticketing agency booking Qatar Airways cheap flights to India.
Quisine: Qatar Airways New Economy Dining Service
Named Quisine, Qatar Airways' new economy dining experience will be delivered through a redesigned menu that comes with a service timeline for passengers traveling on long-haul and ultra-long-haul routes, such as from USA to India or any other destination in a different hemisphere. The objective of Qatar Airways Quisine menu with a service timeline is to help passengers plan their individual diets for the journey.
Larger meal portions, pre-dinner drinks and an amazing variety of mid-flight snacks are some of the highlights of the brand new dining service on Qatar Airways economy flights over five hours.
Pre-dinner drinks and cocktail snacks, along with other refreshments will be served on board. The newly extended range of mid-flight snacks includes Himalayan Salted Caramel popcorn from 4700BC. Food portions have also been increased by 25-50% to the pleasure of many travelers. The quality of Qatar Airways inflight meals is said to be enhanced using fresh, seasonal, healthy ingredients. Each meal will be served with a bottle of water and a piece of individually wrapped 'artisanal warm infused bread.'
Launched in April 2019, the Quisine will be gradually rolled out on all economy flights in Qatar Airways' global network. A new merchandise of tableware sets is unique to the airline's Quisine dining experience, which is deliberated upon as an attempt to reduce single use plastics on board, towards achieving sustainability in economy travel.