Early this month, we at Travel Beats covered a story on how 11-year-old Indian American Advaik Nandikotkur saved a 34-year-old adult from drowning. The inspirational story about the boy's heroic act elicited so overwhelming response from all quarters that it went viral on social media. Such inspiring stories of children and their achievements are galore in India. It is evident from the list of 26 Indian kids who President Ram Nath Kovind honored with innovation and bravery awards at the Pradhan Mantri Rashtriya Bal Puraskar ceremony in New Delhi yesterday.
Among the 26 children awarded at the Pradhan Mantri Rashtriya Bal Puraskar ceremony 2019 are 10-year-old Adrika Goyal and 14-year-old Kartik Goyal. They have jointly been honored with the Bal Shakti Puraskar for their exemplary act of bravery and selflessness during a riot. We at Travel Beats, an Indian Diaspora portal by Indian Eagle Travel, handpicked few other young honorees to share their inspiring stories.
Bravery Award: Adrika Goyal and Kartik Goyal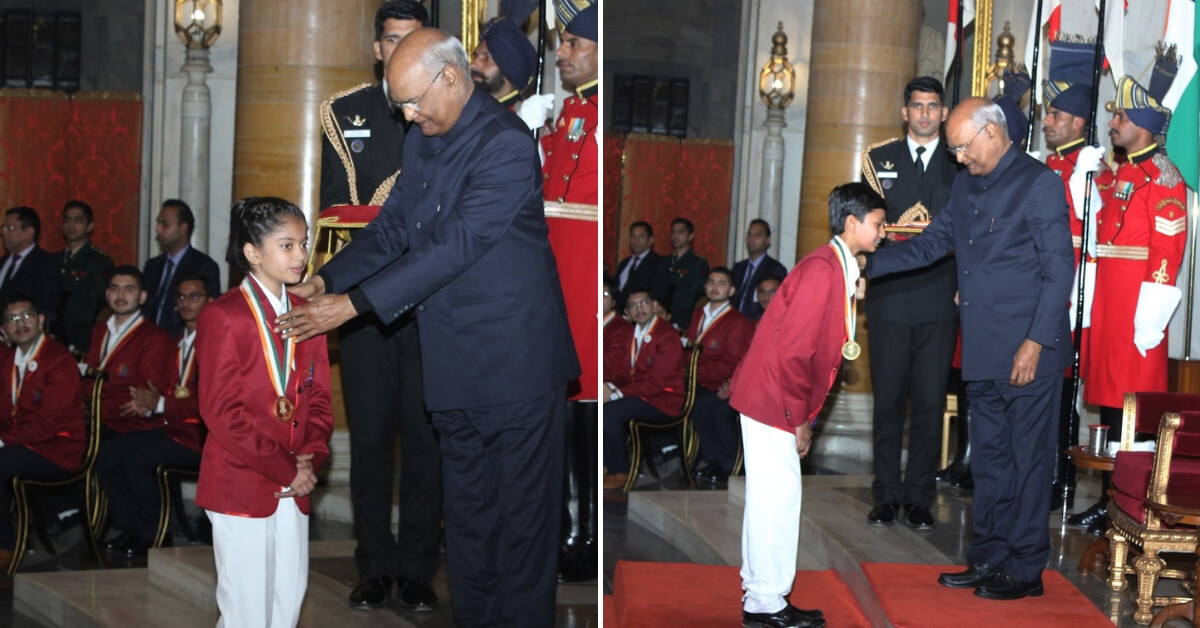 Morena, a town in Madhya Pradesh witnessed the worst and the best on April 2, 2018. A socio-political agitation was raging in different parts of north and central India, in protest against the dilution of the Scheduled Caste and Scheduled Tribe Act. A riot ensued from the agitation and hit the pulse of Morena town in Madhya Pradesh. The rioters blocked the passage of the Uttar Pradesh- Chhattisgarh Express train, pelted stoned at the coaches profusely, and held the passengers captive.
The innocent sibling duo – Adrika and Kartik – who live nearby Morena Railway Station, came to the rescue of the passengers who were left hungry and thirsty.
They rushed home to fetch food and water for the passengers. Risking their own safety in the hands of the rioting goons, Adrika Goyal and Kartik Goyal ran from one coach to the other serving food and water to the passengers. Inspired by the kids, some of the locals joined them on the humanitarian errand. Naturally, the Goyal siblings deserved to have received the bravery award from none other than President Kovind.
Among the awardees, Adrika Goyal and Kartik Goyal have other feathers in their caps. Kartik holds a national distinction of being the youngest sketcher, and Adrika is the district-level brand ambassador of the 'Save Girl Child' campaign.
Social Service Award: Eiha Dixit  
6-year-old Eiha Dixit is one of those awarded the Pradhan Mantri Rashtriya Bal Puraskar 2019 in the social service category. A budding environmentalist, Eiha Dixit planted as many as 2500 saplings on her birthday last year. She promotes forestation and environmental wellbeing in local events. Notably, Eiha Dixit is the youngest of the Pradhan Mantri Rashtriya Bal Puraskar awardees in 2019.
Bravery Award in Sports: Shivangi Pathak  
In sports, 17-year-old Shivangi Pathak and others have been felicitated by President Ram Nath Kovind. At the age of 16, Shivangi from Haryana became the youngest Indian girl to climb Mount Everest. Inspired by Arunima Sinha, the first Indian amputee to summit Mount Everest, Shivangi Pathak has also climbed Mt Kilimanjaro in Africa and Mt Elbrus in Europe.
Bharat Award: Guru Himapriya and Soumya Dip Jana
Among the recipients of the National Bravery Awards 2019, 8-year-old Guru Himapriya and 13-year-old Soumya Dip Jana bagged the topmost honor 'Bharat Award', a new addition this year, for exercising their presence of mind to save their respective families during the terrorist attack at Sunjuwan Army camp in Jammu on February 10, 2018. Soumya Dip Jana had suffered injuries from a grenade attack while trying to escort his mother and sister to a safe shelter away from the terrorists. He was in coma for three months.
Bravery Award: Camelia Kathy Kharbyngar 
12-year-old Camelia Kathy Kharbyngar from Meghalaya received the Bravery Award at the Pradhan Mantri Rashtriya Bal Puraskar 2019 ceremony for saving the life of her mentally-challenged elder brother when their house caught fire on July 6, 2017. The moment she realized that her elder brother was inside, she rushed into the house on flames and got him out safe.      
Bravery Award: Late Nitisha Negi
Of the Pradhan Mantri Rashtriya Bal Puraskar 2019 honorees, 15-year-old Nitisha Negi from Delhi could not turn up to receive the award at the Rashtrapati Bhavan. She lost her own life while saving a friend from drowning at Adelaide Beach in Australia on December 10, 2017. She was in Australia for a football tournament. "My daughter had always been the brave one in our family, the one who went out of her to help others," said her father.