Indian American Patti Tripathi is up with the 2020 edition of her signature "Saris to Suits Calendar" which features 12 South Asian women of substance from different walks of life. They are activists, humanitarians, entrepreneurs, professionals and achievers. In its seventh year, the Saris to Suits Calendar is a tribute to incredible women power and a nonprofit campaign for women empowerment.
Unlike fashion calendars objectifying women, former CNN news anchor Patti Tripathi's Saris to Suits calendar seeks to raise funds for various women-aiding initiatives in the US and India, like rehabilitative care for victims of trafficking and sex slavery. Proceeds from sales of the calendar does also support campaigns against domestic violence and gender inequality.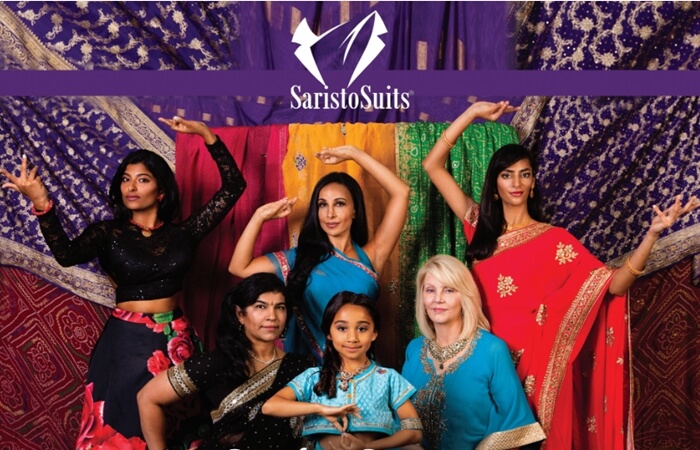 At Travel Beats, a leading community portal for Indians in USA by Indian Eagle Travel, Patti Tripathi unveils who and what the role models in the Saris to Suits Calendar 2020 are. Indian Eagle and its subsidiary, Travel Beats are honored to profile the extraordinary women who 'pose for a purpose' and their achievements. "My brainchild, Saris to Suits gives South Asian American Women achievers a platform to raise greater awareness for cultural competency and women's empowerment," said India-born Patti Tripathi from Atlanta.
Dr. Nina Radcliff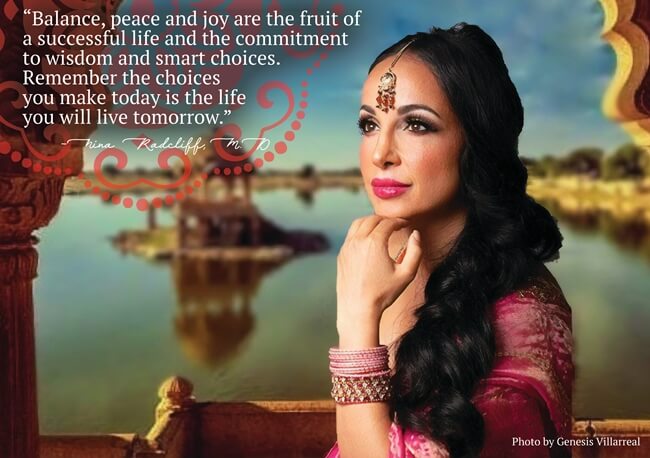 One of the eminent faces on Saris to Suits Calendar 2020, Dr. Nina Radcliff is niece of the King of Udaipur, Rajasthan. Born into an Indian royal family, she is a board certified anesthesiologist in New Jersey. She makes people understand complex health issues through easy-to-understand facts in preventive healthcare and neo-natal healthcare. She has published hundreds of research articles on a myriad of health and wellness topics, as she is on a mission to change lives through medical communications. Dr. Nina Radcliff is a member of the New Jersey State Senate Health Committee.
Seema Verma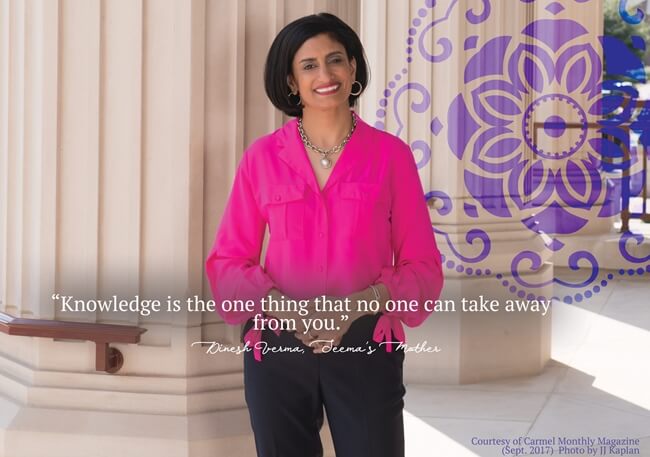 Seema Verma, who needs no introduction, has posed for Patti Tripathi's Saris to Suits Calendar 2020. She is the current administrator of the Centers for Medicare and Medicaid services in Washington DC. One of the key Indian-origin members serving in the Trump administration, Seema Verma holds a Master's degree in Public Health from Johns Hopkins University. She, along with her family resides in Indiana.
Priya Yadav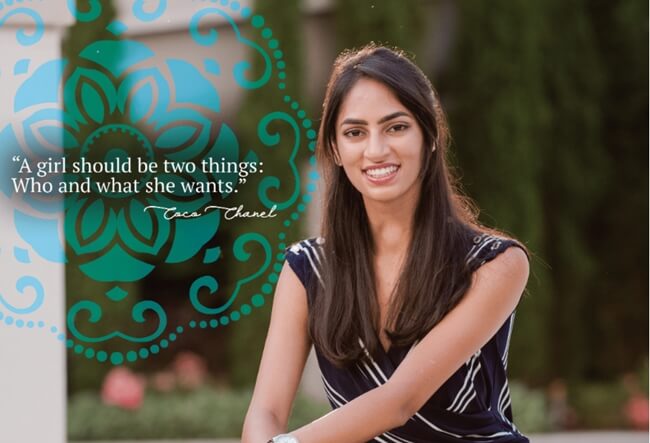 Among the inspiring figures on the 2020 edition of Patti Tripathi's calendar for a purpose is Atlanta-based Priya Yadav, an accomplished Bharatanatyam dancer and a sophomore at Emory University. When she was 2 months old, Priya was adopted from Pune by Dr. Jay Yadav, an award-winning Indian American cardiologist and serial entrepreneur. At the age of 16, she and her TiE Young Entrepreneurs patented the use of placental stem cells for the regeneration of skin in burned victims.
Veena Rao and Frances West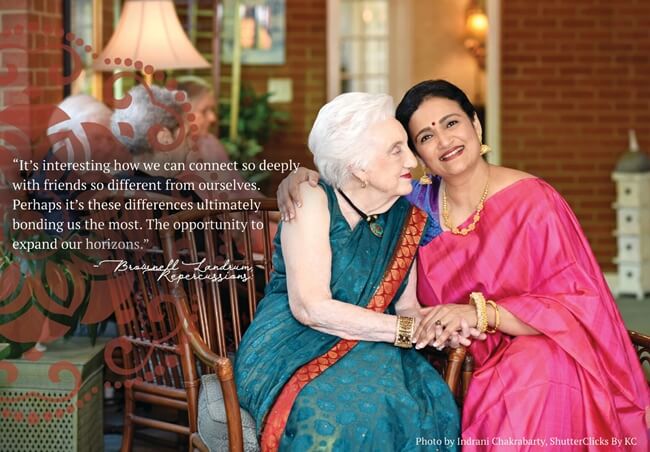 Based in Atlanta, Veena Rao is the founder and editor-in-chief of NRI Pulse, a US-based news publication. She found space in the Limca Book of Records as the first Indian woman who edits and publishes a newspaper outside India. Indian American Veena Rao is a published author too. She won the SparkPress STEP contest for her book Purple Lotus. Veena Rao shares the space with her 97-year-old mother and best friend, Frances West on the Saris to Suits Calendar 2020. Frances West spent 20 years of her life in Nigeria where she founded a school for the blind.
Dr. Naina Sachdev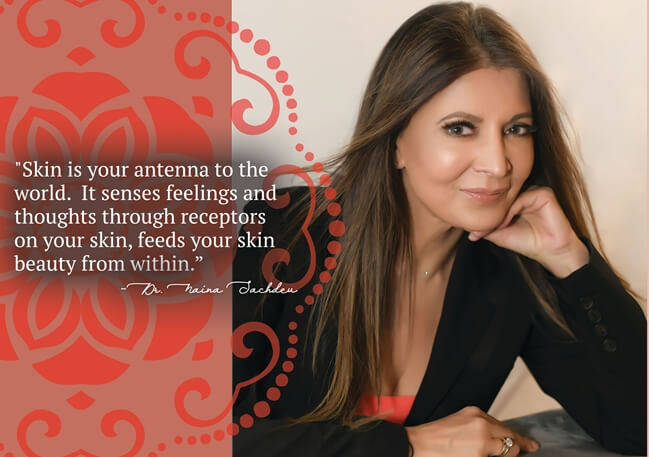 An expert in anti-aging and regenerative medicine, Dr. Naina Sachdev from California features on Patti Tripathi's Saris to Suits Calendar 2020 as the one who inspires others for skin aesthetics and detoxification through her keynotes on various topics related to her specialty. An alumnus of Chicago Medical School, Dr. Naina Sachdev is a known name from California to Japan, Dubai, the Netherlands and the Philippines. She has launched her skincare line of patented age reversal complex and ingestible products.
Movina Nagarajan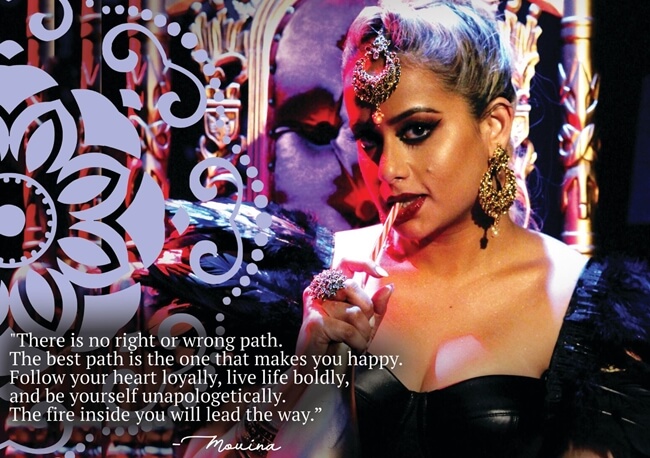 Movina Nagarajan, an Indian American singer, songwriter and performer in Atlanta, has also posed for the Saris to Suits Calendar 2020. She grew up listening to Bollywood beats and Michael Jackson songs with equal passion. She learned Carnatic music and Bharatanatyam, and majored in Western Classical music. Early in 2019, she released her debut single Call Me Baddie, a bold self-love anthem encouraging men and women to embrace themselves as what they are.
Marsha Nicholas – Nigri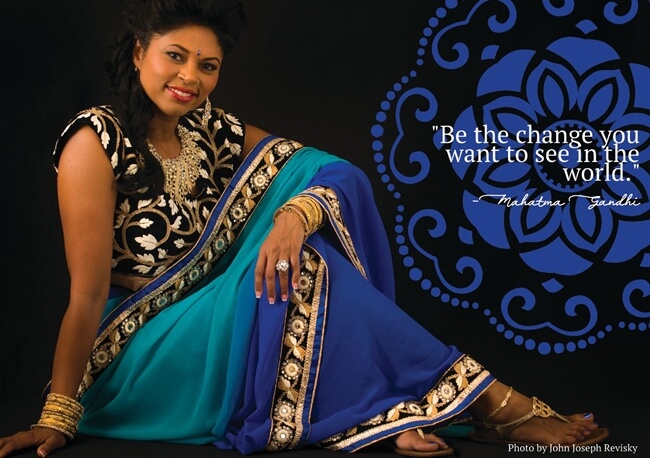 An elementary education teacher for about 25 years, Marsha Nicholas – Nigri is from the twin islands of Trinidad and Tobago. Her heritage can be traced to the wave of indentured laborers who were brought to the Caribbean islands for farming in the 1800s. Marsha and her husband, Achille Nigri are proud owners of Café Amici, a popular Italian restaurant in downtown Sarasota, Florida. She is an ardent believer in the Gandhian values and principles.
Raji Venkat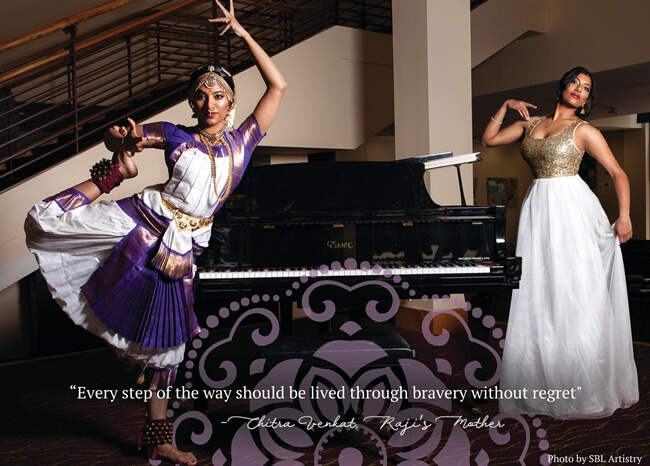 One of the inspiring women having posed for Patti Tripathi's Saris to Suits Calendar 2020 is Raji Venkat, who has made a name for herself in not only Bharatanatyam but also opera. An accomplished opera singer and a Bharatanatyam exponent, Raji Venkat is among the top ten in the National Association of Teachers Singing (NATS). She fell in love with dance and music when she was just four. Today, she performs across the world. Early in 2019, she went to China and Croatia for performance. She currently attends New England Conservatory in Boston, MA.
Payal Patel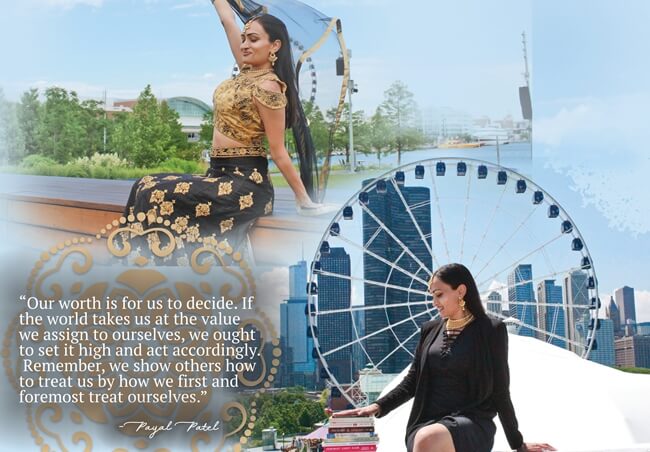 Not just another role model on the Saris to Suits Calendar 2020, Payal Patel is an award-winning, multilingual communication professional in Chicago. She leads the PR efforts and serves as the primary spokesperson for Navy Pier in the Midwest, which welcomes nearly 9 million annual visitors. A strong advocate for girls' education, Payal Patel serves as an ambassador of Room to Read – Chicago Chapter which raises funds for girls' literacy programs worldwide. Payal is also a supporter of Apna Ghar, which works with immigrant communities to end gender violence.
Natasha Subhash and Sania Mirza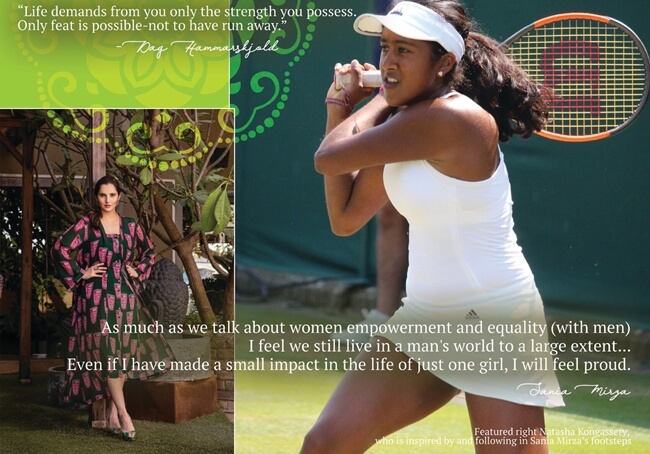 Natasha Subhash has been the first ranked player in the country in Girls 12, Girls 14, and Girls 16. She was ranked as high as 26 in the Junior International Tennis Ranking. She has played all four Junior Grand Slam tennis tournaments and won her first Professional Singles title in 2019. Natasha is a freshman on a full tennis scholarship at the University of Virginia. One of her greatest role models in tennis is none other than Sania Mirza, who needs no introduction.
Abha Singh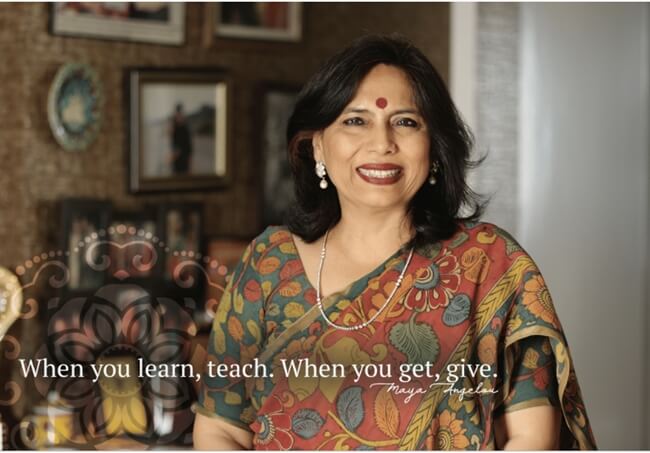 Of the most prominent personalities gracing Patti Tripathi's Saris to Suits Calendar 2020, Abha Singh is a Bombay High Court advocate, a social activist and an outspoken feminist. A former civil servant, she sacrificed her cushy bureaucratic career in order to fight for women's right to justice and gender equality. During her stint in the Indian Postal Service, Abha Singh was instrumental in powering rural post offices in Uttar Pradesh with solar panels. Abha Singh's nonprofit foundation offers free legal aid to those who can't afford professional lawyers and conducts beautician courses for women convicts in Lucknow Jail. She delivered a keynote on the impact of the #MeeToo movement on India's corporate landscape at Columbia University in New York. Abha Singh is a force to reckon with.
Dr. Sujatha Reddy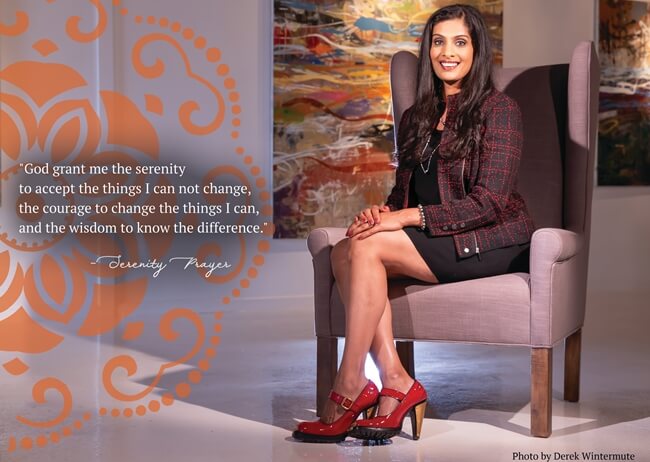 A board certified obstetrician-gynecologist and an EMMY award winning medical journalist based out of Atlanta, Dr. Sujatha Reddy is an expert on women's health. An alumnus of Albany Medical College, she serves on the Board of Directors of the Atlanta Women's Foundation. She is a medical correspondent for Atlanta's NBC affiliate WXIA and a medical columnist on CNN. Dr. Sujatha Reddy is on a mission to educate and inform, thereby empowering women with right health knowledge.
Do support the Saris to Suits, a non-profit initiative and contribute towards empowering the economically disadvantaged women in developing countries including India. All contributions to this noble charity are exempt from federal tax under 501(C) 3 Revenue Code in USA. For more information, log on to SarisToSuits.org or write to Info@SarisToSuits.org. You can also post your queries in the comment section below.
Note: All the photographs are copyright protected and belong to SarisToSuits.org. Downloading the photographs is strictly prohibited. Any violation of the copyright will result in a legal action.