Within a week of Indian-origin Laxman Narasimhan having become CEO of Starbucks, Indian American Devika Bulchandani took over the reins of a most reputed agency of WWP plc, the world's largest advertising company by revenue and the number of employees. She is now the global CEO of Ogilvy, a British advertising, marketing and PR agency in New York City with 131 offices in 93 countries. From September 12, she will be seen mapping the organizational structure, taking corporation decisions, strategizing for profitability, and reviewing the short-term as well as long-term agendas of Ogilvy at Fifth Avenue, a most happening fashion street in the borough of Manhattan, NYC.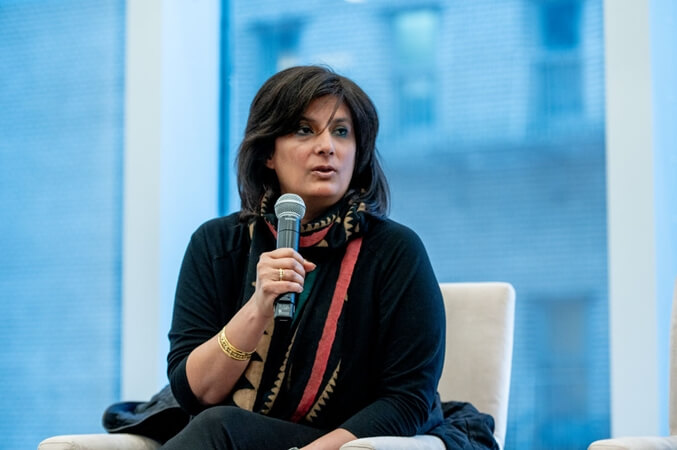 Ogilvy's CEO Devika Bulchandani from Punjab is one of the few women CEOs in the elite club of Indian-origin behemoths of global corporate giants, such as Google, Microsoft, IBM, Adobe, FedEx, and Chanel. "Devika is a champion of creativity who brings passion, purpose, and an uncompromising focus on whatever she does. She has been instrumental in Ogilvy's recent growth and development. Her love for advertising, deep understanding of clients' needs, and track record of delivering creative solutions to brands make her the perfect choice to lead Ogilvy to even greater success," said Andy Main, the outgoing CEO of the creative agency, in a media briefing.
"Devika Bulchandani whose left brain and right brain have been a creative force behind the making of iconic campaigns for the growth of several brands has voyaged from a copywriting gig that paid her $7 per hour to a full-time job for $18,000 to the hotseat of Ogilvy's global CEO. Her move from Mumbai to Los Angeles to pursue MA in Communications at the University of Southern California sowed the seeds of 'American Dream' into her in 1991. Her career journey from a foothold in advertising to a stronghold at Ogilvy's headquarters that ad career enthusiasts venerate as a shrine of creativity is an interesting story," said Sourav Agarwal, the Editor of Travel Beats, an overseas Indian community portal by IndianEagle.com.
Advertising was not her cup of tea initially, as she was under the impression that this industry was not the place where she could do something for a positive impact on lives. Persuaded by an alum from her graduate school, she got her hands dirty in advertising and found her call. Breaking stereotypes with the power of creativity and championing social causes through brand-building campaigns are her fortes.
"The Fearless Girl", one of her unique campaigns that capture the 'cultural zeitgeist' of her time, made Devika Bulchandani a brand voice of women's equality and workplace gender diversity. The campaign featuring the statue of a young girl with hands on her hips and facing the bull of the New York Stock Exchange at Wall Street is one of the most celebrated campaigns in the history of the Cannes Lions International Festival of Creativity. She was the creative whiz behind MasterCard's long-running advertising campaign titled "Priceless". The campaign with the slogan – "There are some things money can't buy; for everything else, there's MasterCard" – made MasterCard a most identifiable credit card company.
Born in Amritsar, Devika Bulchandani is often referred to as a giant in the advertising, branding and PR industry. She received multiple awards and honors, including NY Power Woman by Moves Magazine, in her illustrious career spanning 26 years at McCann, an American multinational ad company with offices worldwide. She climbed the leadership rungs on the totem pole at McCann and became President of McCann New York in 2017. A dedicated advocate of diversity and inclusion, she believes, "Keep changing your mantra depending on what's happening in the world".