Indian American Sri Nihal Tammana is another budding prodigy with multiple feathers in his cap. The 12-year-old is an environment warrior, a STEM advocate, a TEDx Speaker, a doodle artist, an avid researcher and a Taekwondo black belt holder. The 7th grader defied his age at 10 in having set up a non-profit for the recycling of used batteries – which can save the planet from a certain percentage of e-waste, a growing menace to the environment. Estimates have that 3 billion used batteries are thrown away every year in the United States alone.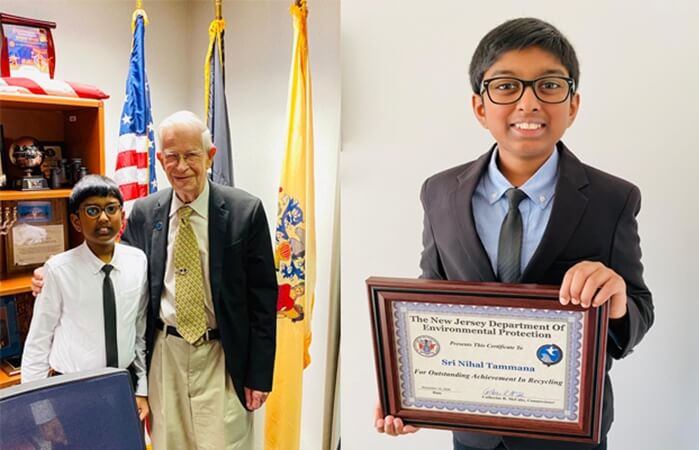 On his 10th birthday morning, Nihal woke up to the news about a massive fire incident that a discarded lithium-ion battery caused at a waste management plant in California and incurred losses worth millions of dollars. Shocked by the destructive power of a used battery, he pledged to rid America of used batteries first and take the campaign to India then. Despite having no prior experience, he founded RecycleMyBattery.org in 2019, with the initial objective of preventing used batteries from going into landfills. In only two years, the non-profit expanded across the US and to 6 major Indian states through collaborations with Call2Recyle and other similar organizations.
A resident of Edison, New Jersey, Nihal Tammana believes that the more our every-day life depends on electronic items, the more batteries will be sold, used and discarded. Hence, to make sure that the recycling of battery waste runs in parallel with the rising demand for batteries is his mission. "The entire world is powered by batteries, and they are only going to be more widely used. With the e-vehicle revolution spreading worldwide, the sale of batteries is shooting up, and thereby, intensifying threats to the ecosystem," said the bespectacled Indian American prodigy.
Nihal Tammana's Recycle My Battery has grown into an army of over 150 environment-conscious kids who have not only collected and recycled 150,000 used batteries, but also educated over one million people about the consequences of leaving battery waste unrecycled. Today, more than 200 locations in the US have recycle bins for battery waste of all types. He runs a YouTube channel to disseminate enlightening information and awareness messages about environmental sustainability through videos.
Nihal won New Jersey Governor's Award and the Jefferson Award for this noble mission. His achievements are celebrated by his grandparents in Vijayawada, Andhra Pradesh. The success and expansion of Recycle My Battery surprised his parents who had thought earlier that Nihal was too young to be a social entrepreneur. On the contrary, he is looking to venture out into the manufacturing of clean batteries in the near future. He aspires to study at an Ivy League university like Stanford and become a space scientist.
Either in USA or India, you can take the mission ahead by requesting a bin for the recycling of discarded batteries in your neighborhood. Indian-origin Nihal Tammana, the founder of Recycle My Battery, offers the "Battery Free School" program. The program is aimed at "helping schools succeed in their efforts to fight against batteries being thrown in trash and bring awareness about the importance of recycling used batteries." This program is absolutely free for any school wishing to join the bandwagon.