Sri Ponnada, an Indian American engineer at Microsoft's headquarters in Redmond, Washington is on the verge of self-deportation. As her H4 dependent status has expired, she is confronted with the possible predicament of leaving the United States for India in 6 months.
While her parents call the US their home, Sri Ponnada has been living in America since the age of 14. Born in India, she came legally to the United States along with her physician mother in 2008.  She is one of the approximately 200,000 Indian American children among the 'DALCA kids' (Deferred Action for Legal Childhood Arrivals), who were legally brought to the US by their parents on H1B visa or other work visas.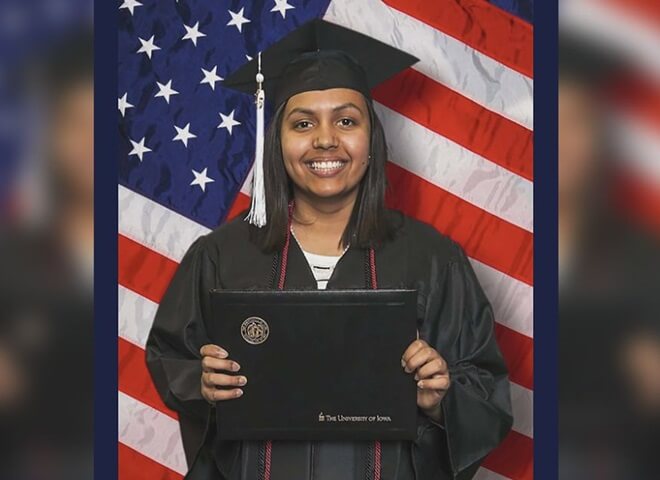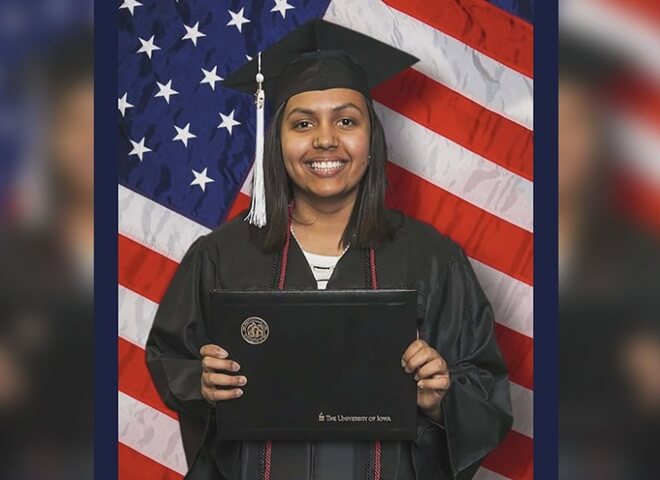 Microsoft engineer Sri Ponnada's mother named Vara Ponnada came to the United States in order to pursue a residency program in internal medicine at St. John's Episcopal Hospital in New York. On completion of the program, she joined the research team in Mayo Clinic's cardiology department in Rochester, Minnesota. Then, she was employed with the Hancock County Health System in Northern Iowa.
While working in Iowa, Vara Ponnada received a national interest waiver for her medical competencies and accomplishments, which allowed her and her dependent children to stay in the USA. She has applied for legal permanent residency in the US, but she is at the mercy of the US Congress like lakhs of Indian Americans in the green card logjam.
Only 7 % of green cards issued in a given year are allotted to the green card applicants of Indian origin with approved I-140s. Given the country-cap-wise issuance of green cards, it will take Indian immigrants 151 years to get legal permanent residency, according to a recent study by Cato Institute, a libertarian think tank in the US.
Sri Ponnada had got an F-1 visa which is given to foreign nationals who are eligible for studying in the United States. She grabbed the opportunity to work at Microsoft's headquarters in Redmond under a 18-month STEM-OPT status. She may have to deport herself from the US once her STEM-OPT status expires in February 2019. She applied for an H1B visa this year, but luck did not favor her in the lottery.
An alumnus of Iowa University, she loves volunteering for humanitarian causes. She used to tutor students in computer science and coding at a local public library in her university days. She was at the helm of seeking employment opportunities from tech companies for Iowa students while serving as the president of the Women in Informatics and Computer Science Club in Iowa. She also volunteered at the Women's Resource and Action Center in Seattle.
Though Sri Ponnada was born in India, she spent her childhood in Jamaica before moving to the US in her teens. Now her soon-to-expire STEM-OPT status, invalid H4 dependent visa and President Trump's stringent immigration policy have inundated her with a question, "The US is the only country I have known since I became a teenager. Where should I go? Jamaica or India?"
Though steeped in apprehensions about the future course of her life, Sri Ponnada has not lost hope. She optimistically wrote in a Facebook post, "I think of myself as an American and contribute not only to my community but also to America at large. I hope you see me as an American, too."
Travel Beats is an Indian Community Portal by Indian Eagle, a leading travel booking partner of Indians in USA. Subscribe to Travel Beats' free newsletter for the latest US immigration and visa news, Indian community news, inspiring stories and international travel updates.