During his first address to the US Congress, President Donald Trump apparently took a constructive stand on immigration by proposing to adopt a merit-based immigration system for a reform in the economy of America. He emphasized that a merit-based system for immigration in USA would ensure economic welfare of many struggling families by saving millions of dollars and raising native workers' wages.
In support of his statement and proposal, Donald Trump referred to the immigration policy of nations like Canada and Australia where immigrants are welcome based on their merits and skills. He added that the basic principle of these countries' merit-based immigration system is that immigrants should support themselves financially instead of depending on the national welfare programs. The US' federal resources will be drained unless such a fair system is enforced.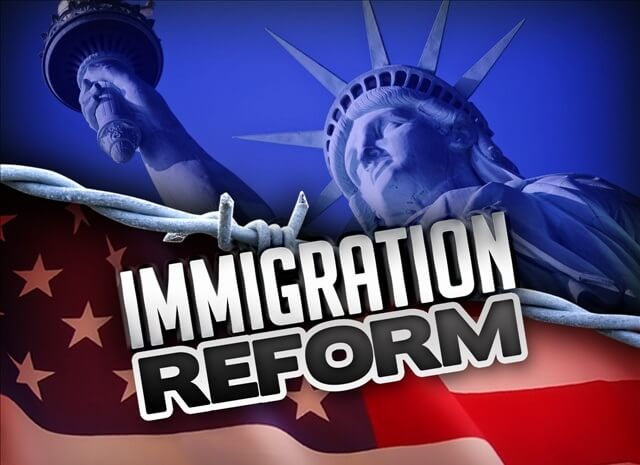 He went on saying that the present immigration system of America drains billions of dollars from taxpayers, according to the National Academy of Sciences. The system is outdated and faulty. It does no good to either taxpayers or the poorest citizens. He hinted at taking a quick action to reform the system. According to him, the proposed immigration reform will to the benefit of America and its citizens as long as its objectives are to increase jobs and wages for Americans, which will help strengthen the national security and restore the lost respect for laws.
Now, the question is if most immigrants are employed in low-wage jobs. The percentage of immigrants at the top, middle and bottom of the economic ladder is more or less the same. It is evident from the fact that 46% of total immigrants possess college education. Out of that, 22 percent immigrants are employed as dental, nursing and health aides, according to the Economic Policy Institute. If this section of immigrants is the target of Trump's proposed merit-based immigration system for the economic reform, shortage of workforce will hit the health sector of America.
Donald Trump's targets also include immigrants below the poverty line, who depend on taxpayers' contribution to the federal funds and schemes in USA. 20 percent of 40 million immigrants, which is equal to 8 million, live below the poverty line, while 16% of Native Americans equal to 43 million live in poverty. Less than one-third of 8 million immigrants in poverty are undocumented. If the undocumented poor immigrants are deported based on the Department of Homeland Security's latest directives, and the federal help to the remaining immigrants (who are documented or legal) is banned or capped, it will add a little to the economic welfare of America.
The next question is if the unauthorized immigrants are a financial burden on the states or federal government of USA. The Economic Policy Institute opined, "They contribute to the system more than they take out."  Most of the unauthorized immigrants pay sales and property taxes in their respective states. Besides, they pay payroll and income taxes, but they are not authorized to claim social security benefits. As per the Social Security Administration estimates in 2005, the undocumented immigrants contributed approximately $7 billion a year to USA's social security taxes, which they can never reclaim. The only benefit they get is public education for their children. In some states, they are allowed to attend city colleges at subsidized tuition rates.
Donald Trump's proposal to introduce merit-based immigration system in USA is a good motive, but its enforcement will mean more brain drain from the world's developing nations like India. Probable pros and cons of any federal action on immigration in USA should be taken into a multi-level consideration.
Donald Trump's another target seems family-based immigration. It allows the immediate relatives or family members of US citizens to seek entry to the United States. Immigration to USA through asylums is also the target of his reform plans.