In 2015, the Indian state of Andhra Pradesh has been in news for its 'Laddu' offerings to the deities. One single 'Maha Laddu' weighing 8,369kg was offered to a Lord Ganesh idol at Visakhapatnam, while the Tirupati Temple celebrated the 300th anniversary of its 'Laddu maha prasad' this year.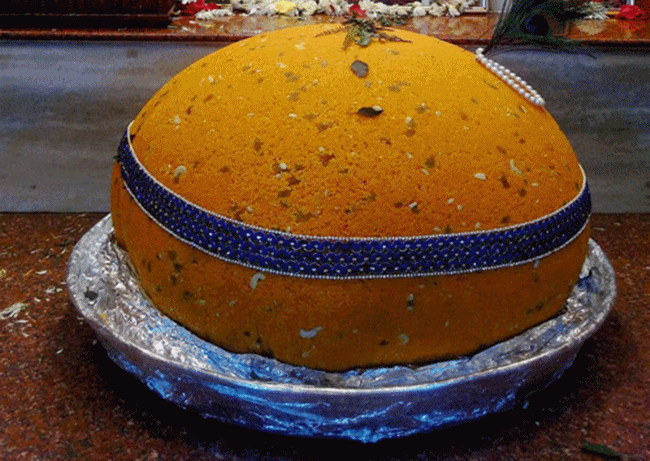 The Maha Laddu in Andhra Pradesh has entered the Guinness World Record book for its whopping 8,369kg weight. Among the Indian sweets, laddu is the favorite of Lord Ganesh, the deity of success and prosperity in Hinduism. The largest single laddu has been prepared during the Ganesh Festival in Visakhapatnam for five consecutive years.
The maker of the Maha Laddu, Saladi Venkateswara Rao who owns a sweet shop at Tapeswaram, a village in Andhra Pradesh, received the Guinness World Records certificate last evening. Unsurprisingly, it is the fifth time, not the first time that the certificate has been awarded for the Maha Laddu in Andhra Pradesh.
Saladi Venkateswara Rao shared that his team made another laddu weighing 6000kg besides the Maha Laddu. The 6000kg laddu was offered to a Ganesh idol at Vijayawada. He added that the weight of Maha Laddu in Andhra Pradesh had been on the rise from 5,570kg in 2011 to 6,599kg in 2012 to 7,132kg in 2013 to 7,858kg in 2014 to 8,369kg in 2015.
The Maha Laddu in Andhra Pradesh cost a whopping INR 16.5 lakh this year. It is offered to the 80-feet Ganesh idol at Visakhapatnam, with support from NRIs. A team of 15 members prepared the Maha Laddu in 12 hours, using 2,900kg sugar, 1,100kg ghee, 800kg dried fruits, 2,300kg tur dal, 700kg sugar chips, 10kg camphor and 40kg cardamom.
We will continue making the Maha Laddu bigger and bigger till the tenth consecutive year and it sets the 10th Guinness World Record. Our next target is to make a 500kg kova (a sweet milk recipe) for the Saibaba Temple at Shirdi in Maharashtra. – Saladi Venkateswara Rao from Tapeswaram.
The 5,600kg laddu offered to the 59-feet high Ganesh idol in Hyderabad comes from Tapeswaram. It is Hyderabad's biggest Ganesh idol.
Travel Beats, a digital portal for Indian diaspora by IndianEagle, publishes the latest news and stories about India, USA, Canada and NRIs. IndianEagle is one of the best travel booking sites for flights to Hyderabad and other Indian cities.
Other Interesting Stories of Andhra Pradesh