After making headlines across the United States for committing a donation of $200 million to Florida's Nova Southeastern University for healthcare development and education, Indian American Dr. Kiran Patel and Dr. Pallavi Patel have won hearts again. Recently, the social entrepreneur duo, who is best known for philanthropy in Florida, donated $171,500 to build affordable homes for those in need of decent shelter in Florida's Hillsborough County.
Tampa-based Freedom Health's Chairman, Dr. Kiran Patel and his wife Dr. Pallavi Patel made the significant donation to Habitat for Humanity, a nonprofit organization in Hillsborough County, in continuation of their commitment to do good for the local community and make an impact on the lives of the underprivileged through their philanthropic wing – the Patel Family Foundation in Florida.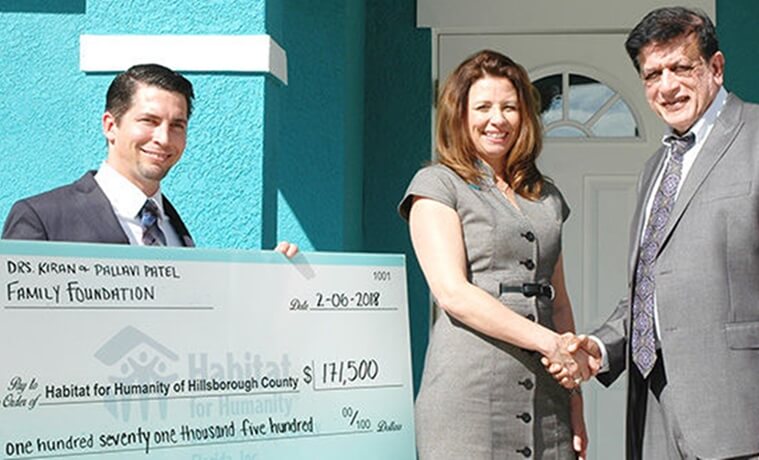 The Patel Family Foundation's donation to Habitat for Humanity will be used to construct two habitat homes for the low-income families who are too poor to afford adequate shelter. Tina Swain, the CEO of Habitat for Humanity in Hillsborough County called Dr. Kiran Patel and Dr. Pallavi Patel's donation a generous act of life-changing difference for humanity.
Habitat for Humanity International is "a world where everyone has a decent place to live." Founded in 1970, Habitat for Humanity works with volunteers to build safe, affordable housing for those grappling with inadequate shelter in underprivileged areas. Homes which Habitat for Humanity International builds and funds with donation from philanthropists are sold for zero interest and without mortgages to the lower-middle income and low income groups. Payments from the sale are deposited back to the fund which is utilized to finance the construction of a new habitat.
In continuation of our consistent effort to promote good work of Indian Americans, we at Indian Eagle featured Illinois-based Rattan L Khosa's gift of $5 million for student entrepreneurs at Chicago University's Booth School of Business. Recently, Tampa-based Raxit Shah and Ketki Shah donated $1.93 million to two temples in the USA.
Today, Habitat for Humanity International is a world leader in eliminating the perils of poverty housing. It has built decent, stable, affordable shelter for approximately 7 million people across the world. Among the affiliates of Habitat for Humanity International, Hillsborough County's Habitat for Humanity has constructed and renovated over 200 homes across Florida. Currently, Tampa and Brandon are Habitat for Humanity Hillsborough's two construction sites for affordable homes.