India recreated the history of transportation and communication yesterday, which had begun with the first railway service between Bombay and Thane in 1853. The historic steam engine from the bygone British era has been brought back on the Kalka-Shimla heritage track in Himachal Pradesh. A wonder of engineering technology, the locomotive KC 520 dating back to 1905 boasts a rich history of 109 years.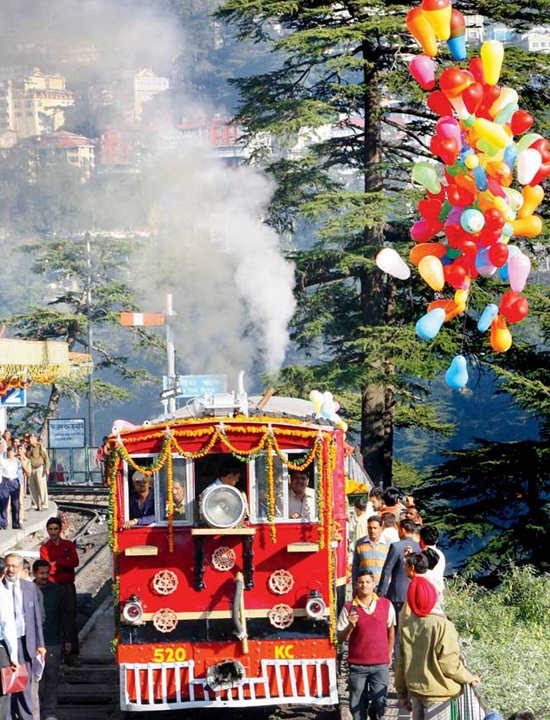 The Kalka Shimla railway track is one of the rail lines laid out through the precarious regions in India. The UNESCO World Heritage Site list has incorporated it as one of the marvels in the country. The locomotive KC 520, the narrow gauge steam engine, took more than one hour to revive the 22-km long journey along the track after a long period of time.
The steam engine-driven train was put on track under the care of the Indian Railway and Tourism Corporation (IRCTC). IRCTC is a wing of the Indian Railways. Two chartered coaches of the locomotive KC 520 train were booked for foreign tourists for INR 96,000. The coal-fired steam locomotive was launched by the Indian Railways in February 2013, for the first time.
Two or three coaches of the locomotive KC 520 train can be hired on one-time rent by individuals for a family holiday or by corporates for official trips. The collective space of two or three coaches is enough to accommodate up to 40 passengers. The passengers will be served delectable food on board as per the hospitality service.
The steam locomotives used to carry the British to and from Shimla, which had the distinction of being the summer capital of India during the British rule. The narrow gauge steam engines were replaced with diesel engines from 1952 onwards. The locomotive KC 520 is a witness to the 150-year old history of Shimla. Now Shimla is the summer capital of Himachal Pradesh, the only Indian state which is mostly famous for its snow-covered, beautiful hill stations.
The British-era steam engine's back to operations is part of the tourism development plan, undertaken and implemented to increase the number of domestic and foreign footfalls in Himachal Pradesh. Besides, the Kalka-Shimla track offers one of the most wonderful mountain railway journeys in India. It was inaugurated by Lord Curzon, the then British Viceroy.
IndianEagle.com can make your dream of a wonderful Shimla trip come true by booking your cheapest flight to India this summer.