Proving President Joe Biden's words, "Indian Americans are taking over the country," right, four Indian-origin teens finished among the top 10 winners of the Regeneron Science Talent Search 2021. Also called the US' Junior Nobel, the oldest and most prestigious STEM competition discovers the most innovative of budding scientists among high school seniors every year. Propelled by compelling issues that cripple the pace of day-to-day life, these four teens from the Indian community in USA developed simple, unique, low-cost solutions, demonstrating their potential to become scientists and innovators for the humankind.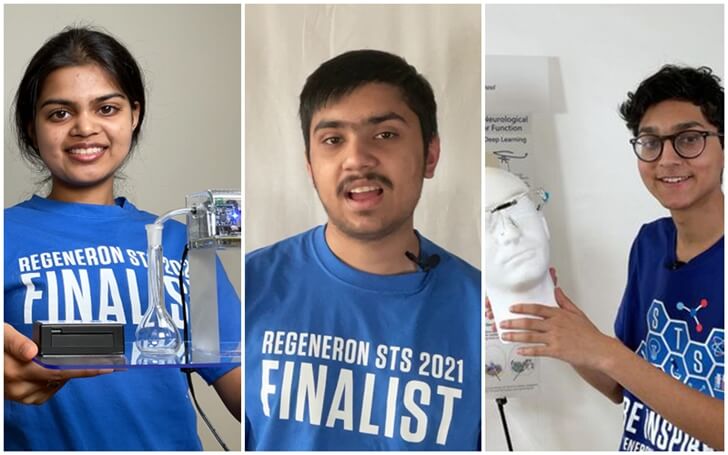 Eshani Jha, California
17-year-old Eshani Jha from California ranked third in the Regeneron Science Talent Search 2021 and bagged a cash award of US$ 150,000 for her low-cost water filtration device named Biochar. Eshani Jha's water purification system removes not only heavy metals including lead, but also pesticides, micro plastics, and pharmaceuticals from drinking water. A chemical engineering aspirant, she assures that her invention will be useful in places like Flint in Michigan where water is severely polluted with metals like lead.
A resident of San Jose, Eshani Jha credits her invention to her home state in India. During a trip to India a few years back, she had an exposure to the underprivilege's suffering from water-borne diseases due to their consumption of contaminated water. She learned that the slum dwellers could not afford water filters due to high costs. This bitter reality propelled her to find a solution to the problem. Eshani, a senior at Lynbrook High School, has been studying on water contamination issues since middle school.
Gopal Krishna Goel, Oregon 
Among the four Indian American winners of the Regeneron Science Talent Search 2021, 17-year-old Gopal Krishna Goel secured the 4th position. A homeschooled math genius from Portland, Oregon, Gopal made it to the top 10 for his research on mathematical properties of random matrices. He is confident that the award-winning research will play a key role in the field of meteorology, nuclear physics, and quantum field theory. His research on the connection between randomness and probability will stimulate the search for the true nature of quantum gravity, which is usually known as the theory of everything, according to him. Gopal received a US$ 100,000 award.
Vetri Vel, Maine
The youngest of all the finalists in the 2021 Regeneron Science Talent Search, 16-year-old Vetri Vel from Maine is in the sixth place. A resident of Bangor, Vetri combined his scientific thinking with empathy for the elderly who do not have 24-hr human support. On knowing that his grandmother had fallen in India, he hit upon the idea of building a fall detection device for the elderly with difficulty movement or limited mobility. Easy to be mounted on a wall, the device works on the principle of thermal imaging and deep learning. Even in the dark, "it can precisely capture images and classify them using a trained neural network." When discrepancies are found between two or three images, the device sends an alert message to those residing nearby for help in real time.
Vetri believes that his real-time fall detection system will improve the quality of life for senior citizens at long-term care facilities.
Alay Shah, Texas 
Among the top ten winners of the 2021 Regeneron Science Talent Search, 17-year-old Alay Shah from Texas finished seventh and earned a US$ 70,000 award for developing a possible low-cost alternative to MRIs. The diagnostic tool he developed can identify neurological disorders by tracking eye movements. On knowing that injured footballers are immediately taken for an eye checkup to find concussion, Alay started working on the idea of using abnormal eye movements for accurate detection of other neurological disorders like Parkinson's, Attention Deficit Hyperactivity Disorder (ADHD) and multiple sclerosis.
A resident of Plano, Alay Shah has integrated to the device an infrared camera that uses the software he coded. The device also uses deep learning algorithms to analyze and interpret the date on pupil movement. He has already tested the tool successfully on 200 patients.