Times Square, where Diwali celebration will be held on October 17, witnessed a crucial discussion by some Indian Americans over the ongoing Bihar elections in India. Several members of the Indian diaspora having their roots in the Indian state of Bihar, met at Times Square and held "Litti Pe Charcha" (discussions over Litti, a traditional dish in Bihar) about the current socio-economic scenario of Bihar.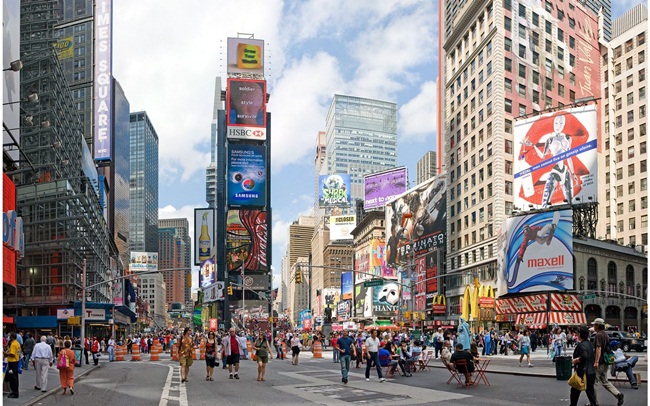 Since Diwali as a cultural celebration in New York became a hit, other Indian American events have been adding to the vibrant ambience of Times Square. For instance, International Yoga Day was observed at Times Square in June this year. The air of Times Square was rife with the Indian diaspora's voice in support of the Narendra Modi government in India.
The "Litti Pe Charcha" is inspired by the "Chai Pe Charcha", one of the most popular campaigns by Prime Minister Narendra Modi before, during and after the Parliamentary Elections 2014 in India. Concerned about the development of Bihar, over 200 Indian Americans initiated the discussion "Litti Pe Charcha" over various socio-economic and socio-political aspects of their native land in India, at the iconic landmark in New York City.
They also expressed their expectations from a future government, with regards to the economy and employment in Bihar. Manik Tyagi, representing 'Vote For India', addressed the gathering of over 200 Indian Americans at Times Square and led the discussions about such key issues as poverty, unemployment, migration, education, agriculture, law and order in Bihar.
Anil Sharma representing HiPac, a large group of NRI youths in the US, was among the attendees during the "Litti Pe Charcha." He highlighted the potential of human resources in Bihar and reasoned that it was not utilized to benefit the state. Other participants, too, expressed their hopes about the state's economic growth and development in the future political regime.
Similar gatherings for the same discussion "Litti Pe Charcha" are to be held across the USA.
CHECK ALSO Details of Diwali at Times Square
Travel Beats, a cultural wing of Indian Eagle, shares details of Indian cultural events in the US. Indian Eagle is a leading travel organization offering the best airfare deals for flights to India.