Five ambitious, promising Indian American girls are all set to explore the dynamics of the US government and the challenges of federal policymaking during an eight-week summer internship at the various Congressional offices in Washington DC.
The all-girl team from the Indian community in USA has recently been inducted into the Washington Leadership Program 2019 for a first-hand experience of the US public offices and the nuances associated with public service careers in America. The Indian American scholars of the Washington Leadership Program 2019 are Aparna Iyer, Madhumita Krishnan, Natasha Menon and Rupa Palanki. They will attend meetings and discussions with the federal diplomats, policymakers and public servants, and receive a stipend worth $2000.
On completion of the WLP 2019 internship, they will be inducted into the WLP alumni community of leaders in academia, business, law, governance, judiciary, science, philanthropy and other walks of life. Since its inception in 1995, the Washington Leadership Program (WLP) has been developing generations of American leadership from among the US citizens or legal permanent residents in South Asian communities.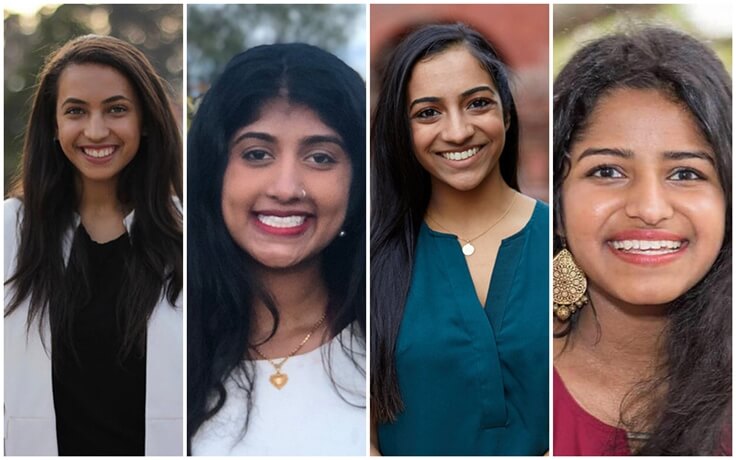 WLP Scholars 2019: Aparna Iyer
Among the Washington Leadership Program 2019 scholars of Indian origin, Aparna Iyer from San Francisco will be interning in the office of Congresswoman Pramila Jayapal. A sophomore at U.C. Berkeley, she is majoring in human rights and political science. On campus, she is an active member of the pre-law community, and the Berkeley Forum, a nonpartisan organization. After she moved from India to the United States in 2014, she started volunteering for human rights charities in SF Bay Area. One of WLP interns of 2019, Aparna Iyer aspires to make it big in international law and education policy.
WLP Scholars 2019: Madhumita Krishnan
A junior at the University of California Berkeley, Madhumita Krishnan is placed in the US Department of Commerce for the WLP 2019 internship. Double majoring in history and political science is her career goal. She nurtures aspirations to work towards strengthening various aspects of democracy in India and the USA. International immigration law reform is another area that she has set her eyes on. Enhancing accountability in democratic institutions and building sound judicial systems in developing countries are on her future agenda, too. Like most of the 2019 WLP scholars, Madhumita Krishnan aspires to work with human rights organizations.
WLP Scholars 2019: Natasha Menon
One of the WLP 2019 interns in the US Department of Homeland Security, Natasha Menon is a student at the University of Pennsylvania, Philadelphia. The growing need to address critical policy issues at the intersection of education and immigration does interest her a lot more than any other thing. An aspiring lawyer and public servant among the Indian American Washington Leadership Program scholars 2019, Madhumita is studying philosophy, politics and economics.
WLP Scholars 2019: Rupa Palanki
Among the WLP scholars of 2019, Indian American Rupa Palanki will intern in the US Department of Health and Human Services. She is a Ben Franklin scholar and Wharton Public Policy scholar at the University of Pennsylvania. She aspires to be a leader in facilitating access to quality healthcare for marginalized sections of society in developing countries. On completion of the WLP internship, she will look forward to making it big at the intersection of law, medicine and fiscal policy.
Travel Beats, a subsidiary of Indian Eagle, strives to promote achievements of young Indians in USA through the continued series of inspiring stories. Indian Eagle, a most trusted travel booking partner of Indians in USA, not only books cheap airline tickets for flights to India from USA, but also shares latest updates of US visa, Indian passport, and major airlines.