Indian American neurosurgeon Sanjay Gupta's Twitter account with over 2 million followers catapulted him to the coveted status of a social media celebrity and established him as the second most popular doctor in the United States, according to a study on the use of Twitter by doctors across the US. He uses his Twitter account mainly for professional purposes like giving medical advice and opinions to his followers.
Sanjay Gupta is a familiar face in the North American media though the Twitter celebrity status is a new feather in his cap. He is best known as an Emmy-award winning chief medical correspondent for CNN where he hosts several weekend health shows. He reports on health-related issues from Charity Hospital in New Orleans, Louisiana.
He is not only a correspondent but also a columnist. He writes columns for Time Magazine and other leading publications in the US. He is a published author too, with a few books to his fame. "Chasing Life" and "Cheating Death", two of neurosurgeon Sanjay Gupta's books, were among the New York Times bestsellers. His novel, "Monday Mornings," made headlines as a New York Times bestseller in 2012. It was also adapted into an American television series in 2013.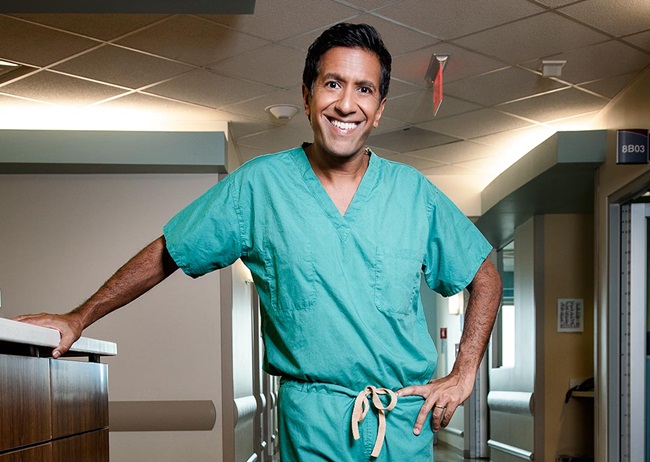 At the same time, Indian-origin doctor Sanjay Gupta is an associate chief of the neurosurgery department at Grady Memorial Hospital in Atlanta and an assistant professor of neurosurgery at Emory University School of Medicine in Atlanta. With 2.03 million Twitter followers, he carved a niche among the celebrities and TV personalities who are mostly followed on the micro blogging platform.
A group of researchers including the students of Augustana University in South Dakota analyzed the Twitter accounts of leading doctors across the USA and filtered the tweets of 4500 users to see how today's doctors engage and interact with people on Twitter. The research found that Indian American neurosurgeon Sanjay Gupta is the second most popular doctor in the US.
A biomedical science graduate from the University of Michigan, he was born to an NRI couple who had moved to America from India in the 1960s. After he earned his doctor of medicine (M.D.) in 1993, he became an advisor to Hillary Clinton and served as a White House fellow for one year. Reportedly, he was approached for the position of Surgeon General of the US in the Obama regime but he denied.
In 2011, Forbes Magazine featured Sanjay Gupta on its list of 10 most influential celebrities. He has contributed articles on brain tumors, spinal cord abnormalities and other health issues to leading medical journals. He has the license to practice medicine in Michigan, Atlanta, New York and South Carolina.
Indian American physician Sanjay Gupta is one of the few North American doctors who have the rare distinction of having reported on medical conditions of victims in war zones and areas of natural disasters including the 2010 Haiti earthquake. He broadcast live reporting on medical aspects of the Iraq invasion in 2003. Besides, he performed emergency surgeries to save many US soldiers and Iraqi civilians in Iraq.
Interestingly, Indian American neurosurgeon Sanjay Gupta was named one of the sexiest men of the year 2003 by People Magazine.
Read More News Stories of Indian Americans