Is the delirious pace of life with deadlines taking up all your time? Why not take a break with Great deals from Indian Eagle to breathtaking Gwalior.
Soak into the Aesthetic beauty and have a change of scene with architectural delights at Gwalior. Discover old havelis with exquisitely carved doorways and windows.Statues, Museums and art galleries add to Gwalior's regal flavor.
Gwalior Fort is a landmark monument which stands on a steep mass of sandstone.This dominating structure has witnessed momentous events like imprisonments, battles and jauhars.
While on an ascent to the Fort, do not miss out on the statues of Jain tirthankaras, carved into the rock face. The magnificent outer walls of the Fort stand tall at two miles in length and 35 feet in height. This imposing structure inspired Emperor Babar to describe it as "the pearl amongst the fortresses of Hind." The fort is like an easel upholding some invincible marvels of medieval architecture.
The Gujari Mahal recounts the love story of Raja Mansingh Tomar for his Gujar queen, Mrignayani in the 15th century. The story goes, the beautiful Queen demanded the king to build a separate palace with continuous water supply from the River Rai, through an aqueduct. The outer structure of the Gujari Mahal has been preserved while the interior has been converted to an Archaeological Museum.
The resonance of history echoes in the bare palaces which stand as mute testimony to the past centuries.Jauhar Pond, is the site where the Queens committed mass 'sati'. According to Rajput tradition, when the husbands die, the wives sit on the pyre willingfully and give up their lives.
The Suraj Kund is another important segment within the Fort walls. The original pond is preserved where Suraj Sen, the Rajput chieftain was cure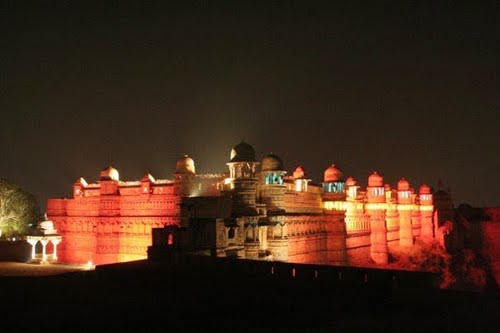 d of leprosy, after drinking water from the pond on the advice of Saint Gwalipa.
Sightseeing at Gwalior must end with The Sound and Lights show. The silence which prevails during the day has the place buzzing after Dusk. The deserted Fort wears a festive look, Lights in Red-gold, blue-green illuminate the 'Man Mandir' palace near the Elephant Gate.
The booming voice of Bollywood actor Amitabh Bachchan as Gopachal, the sutradhar (narrator) adds eloquence to the ambience. The unbeatable combination of Bachchan's narration in English and Hindi, accompanied by Ravishankar's Sitar, sets the tone for a culmination to the evening spent at Gwalior. Important events are enacted for a glimpse into the past history.
Temples like Sas Bahu ka Mandir and Vishnu temple known as Teli ka Mandir , speak volumes of  their skill and craftsmanship. The Gurudwara Data Bandhi Chhod built in the memory of Guru Hargobind Sahib, the 6th Sikh Guru is a historical landmark.
Let the glorious past unfold amidst historical locales with the sound and light show. Make your booking with Indian Eagle at Lowest Airfare Guaranteed.