It is said that what's not in India can't be found anywhere in the world. Let's reverse the statement like what's not found anywhere in the world is found in India. Truly, India is an incredible land of surprises, secrets, innovations, antiques and offbeat things. Among the few offbeat temples of India, which are known for unusual offerings and unconventional beliefs, a Lord Shiva Temple in Kerala offers CDs, DVDs and textbooks to devotees in return of their offerings to the deity out of the belief, "Knowledge is the best gift of god."
A temple in the Indian state of Gujarat recently came to the rescue of school students preparing for the class 10th and 12th final examinations, by offering divine pens to make them come out with flying colors in the exams. An incredible solution to hundreds of thousands of students grappling with the conflict between success and failure! The pens are supposed to help students answer uncommon questions and critical problems in the exam papers.
The Kashthabhanjan Temple in Gujarat's Panchmahal district released a poorly designed handbill to make parents aware of the pens as divine blessings for their children in distress. The handbills tick all the boxes of a typical print advertisement, including attention-seeking bold typography, eye-catching color, and thought-provoking questions.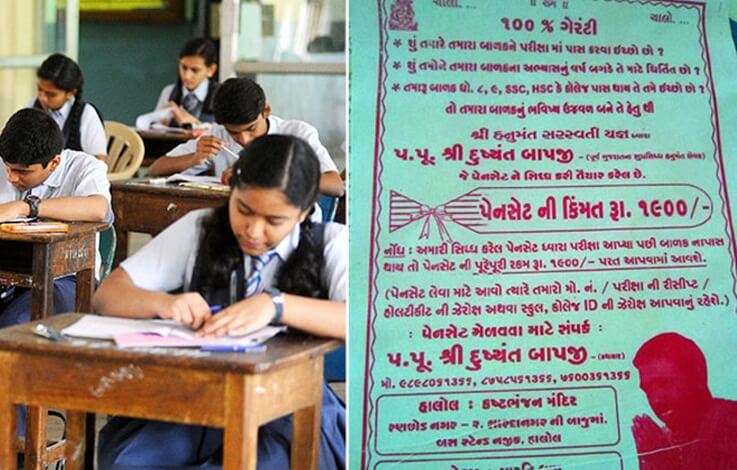 Like a perfect advertisement, the handbills target the sentiments of parents who are worried about their children's performance in exams, by putting such questions across to them as "Do you want your child to pass his exam?" 'Are you worried that your child may lose a year due to poor results?" "Do you wish your child passes his class 8, 9, 10, 12 or college exams?"
The handbill from this Gujarat temple offering divine pens to school students has gone viral on social media, eliciting a mixed response from across the demography. It has raised eyebrows in cynicism on one hand and evoked laughter on the other hand. It's the latest fun talk of the town in Incredible India. It has fetched farcical comments like "Play and have fun throughout the year. Qualify exams using Bapuji's pen."
Dushyant Bapuji, who is recognized as a great devotee of Lord Hanuman, is the inventor of the divine pens at the Kashthabhanjan Temple in Gujarat. It is said that he made the pens using his divine power acquired from a Hanuman Saraswati Yagya. In ancient India, monks having a secluded existence in precarious, inaccessible regions of the Himalayas were believed to solve problems by means of their spiritual power and invoke solutions from the divine source.
A couple of pens in a set is priced at a whopping INR 1900 and comes with a guarantee of success to users. Dushyant Bapuji assures complete refund in case a user of the pen fails in exams. The note of assurance in the handbills reads, "If your student does not pass his examinations even after using our pen set, we will return the entire amount," (translated from Gujarati language). The handbills featuring a picture of Dushyant Bapuji display 100% guarantee in bold letters at the top.
Only those providing a valid mobile number, a receipt of exam fees, a copy of admit card, and a copy of school/college ID card can buy the divine pens at the Kashthabhanjan Temple in Gujarat for their children's stress-free performance and promising results in exams. The divine pens will not show magic if used in works other than exams.
Also Read Offbeat Stories of Incredible India