The Guinness Book of World Records recognizes accomplishments that are unique and distinct in different Field. The Ramoji film city in Hyderabad has proudly placed Andhra Pradesh on the map. In 1996, it has earned the rare distinction of being certified as the largest film studio complex in the World.
A one stop shop for film-makers, the infrastructure boasts of state of the art facilities, all under one roof. Armed with world-class facilities for pre-production, production, post-production, Ramoji Film city is sanctuary for Film Buffs.
Landscaped with fountains and brooks, all essential ingredients required in making a film has been replicated. Permanent structures are built across 1,666 acres with 47 sound stages.
Consider visiting this tourist destination with Natural creeks set among streets, police stations, trains with railway track, Cruise, Shopping complex with Bangle Bazaar, restaurants, Old Street with bridge, Taxi stand and Bus Station. Magnificent Mughal Gardens, Gurdwara, Corporate buildings, Hospital, Palace, Police headquarters, Caves, Hotel, Hawa Mahal are meticulously designed to give a real life ambience.
Are you a fan of Clint Eastwood films, 'The Wild West' is a separate wing built on the lines of a western film décor; it sets the tone for shooting a film with a Western Theme. Ramoji Film city has Water Parks, Video Games, tram rides for children with an evening carnival at Fundustan.
Corporate events are held a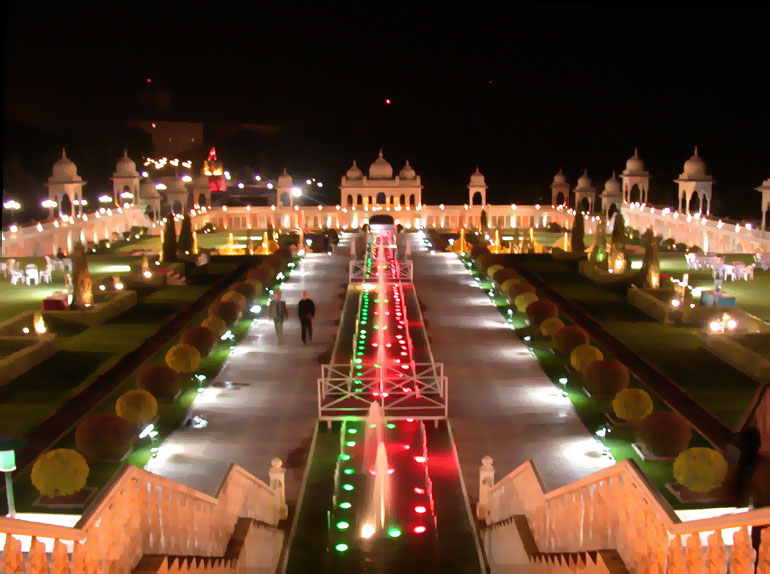 t Conference halls with state-of–the–art facilities. Events, Theme parties, Adventure camps. Filmy buffs with a penchant for cinema can consider having their Weddings ceremony on the lavish sets created for shooting reel matrimony scenes.
The enchanting locales have earned it an international identity amongst Film-makers. Foreign Makers have shot documentaries on a shoe string budget. Special departments cater to film processing at Rainbow, Digital Editing at Mantra, Audio Post at Symphony and Cassette Duplication at Rhythm. These post production facilities have made it possible to walk-in with a script and walk-out with a completely canned film.
The miniature Golconda Fort set upon a hilltop gives a Bird's-eye view of the entire studio at one glance. Book at cheapest Airfares to Hyderabad with Indian Eagle. Step into this audio-visual illusion of reel world, postpone all those deadlines, loose yourself in this make believe fantasy land. A dream world unto itself, as Indian cinema would want it.