"A ship is safe in harbor. But that is not what ships are built for." Similarly, some people are born to break from household confines, cross the seven seas, and travel across geographies. This is true about Molly Joy, a humble grocery shopkeeper from Kerala. The 63-year-old granny, who had never gone out of her village before and after marriage, prides herself on being a globetrotter with grey hairs. She funds her international flights and trips with her modest savings from the grocery store that she has been running single-handedly since her husband's untimely demise in 2004.
Molly has been to more than 11 countries, including the US, the UK, and Singapore, in the past 10 years. Bitten by the wanderlust bug in childhood, she used to feel elated at the mere thought of traveling the country. But her low-income family in a village near Kochi City could not even pay fees to send her on school trips. Misty memories of those days, though buried in the grave of the past, made her belief, "You can't cross the sea merely by staring at the water."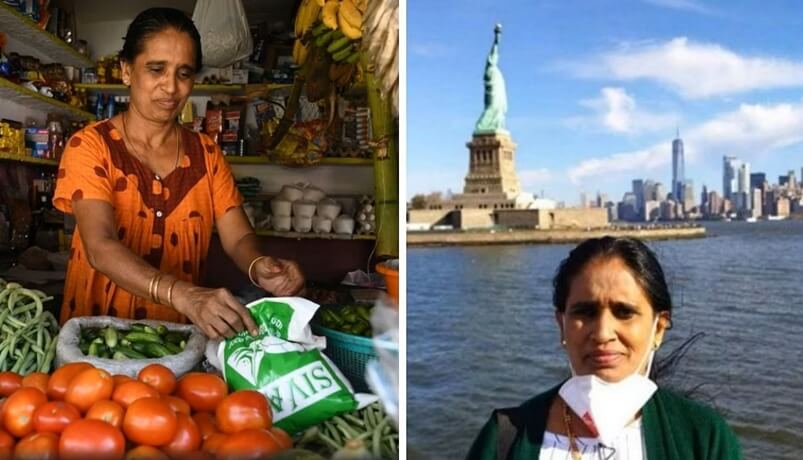 She was married off in 1986. There was a magazine stand in her husband's grocery store. She would borrow the travel magazine to read travelogues and destination stories – which provided her a window to the vast world outside of her everyday life in the village. It fed her imagination about the faraway places and nurtured her innermost desire to visit those places. But her husband's sudden death in 2004 did not let her wanderlust bloom. She alone had to shoulder the responsibility of running the shop and raising the children.
After her children grew up enough to stand on their feet, Molly got a passport for her first international trip in 2012. With her own savings, as well as the children's support and financial help, she travelled to Europe. France, Switzerland, Germany, and Italy were stopovers in her 15-day itinerary. "I was concerned about the expense a little, but my desire to travel mitigated the concern. The dream of standing in front of the Eiffel Tower in Paris, leafing through the history of Rome at the heritage sites including the Colosseum, and taking scenic train rides in the Swiss Alps was too overwhelming to be overshadowed by anything," said Molly Joy.
The first trip to Europe was just the threshold that she had crossed to pursue her dreams. Her next travel was to Singapore and Malaysia in 2017. During the 5-year break, she accumulated savings by running the shop for extra hours even on weekends and holidays. Between her two foreign tours – one in 2012 and the other in 2017, she travelled across South India. Madurai, Mysore, Ooty, Kanyakumari, Kodaikanal, Puducherry, Gokarna, and Udupi found space in her travel album. Some tourist attractions in North India also became part of her travel memoirs.
A second trip to Europe happened to be her call in 2019. This time, she visited London, Greece, the Netherlands, Belgium, Portugal, and Sweden. "I have not had enough of Europe. The countries are so beautiful and full of history that I wish to make another trip to Europe someday. Travel gives me an amazing sense of freedom. After every trip, instead of feeling exhausted, I feel reborn. I impatiently wait for the next journey," she said ebulliently.
Early in 2020, the pandemic brought international travel restrictions. Meanwhile, she saved money and geared up for her first trip to the United States. After the second wave of the pandemic receded from India and before the cost of international air tickets shot up, she took a flight to the US in November 2021. The northeast US cities formed a major part of the itinerary. She visited Newark, New York City, Buffalo, Philadelphia, Boston, Pittsburgh and other cities during the 15-day trip. "The Niagara Falls near Buffalo, the Universal Studio in Las Vegas, and the Golden Gate Bridge in San Francisco are the best experiences I will cherish forever," said Molly Joy.
"She is an ultimate travel inspiration. She reminds me of a most popular saying, 'Never get so busy making a living that you forget to live'," said Sourav Agarwal, the Editor of Travel Beats, a leading Indian Diaspora portal by IndianEagle.com. "On the occasion of Mother's Day, we are giving airfare discounts to our readers and subscribers. You can use the below coupon code to grab a $25 discount on booking flight tickets for your mother/mother-in-law/parents. If you will accompany your parents or only mother, you can get the discount on the total airfare," he added.